By
Neil Jones
Forget the title race or the bottom of the table, the
really
exciting issue in this season's
Premier League
surrounds who will take fourth place, and with it the chance of a prestigious, lucrative season in the
Champions League
.
Last weekend's action narrowed the field from four to two, as both Aston Villa and Liverpool dropped out of contention, leaving Manchester City and Tottenham Hotspur to fight it out over the final two games. And intriguingly, the two sides meet in a make-or-break clash at the City of Manchester Stadium on Wednesday night.
Tottenham hold the advantage heading into that game. Harry Redknapp's side stand a point clear of Roberto Mancini's, though City's home advantage on Wednesday will give them confidence that they can overhaul the Londoners.
Either way, the Champions League will have a new English entrant next season.
Goal.com UK
looks at how the two sides measure up against one another, and sees who is ready to dine at Europe's top table...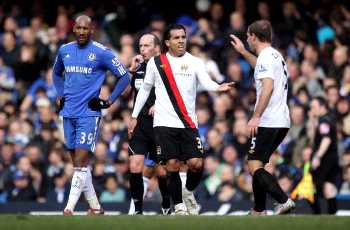 Bridging the gap | Chelsea wins showed City class
The true acid test for clubs such as Spurs and City is how they perform in the big games. And for fans of both sides, this season at least, the results are encouraging.
Manchester City
Tottenham

City have collected 16 points against the top seven, including home and away successes against champions-elect Chelsea

They ended Aston Villa's hopes of finishing fourth last weekend with a 3-1 success at Eastlands, and will be looking to do something similar to Spurs this week

They are still second best in Manchester however, having lost both league fixtures, as well as a Carling Cup semi-final, to late goals

Spurs have recorded victories over Chelsea, Liverpool and Arsenal, and amassed 14 points from 13 fixtures against the Premier League's top seven sides

Spurs won the sides' first league meeting, with a 3-0 success at White Hart Lane back in December

Despite this, they still have hoodoos, especially away from home. They have not won in the league at Old Trafford since 1989, at Stamford Bridge since 1990, or at Anfield since 1993
VERDICT: MANCHESTER CITY Though we will see how both sides react in the high-stakes atmosphere at Eastlands on Wednesday night.
Champions League Experience
With a few notable exceptions - think Villarreal in 2005-06 - sides new to the Champions League generally take a while to adapt to the more glitzy surroundings of Europe's premier club competition. Spurs and City, though, should have enough big game players already to handle the transitional period.
Manchester City
Tottenham

Carlos Tevez won the Champions League with Manchester United in 2008, scoring a penalty in the shoot-out with Chelsea in the final

City club captain Kolo Toure was in the Arsenal side beaten by Barcelona in the 2006 final

Midfielder Patrick Vieira has made 76 appearances in the competition for Arsenal, Juventus and Inter

Goalkeepers Heurelho Gomes and Carlo Cudicini were semi-finalists with PSV Eindhoven (2005) and Chelsea (2004), respectively

Peter Crouch was part of the Liverpool side beaten by AC Milan in the 2007 final (City's Craig Bellamy was an unused substitute in that game)

Roman Pavlyuchenko scored five goals in nine Champions League games for Spartak Moscow in 2006 and 2007
VERDICT: MANCHESTER CITY

Their money of course helps, but Tottenham still have a core of largely inexperienced players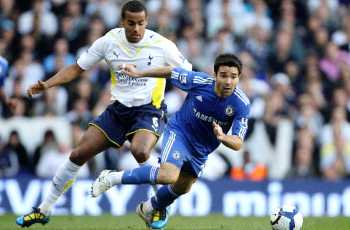 Spurred on | Tottenham have added steel this season
For so long, both of these clubs have almost turned their attention away from the top end of the Premier League table, so guaranteed was their relative obscurity. The last time City finished in the top-flight's top six, never mind the top four, was in 1992 (it was 1978 when they last finished fourth), whilst Tottenham have finished in the top six only twice since 1990. This season, though, both have shown admirable consistency.
Manchester City
Tottenham

City have lost fewer games than any side other than Chelsea; both sides having been beaten just six times

Their record of 72 goals is the fourth best in the league, and has helped them to a goal difference of +29, two better than Spurs' +27

Their defence remains porous. They have conceded more goals (43) than any top-seven side

Have been in the league's top-four sides for 25 weeks out of 36. City have been in the top four for just seven weeks

Their defensive record - 37 goals conceded - is the fourth-best in the league, and is better than Arsenal's, City's and Villa's

If games finished at half-time, Spurs would be second only to Chelsea
VERDICT: TOTTENHAM

Of course City won't mind if they win on Wednesday, but Tottenham have operated on a smaller - though still substantial - transfer budget, and given his side's perceived lack of character, Redknapp should be applauded for the work he has done at the Lane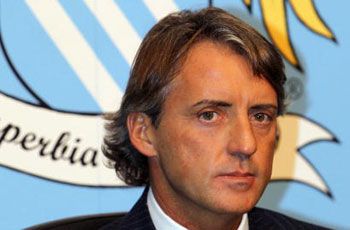 Italian Job | Mancini's pedigree is unquestionable
Mancini v Redknapp. On paper it is a mis-match; the suave, stylish Italian against the world-weary wheeler-dealer. Style-wise, the two could not be more different.
Roberto Mancini
Harry Redknapp

Led Inter Milan to a hat-trick of Italian league titles between 2005-08, and has also won four Coppa Italias

Took over City after Mark Hughes' departure in December, and says he expects the club to challenge for the Premier League title next season

Has won 14 of his 25 games in charge of City, giving him a win percentage of 56%

Took over Spurs in October 2008 when they were in the relegation zone, with just two points from eight games. Subsequently led them to eighth and the League Cup final

His only major honour in 27 years and 1167 games as a manager football was with Portsmouth in the 2008 FA Cup

Has a 52% win percentage at Spurs with 47 victories in his 90 games in charge
VERDICT: MANCHESTER CITY

English fans may feel Redknapp deserves a crack at the big-time, but there is no doubt who has the better pedigree
Arguably the most important element of course, the guys on the field. Both sides have spent big in their quest to upset the Premier League's established order, but only one will be able to do so...this season at least.
Manchester City
Tottenham

Three players - Carlos Tevez, Emmanuel Adebayor and Craig Bellamy - have reached double figures in terms of Premier League goals. Only Chelsea can match that statistic

Tevez is the side's top scorer with 22 league goals, and 29 in all competitions, his best career return

Have such depth of resource that they can allow more than £60 million-worth of talent - including club record signing Robinho - depart the club on loan

Have produced an impressive five home-grown players in the current squad - including England hopefuls Shaun Wright-Phillips and Micah Richards

Could have up to six players in England's World Cup squad, with the likes of Ledley King, Michael Dawson and Tom Huddlestone staking late claims

Top scorer Jermain Defoe has netted 18 league goals this season, his best ever top-flight return

Possess a midfield of creative guile (Luka Modric), searing pace (Aaron Lennon), and all-round power (Wilson Palacios). With Gareth Bale at full-back, Spurs are an eye-catching attacking force

Just one player from the Spurs academy has made more than five appearances this season - skipper Ledley King. The likes of Bale and Lennon were signed as teenagers, however
VERDICT: MANCHESTER CITY

Spurs have bought shrewdly, but City's sheer wealth is enough to ensure they can build, and add to, their squad to Champions League level. With more signings sure to follow, the Citizens could soon be a European force
Final Verdict - MANCHESTER CITY


It is sure to be a close run thing, and the fact that Spurs are ahead at the moment makes them slight favourites of course. But City are a club on the up, like it or not, and their financial backing makes them a potential European force.
Redknapp has done an admirable job, and assembled a fine side at White Hart Lane, with plenty of squad depth, but Mancini has a proven pedigree of winning trophies, and his bullish opening statement that he expects to challenge for the Premier League title within the next twelve months was not merely hot air. If City can qualify for the Champions League this season, then they will take some shifting.
Become a fan of Goal.com UK's Facebook fan page for all the latest news and insight into everything related to the beautiful game!