By
Matthew Weiner
| Arsenal Correspondent
Ex-
Arsenal
players never die, they just join
West Ham
. As the two teams prepare to meet at the Emirates on Saturday,
Goal.com UK
takes a sideways look at the players who have moved from the Gunners to the Hammers.
John Hartson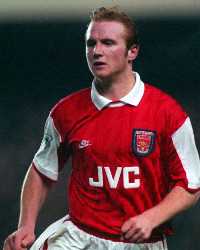 Arsenal career, 1995-97 (53/16)
The Welshman may have been signed for a British record fee for a teenager but as soon as George Graham was out the door, Big John was on his way. The no-nonsense target man was never going to fit into the plans of Arsene Wenger the aesthete and made way for the likes of Dennis Bergkamp and Nicolas Anelka.
West Ham career, 1996-99 (60/24)
Despite battling with his form, weight and temper, Hartson made a significant impact on Upton Park – not to mention Eyal Berkovic's face. Still adored by West Ham fans for debut season goals that kept them in the Premier League.
Happy Hammer or Tired Gun?


Happy Hammer.
Ian Wright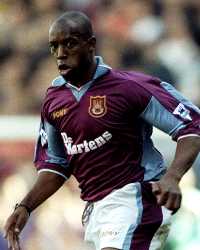 Arsenal career, 1991-98 (221/128)
Voted fourth in Arsenal.com's 50 greatest Gunners list, Ian Wright is quite simply an Arsenal legend thanks to his ship-load of goals and acres of charisma. Most Gunners fans would still happily let Wrighty date their wife should he so choose.
West Ham career, 1998-99 (22/9)
Scored his last goal for Arsenal against the Hammers and then promptly joined them for a fee of £500,000. Aged 35, the striker was way past his best at this point and the biggest impression he made was on the referee's dressing room after getting sent off against Leeds.
Happy Hammer or Tired Gun?


Tired Gun.
Kaba Diawara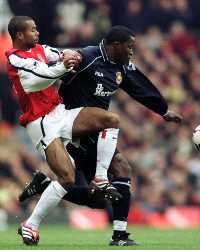 Arsenal career, 1998-99 (15/0)
Guinea international Kaba Diawara was, of course, picked up from Bordeaux and used as an impact substitute by Arsene Wenger with extremely limited success. Almost scored a goal on the last game of the season against Leeds but instead hit the crossbar – Jimmy Floyd Hasselbaink notched at the other end and Manchester United promptly won the title.
West Ham career, 2001-02 (11/0)
Clearly inspired by the way Diawara couldn't hit a barn door for Arsenal, Harry Redknapp snapped him up on loan from Paris Saint Germain. Kaba never scored for West Ham either. He now plays for second division French outfit AC Arles-Avignon.
Happy Hammer or Tired Gun?


Tired Gun
.

Davor Suker
Arsenal career, 1999-2000 (22/8)
Already 31 when he joined the Gunners from Real Madrid, the Croat with dynamite in his left boot never managed to rediscover the remarkable form that led him to be the Golden Boot winner at the 1998 World Cup. Despite scoring a 25-yarder against Sunderland with an impossible outside-of-the boot volley lob that went in off the far post - he still managed to fail from 12 yards in the 2000 UEFA Cup Final against Galatasaray.
West Ham career, 2000-2001 (11/2)
Another bargain bucket purchase by 'Arry Redkapp, Sukerman nevertheless failed to inspire the Hammers. Despite owning £20,000 worth of shares in Manchester United, however, the striker did do the decent thing and bag the equaliser against Ferguson's mob in an early season tie at Upton Park.
Happy Hammer or Tired Gun?


Tired Gun
.

Nigel Winterburn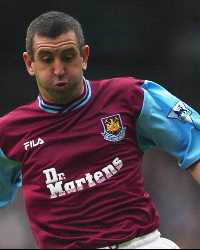 Arsenal career, 1987-2000 (440/8)
Part of Arsenal's famous Back Four, 'Nutty' was the kind of left-back wingers hated. Tough, committed and happy to race forward to support the midfield, Winterburn's tenacity helped the Gunners to three league titles, two FA Cups, a League Cup and a European Cup Winners Cup. He also scored a swerving humdinger in Arsenal's 3-2 defeat of Chelsea in 1997 that remains one of the Premier League's greatest (and most surprising) goals.
West Ham career, 2000-03 (82/1)
Incredibly, Winterburn was 39 when he finally hung up his boots after three years and 82 games for West Ham. Of course the Gunners had the best of his days but the gnarled left-back still had one goal left in him. After some intricate build-up play (by Kaba Diawara of all players), Nige nodded in a teasing cross to win the game against Leeds United in 2000. "Where do you find people like that now? They are a dying breed," enthused Redknapp of the ex-Arsenal man.
Happy Hammer or Tired Gun?


Tired Gun.
Freddie Ljungberg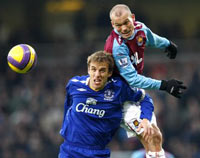 Arsenal career, 1998-2007 (216/46)
It was the flame red streak in his hair and near telepathic understanding with Dennis Bergkamp that really endeared Freddie to the Arsenal fans. Few will forget the the 2001-02 season when his end of season goal streak secured the double for the Gunners and the Highbury faithful sang his name to the tune of 'Can't Take My Eyes Off You' by Frankie Valli and The Four Seasons.
West Ham career, 2007-08 (25/2)
Ljungberg's Hammers career was less spectacular. Despite being an injury-prone 30-year-old, he was signed on to a four year deal for a £3 million fee. Was made captain on his debut against Manchester City but only made a further 27 appearances that season. He didn't actually find the back of the net until seven months into his tenure and then broke his ribs on the last day of the season. Finally, agreed to terminate his contract after just one year and four months.
Happy Hammer or Tired Gun?
Tired Gun.

Luis Boa Morte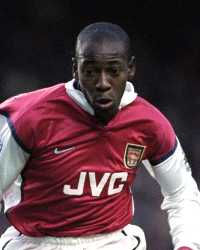 Arsenal career, 1997-99 (36/4)
It never quite happened for the tricky Portuguese winger at Arsenal. Signed by Wenger as a 20-year-old from Sporting, Boa Morte was always only ever a squad member. Despite being a member of the 1997-98 double-winning side, his most significant contribution were the two goals in a 4-1 win over Birmingham in the League Cup.
West Ham career, 2007- (68/1)
Joined West Ham via a short stint at Southampton and then a more successful stay at Fulham where he became club captain. A cult hero at the Cottage, Boa Morte didn't immediately win over the Upton Park faithful and then just as he was playing himself into form - finding himself back in the Portugese team for the 2010 World Cup qualifiers - he sustained an anterior cruciate ligament injury pre-season which has since kept him out of the side. He is, however, now back in training and could return for next season.
Happy Hammer or Tired Gun?
Happy Hammer.
Matt Upson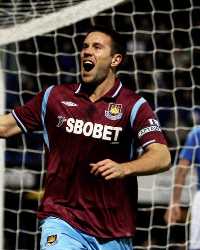 Arsenal career, 1997-2003 (35/0)
Plagued by injuries, Upson never got the chance to break into an Arsenal team which was packed with quality defenders. Firstly anterior cruciate ligament knack kept the £2 million signing out the side and then a broken leg sustained in 2002 saw him ruled out for the rest of the season. He did win a Premier League medal for his 14 appearances, but jittery performances didn't win over Wenger and in 2003 he was flogged to Birmingham.
West Ham career, 2007- (90/4)
The captain's armband at West Ham and the approval of Fabio Capello for England have served as prooff of Upson's rising stock while at Upton Park. Appears to have now overcome the worst of his injury problems and could well be on the plane to South Africa this summer. Not bad at all.
Happy Hammer or Tired Gun?
Happy Hammer.