---
ANALYSIS
---
N'Golo Kante has changed his game since arriving at Chelsea from Leicester City in a £32 million deal in the summer and is now being asked to play more like Claude Makelele.
VIDEO: Savage Diego Costa slaps FIFA 17 loser
The 25-year-old has found himself playing much more centrally at his new club as he is being asked to hold his position which is leaving him unable to show off his famous stamina on the pitch.
At Leicester, he was required to chase down players and make his own decisions on where the danger was - which enabled him to show off both his lung-busting intensity and his ability to read the game.
Under Antonio Conte, Chelsea have been more rigid than the Foxes were last season with Kante holding his position while the likes of Oscar and Nemanja Matic are used to press their opponents.
Matic himself has noted how Kante's arrival has resulted in him and others around him having to change their games as the Serbian midfielder reacquaints himself with a more offensive role.
Mourinho calls for end to offensive chants
"Since Kante came, he's worked more behind me and his job is what I have done for the last two years," said Matic. "He is doing a great job, I know it is not easy for him. I wish him all the best for the rest of the season because he needs to run a lot."
Despite being asked to perform a new role, Kante has adapted quite well to Chelsea this season, but he hasn't hit the sensational highs that he reached last season, recording poor performances in the defeats against Arsenal and Liverpool.
In his last game against Hull, Kante was unshackled as Conte switched to a 3-4-3 formation and as Chelsea's defenders picked up his screening job, he had the freedom of the pitch to make the challenges that he wanted to and he was able to help Diego Cost and Eden Hazard by getting forward and being an extra body in attack.
In fact, Kante's energy was a factor in transforming the second half as Chelsea chased the breakthrough where he used his talent to relentlessly drive down the middle until Willian ultimately came up with the opening goal.
'Henderson better today than Pogba'
It may only have been Hull, but that was Kante's best performance of the season so far and perhaps if Conte had given him that freedom against Liverpool and Arsenal, he might have offered a better service to his team.
The stats show just how different he has been performing this season to last year where he starred in a title-winning Leicester team as he has produced 64.57 passes per game compared to 45 last season.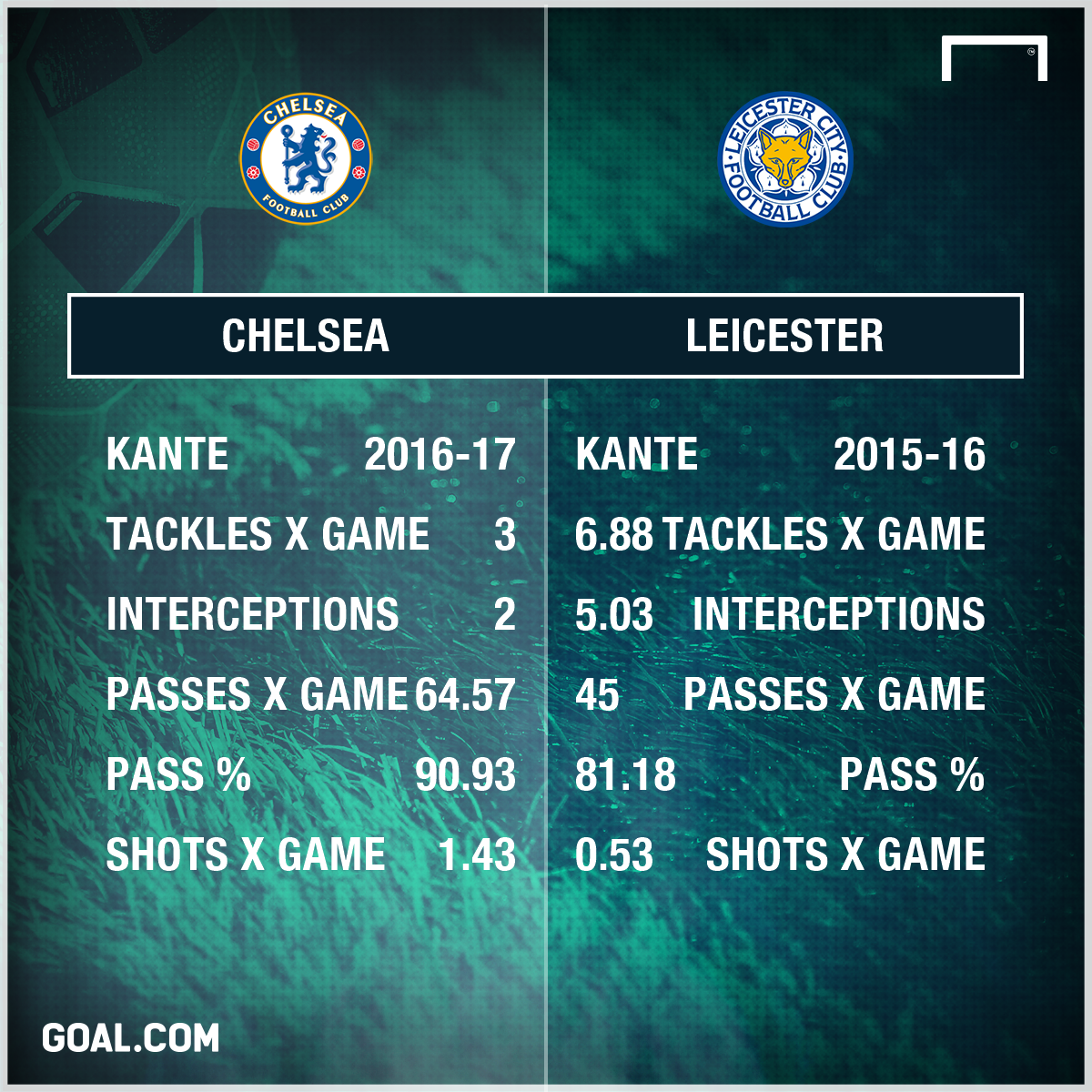 Defensively, though, he is massively down on his stats from last season as he has only produced three tackles and two interceptions per game, compared with 6.88 and 5.03 in his first seven games of the 2015-16 campaign.
His pass completion has improved to 90.93 from 81.18 last season due to playing a much shorter game at Chelsea than he did at Leicester where he was instructed to play it long to Jamie Vardy and Riyad Mahrez, who would run in behind defences.
Ronaldo: I'm the best in the world
As you can see, Kante is being asked to make sacrifices to help protect a defence who have looked uneasy in the opening seven games, but it hasn't been a rousing success with only two clean sheets for the Blues this season.
Kante's has had more shots than ever before in the Premier League so far this term, doubling his efforts from last season's 0.53 per game to 1.43, though most of these efforts have been off target.
Claudio Ranieri described Kante as "irreplaceable" when he left for Chelsea in the summer. He is irreplaceable because he was a specialist and yet he has had little opportunity to perform that job as he attempts to do something close to an impression of Chelsea legend Makelele.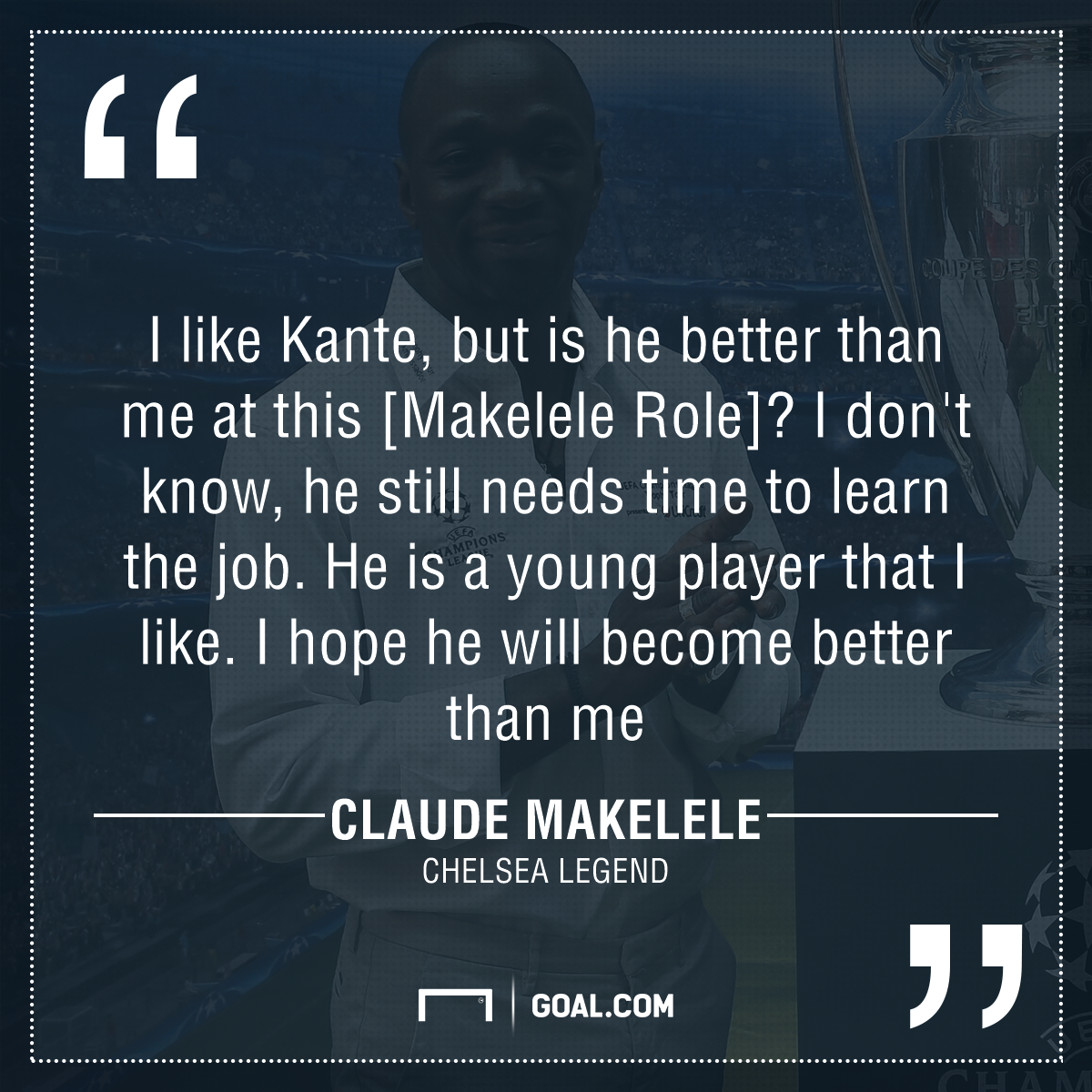 Makelele was brought to the Premier League by Ranieri, just like Kante was from Caen last season, and was described as the "battery" of Chelsea before the football world named the holding position the "Makelele Role," due to his immense talent there.
Didier Deschamps has dropped Kante out of his France side after his small, but noticable drop in form in recent weeks and a change of role at his club might help him in the fight for more caps in a competitive international team.
The midfielder will hope that on Saturday, against his old club at Stamford Bridge, Conte will ask him to be more like Kante and less like Kantelele.