ANALYSIS

By Livio Caferoglu & Enis Koylu
"Guus Hiddink's tactics paved the way for this result. Especially in attack, we suffered considerably. For heaven's sake, we are playing at home, and we have only Burak Yilmaz going forward, we should have had at least three players there."
These were the painfully honest words of midfielder Arda Turan in the wake of Turkey's crushing 3-0 first leg play-off defeat to Croatia last Friday.
Cynics may point out that the remarks arrive amid reports that the national side would be missing out on up to €20 million worth of bonuses for their eventual failure, but the Atletico Madrid star also further emphasised the underlying problems that were embedded in Hiddink's setup.
The disappointment of Turkey's qualifying campaign for the 2010 World Cup had prompted the Turkish Football Federation (TFF) to search for a coach with proven international pedigree, and they seemed to have found their man in 65-year-old Guus Hiddink, who had previously taken the Netherlands, South Korea, Australia and Russia to major tournaments and achieved considerable success.
However, after shaking hands with TFF president Mehmet Ali Aydinlar over an €8m salary and overseeing three straight victories, his record has not been impressive enough for a nation with intentions of reaching a European Championship. Last night's 0-0 draw in Croatia consigned Turkey to a 3-0 aggregate defeat and this morning led to Hiddink leaving his managerial post by mutual consent.
Below are the reasons why Hiddink's fifteen-and-a-half month tenure as coach ended in failure.
1. THE MATCH-FIXING SCANDAL
In what can be viewed as arguably the single-biggest contributing factor to the national team's downfall, this summer's allegations of corruption within the Turkish game have certainly hit players and clubs alike.
Just three months ago, Hiddink complained that many of his top players had been deprived of a pre-season, as the start of the new campaign was pushed back due to the ongoing investigations into match-fixing. Understandably, players seemed sluggish and slow out of the blocks, and performances against Kazakhstan, Austria, Germany, Azerbaijan and Croatia demonstrated this.
However, even more alarmingly, the scandal negatively impacted on their mindset. The Turkey teams of the past decade were characterised by spirit and togetherness, but the current crop of players have looked a distant shadow of their predecessors, as the team struggled without their experienced elders rising to the occasion and guiding them.
2. POOR TACTICAL DECISIONS
Given Turkey's excellent home record under the Dutchman (four wins from five group games), Hiddink was expected to grab the bull by the horns against Croatia in Istanbul. Instead, he opted for a more conservative approach, fielding three deep-lying central midfielders, one of whom was Sabri Sarioglu, a right-sided midfielder-cum-defender who only has limited experience in the role at club level.
And it took just two minutes into the first-leg for the experiment to flounder - Ivica Olic breaking the deadlock - as the side were disjointed and dysfunctional. Trabzonspor hitman Burak Yilmaz was forced to lead the line in complete isolation, while flankers Arda and Hamit Altintop had to constantly drop deep in order to win the ball back, leaving Burak even more remote in attack.
Had such a system worked, Hiddink would have been applauded, but the same tactic had also previously failed to prevent Germany from comprehensively beating the Turks in both rounds of qualifiers (3-0 and 3-1). His tactical deficiencies prompted Arda, Turkey's top scorer in qualifying, to go public with his dissatisfaction, hinting that Hiddink had lost the dressing room.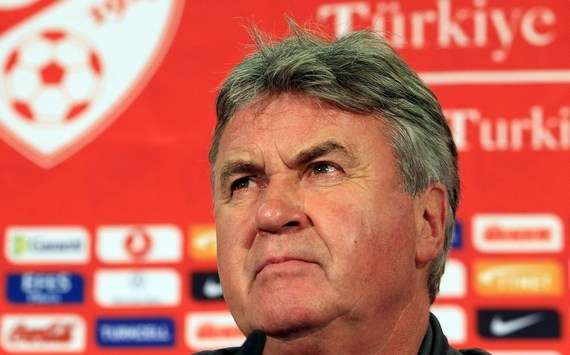 The scapegoat? | Hiddink has been blamed for the team's failures
It could also be said that Turkey's lack of proficiency in front of goal was not purely due to a lack of support from midfield. Burak's 32 goals in his last 38 games at club level seems to speak for itself, but the 26-year-old has long had a tendency to switch off in big games, evidenced by his paltry five strikes in 22 appearances against Istanbul's finest.
However, Hiddink steadfastly persisted with Burak rather than allowing the likes of Sercan Yildirim or Mustafa Pektemek to prove themselves. Elsewhere, talented prospects such as Gokhan Tore, Cenk Tosun and Mehmet Ekici were only given sparse opportunities to impress, despite the German-born trio performing admirably at club level.
The latter could have been the elusive link between midfield and attack, and the perfect option to bring on against the most stubborn of defences. Meanwhile, Umut Bulut, a similar type of centre forward to Burak, has always been Hiddink's favoured choice off the bench, albeit without a goal in his last five caps or the ability to craft his own chances.
4. DIFFERENCES IN CULTURE
Hiddink's insistence on being based abroad was arguably the biggest target of scrutiny from the Turkish press, as the Dutchman seldom attended Super Lig matches, while he continued to disassociate himself from the way of life in Turkey.
His distant approach had paid dividends during his time in charge of Russia and South Korea, but his preference to communicate through an interpreter did not make the desired effect on the people of the Mediterranean country, who would have preferred to see their national team coach at least mutter a few Turkish words.
The Turkish people are renowned for their pride and patriotism, and Hiddink's reluctance to embrace the culture clearly did not go down well with his players, who seemed to never truly warm to him or his methods.
In the wake of the home loss to Germany in October, Hiddink rightly informed the Turkish press that finishing ahead of Joachim Low's men was an unrealistic target. However, there should have been nothing to stop Turkey from aiming for the 'best runners-up' place, which would have guaranteed them a spot in Euro 2012, or at least ensure top-seed status in the play-off draw.
Hiddink conceded in the run-up to the trip to Belgium that he'd be happy to return to Turkey with a point, and once Burak Yilmaz cancelled out Belgium's early goal, his side showed little imagination or craft to attempt to bag all three points for the next 70 minutes.
However, when they did show genuine attacking intent, luck wasn't to be on their side. The worst result came in Azerbaijan, where despite Turkey having the lion's share of possession and the majority of goal-scoring opportunities, they paid the price by consigning themselves to a surprise loss via a break-away goal.
Follow Livio Caferoglu on

Follow Enis Koylu on