ANALYSIS
By Ewan Macdonald
Fifa president Sepp Blatter left his Monday press conference amidst a barrage of angry questioning from several journalists at the home of Fifa in Zurich.
MORE...
The unopposed candidate for re-election at tomorrow's Fifa Congress was accused of failing to deal with the ethical questions posed by the media, instead opting to silence dissent with appeals to "respect" and "elegance."
After returning to the microphone for an encore question, the visibly furious Blatter said, "Listen. I will not go into discussions with people that like to create problems. I just want to tell you one thing. You can laugh... Elegance is an adjective, as is respect. This is something I have learned in my life. Also [I learned it] as a journalist. When I was in a press conference, and they said it was finished, I said thank you."
With that he was gone.
The press' rancour was perhaps inevitable. Given the serious nature of discussion that had proceeded the Q&A session, the president offered brief, occasionally flippant remarks to the journalists' queries. Only in brief, fleeting occasions did what one can assume to be Blatter's true thoughts on the controversy currently engulfing his presidency emerge.
In one such case he gave a little away by referring to the 'little devils' that had, in his view, sullied the game midway through his involvement in football administration.
"In this game I will tell you that there is a lot of gambling. A lot of gambling on the field of play. And I have to say at the beginning of Fifa, when I entered 36 years ago and more, I have to say, there were no problems," he said.
"We didn't even have problems until 1998, as this was what was called the modest Fifa. now we are a comfortable Fifa, and I think because we are too comfortable some people like that. In certain situation and being in a game, all the little devils can enter the game, and we have to fight against these devils.
"We started to fight but we are in a very bad situation, but we now have the possibility of the Congress. The congress has the opportunity, if they want to take it, they can take it, if they want to restore this credibility of Fifa."
Evasion
A journalist from Reuters opened proceedings by asking Blatter if he had any reaction to Jack Warner - the CONCACAF mandarin currently still under investigation for corruption - who last night said that "Blatter must be stopped."
"No, no reaction," was the only response.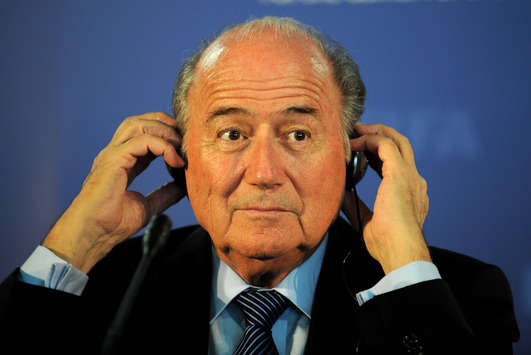 Hear no evil |
Blatter struggled to retain composure
Blatter frequently invoked the 'one question per journalist' technicality to avoid difficult queries, while also making liberal use of Fifa's bureaucratic rule set to instead direct any uncertainty towards members of the Executive Committee or Congress - none of whom were present.
"I think Fifa is strong enough that we can deal with problems inside, and I am sure that the Congress will show this unity and solidarity the day after tomorrow," he insisted, when asked about the will of some countries to postpone the forthcoming Fifa presidential election.
The first hint of anger appeared following a question from a Saudi newspaper about the possibility of a 'crisis' within the Home of Fifa.
"Crisis? What is a crisis. If one of you can describe to me what a crisis is, I can answer," blasted the Swiss.
Without waiting for a definition, he continued, "Football is not in a crisis. If you watched the Champions League final you must applaud at what the game is, what fair play is, what control is.
"We are not in crisis, just some difficulties. The difficulties will be solved, and solved inside our family."
Anger
Some of the assembled journalists grew tired of the vague answering and frequent appeals to procedure, leading Blatter to show his leader's side.
At one point he interrupted proceedings to say, "Listen, gentlemen. I accepted having a press conference with you alone. I respect you: please respect me and respect the procedure. If you have questions, ask for the microphone. Do not intervene. We are not in a bazaar. We are in the Fifa house."
A rare moment of levity soon followed. Seeking to distract from being asked why Fifa was in such turmoil under 'his watch', Blatter made a show of checking 'his watch'. The seconds ticked by as nobody laughed.
This was not the afternoon's nadir: for Blatter, things were to get worse before they got better as an inevitable question about how he felt regarding Mohammed Bin Hammam's pulling out of what is now a one-horse presidential race.
"You should ask him why he pulled out," said Blatter.
A journalist from England's Sky Sports then raised the stakes further, asking, "What would you say to those within the game who want to see a re-election for Qatar 2022; and what would you say to those who say you're a problem and need to leave?"
Blatter's response ranged from refusing to answer - it was, after all, two questions from the same journalist - to simply referring the petitioner to the rules of the Fifa Congress.
At this point in the conference the tension and indeed fury was clear on Blatter's face and in the sound of open dissent from the gathered media. It came as no surprise when the meeting ended in mutual dissatisfaction and drama.
For Blatter, the world's media failed to show the correct level of deference. For the journalists, it was in many ways time wasted: of all the questions asked, just two received what could be considered substantive answers. To call it a communication breakdown is an understatement, and it is altogether indicative of a Fifa regime that finds itself increasingly isolated amidst constant irregularities.
Blatter asked that the dignity of the Fifa House be respected by the journalists. Those same journalists may well wonder why Blatter and his colleagues are singularly incapable of keeping that house in order.
Follow Ewan Macdonald on

Follow Goal.com on

. Get the latest football news direct... Check out Goal.com's

page; be part of the best football fan community in the world!