COMMENT
By Liam Twomey
There was a time when England hated Germany. Hostility forged in 19th-century industrial competition was strengthened in trenches, attack planes and battered cities across two World Wars.
For decades, even relatively trivial occasions such as football matches were regarded within this context, treated in a sense as a resumption of combat, a chance to reassert superiority. Long after wounds had healed and peace reigned, the legacy of sustained armed conflict endured. On the morning of July 30 1966, English football's crowning triumph, legendary
Daily Mail
journalist Vincent Mulchrone wrote 22 words which resonated and became famous. "West Germany may beat us at our national sport today, but that would be only fair," he insisted. "We beat them twice at theirs."
Gradually the underlying emotion dimmed but the tension remained, soon almost entirely consigned to the realm of football and stirred up by media jingoism. England's agonising penalty shootout defeat to Germany on home turf in the semi-finals of Euro 1996 was followed by a riot involving as many as 2000 hooligans in Trafalgar Square, while the Three Lions' astonishing 5-1 win in Munich in September 2001 was greeted with headlines such as 'BLITZED' and 'DON'T MENTION THE SCORE'.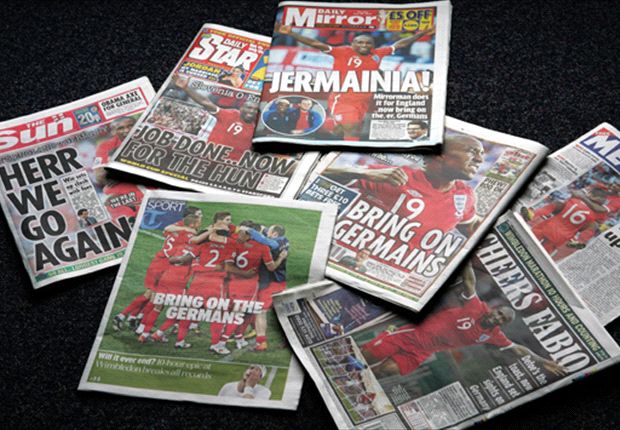 Whip up a storm | The newspapers build up to the 2010 clash (Getty)
Yet when Joachim Low's 2013 vintage take to the field in the new Wembley on Tuesday evening, the significance of their presence will not transcend sport. This is partly because they are here to play a friendly which, regardless of the result, should be mutually beneficial in terms of preparations for next summer's World Cup in Brazil. But it is mainly because times have changed.
With every generation further removed, the divisive power of memory is blunted. Hating people is not the same as being told to hate them. Almost a century after World War I, the English public at large does not despise or even strongly dislike Germany. In fact, over the past decade the potent antipathy which underpinned one of this country's most celebrated footballing rivalries has rapidly given way to ungrudging respect, quiet envy and even open admiration.
It helps that the two sides have clashed just three times since 2001, and twice in friendlies which were inevitably contested with less than do-or-die intensity. In Bloemfontein in 2010 the situation could not have been more different but, unlike previous lost tournament battles in 1970, 1990 and 1996, England took to the field with a team much of the disillusioned public had already emotionally disowned as a consequence of a dire group stage and perception of mass apathy in the squad.
Frank Lampard's 'ghost goal' will forever remain a seminal talking point – England saw a travesty, Germany saw the luck of Geoff Hurst run out – but the vibrancy and style of Low's swashbuckling young side softened the blow. The best team undeniably won and in the depths of identity crisis, those seeking a way forward for England recognised innovation and inspiration in their conquerors.
In truth, the two brands of football in England and Germany have long regarded each other as kindred spirits, and most Germans are either indifferent or oblivious to the historical significance placed on clashes between the two sides in this country. For them, that September day in Munich in 2001 is remembered as the moment the Republic of Ireland crushed the World Cup qualification hopes of the Netherlands, their true nemesis, in Dublin. More recently Italy have also become regarded as bogeymen, while the emergence of Spain as a seemingly unstoppable, trophy-guzzling
tiki-taka
monster has dwarfed all traditional rivalries in the face of a monumental new common enemy.
English football does not see itself in Spain's obsession with possession, Brazil's street-honed flair or Italy's unerring tactical diligence. But Germany's unique mix of dynamism, tactical creativity, physical strength and technical bravery offers a glimpse of a future which appears both desirable and attainable. There is a certain irony to the realisation, given that Alan Shearer helped bring about Germany's own moment of clarity with a flying header in Charleroi in June 2000 and Jurgen Klopp claims to have revived Borussia Dortmund with "fighting football" in the English mould.
The irresistible likeability of Klopp and his fearless young team – a staggering achievement of management, marketing and talent – has established Dortmund as an acceptable second club in England. Bayern Munich's two-legged humiliation of Barcelona last season also carried the whiff of an antidote, a joyful and timely affirmation that there remains more than one way to utterly dominate a game of football. When both sides and their relentlessly raucous fans met at Wembley for one of the most breathless Champions League finals in memory last May, the overwhelming feelings were of awe and privilege.
At the same time, more and more top Germans are plying their trade with distinction on these shores. The likes of Andre Schurrle, Lukas Podolski, Lewis Holtby and, of course, Mesut Ozil are beginning to provide a thrilling exhibition of the fruits of recent German labours up close, while the only thing more outrageous than the realisation that the Premier League has never had a German manager is the idea that one will not break that mould very, very soon.
Until then, England must learn by facing the men who are now more idols than rivals. "A lot of things [Germany] do are very praiseworthy," Roy Hodgson told reporters on Monday. "We have players who are capable of doing it and hopefully we will be working on our game to reach that standard. How long it will take, we will wait and see. It took them a few years and we are working on it." Hardly fighting talk.
Follow Liam Twomey on