ANALYSIS
By Tom Marshall-Bailey
Arsenal
fans are familiar with a summer transfer saga involving their best players leaving and, although
Bacary Sagna
's recent form precludes him from fitting that bill just now, the Gunners would be mad to allow the Frenchman to leave without a fight.
The departures of Robin van Persie, Cesc Fabregas and Samir Nasri, to name but a few, hit Arsene Wenger's side hard, and this recurring theme of the club's transfer strategy looks set to rear it's ugly head once again.
BACARY THE GUNNER


SAGNA'S ARSENAL CAREER

GAMES PLAYED
GOALS
ASSISTS
225
4
19

The summer of 2008 provides one of the most obvious examples of negligence in the market from the north London side, as they let an experienced pro in Gilberto Silva depart before his time was up. It was a devastating blow to a Gunners midfield which has since failed to reproduce the steely edge the Brazilian brought.
Of course, Arsenal have had their fair share of bitter pills to swallow in recent years, but examples such as this prove that they are not helping themselves.
Characters in the mould of Gilberto do not come around often and, although recent attempts to supplement an increasingly British core with more experienced pros reads well on paper, an inability to hold onto the top class players already plying their trade at the Emirates Stadium is proving the club's worst enemy.
Sagna, hailed for his consistency and reliability in a right-back spot he has made his own, has admittedly endured an indifferent season as he struggles to find the two aforementioned attributes. In fact, off the back of two broken legs in two seasons, there have even been calls in some quarters for the Frenchman to be dropped.
Rumours are also rife that the Gunners have laid down the basic framework of a one-year-extension to Sagna's current deal which has reportedly infuriated the Frenchman, who believes the loyalty he has displayed when so many others have not illustrates his commitment to the cause.
SLOPPY SAGNA
Recent Player Ratings

CHELSEA 2-1 ARSENAL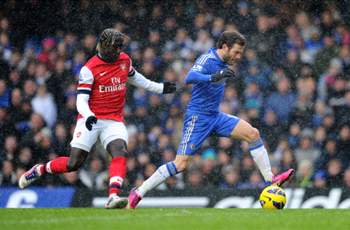 Caught out a couple of times as Chelsea doubled up with Cole and Oscar on the wing. Failed to track Mata and Ramires for both goals and generally had a poor afternoon.
SOUTHAMPTON 1-1 ARSENAL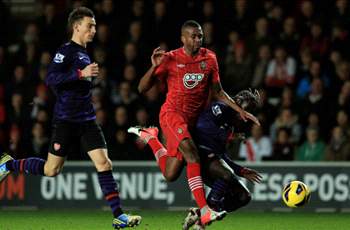 Put in a few good crosses. Made a fine last-ditch challenge on Guly which unfortunately for him still led to the opening goal. Didn't look as sharp as usual.
With fan-favourite Carl Jenkinson breathing down his neck for a starting berth, Sagna will undoubtedly be considering his options, with a lucrative pay-day in the Middle East or a final hurrah at a top European club both being touted as possibilities.
Much like the cases of Gilberto, Robert Pires and even Alex Song, Sagna appears to be being pushed towards the exit door by the club's obstinate stance.
This has resulted in Sagna's sad demise this season, with a wise head - admittedly a trophy-less wise head - which Arsenal so desperately crave when the going gets tough. The problem is whether he really is another stagnated individual that can simply be flogged leaving no clear plan for an experienced replacement to come in.
Jenkinson's drive, passion and enthusiasm for wearing the cannon on his shirt is endearing and ensures he is a well-liked player but, given his relative inexperience at elite level, any decision to simply move aside the type of character the club so sorely lack at times appears inexplicable.
The argument stands that Jenkinson's eventual promotion to first-choice full-back will be blocked by the continued presence of Sagna, but does the club's recent signing of Spanish left-back Nacho Monreal not suggest that, better late than never, Wenger realises the need for two top-class options in each position?
There is no reasonable logic behind ignoring the need for the sort of positional competition which the Gunners currently cannot claim to have in other areas of the pitch.
There are no doubts regarding Sagna's quality, a right-back who has featured in two of the five PFA teams of the year since his arrival from Auxerre in 2007, but the emergence of Jenkinson, coupled with a lazy approach to getting the Frenchman to sign a new deal, has seen his performances dip considerably.
In recent interviews, Sagna has repeatedly spoken of his desire to remain with a club which he genuinely loves, but the transfer errors of recent summers made by Wenger/the board/whomever fans wish to point the finger at have turned his head.
He was recently quoted as saying: "Lots of things have changed," when quizzed on his future at the club. His cagey response certainly hints at a frustration with the club's questionable policies in the market.
Sagna is one of the longest-serving members of the current Gunners squad and, in spite of a personal bad patch, the experience he offers is an undervalued asset.
And now, the north London club must realise that before it is too late.
Follow Tom Marshall-Bailey on