Ecuadorian continues to excel in the United shirt
By
Matt Monaghan
| Manchester United correspondent
Red-hot wingers have always been lauded by
Manchester United
and
Antonio Valencia
is bang on course to become the next wonderful wide man.
As has become par for the course at Old Trafford, Wayne Rooney was on hand to claim the majority of the goals in the 3-0 win against West Ham United. Sir Alex Ferguson would have been thrilled though by the pivotal contribution from the player he entrusted to follow in Cristiano Ronaldo's footsteps on the right flank.
Not even a freezing cold Manchester night could take the heat out of Valencia's boots as he tore up and down the pitch. Two excellent crosses were the highlight of yet another great performance from the £17 million acquisition from Wigan Athletic.
The memories of the shocking performance against Everton were blown away by his quicksilver flashes. United old boy Jonathan Spector is no slouch, but he had no answer to his opponent who served up a striker's dream.
The first of Rooney's double came laid on a plate from the Ecuadorian's right boot. Always looking to stretch past Spector, a deft move in to space preceded a delightful volleyed cross right on to the No.10's forehead.
Even better was to follow. Strength, speed and skill are the weapons in Valencia's armoury and all were on show as his intelligently played centre found Rooney all alone at the far post.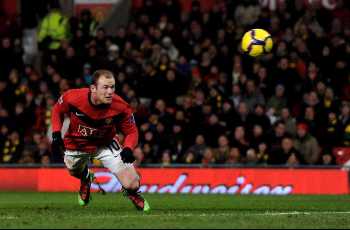 On your head | Rooney nods home his first
Ferguson set himself a sizeable task in the summer when he finally sanctioned Ronaldo's record breaking move to Madrid. The Portuguese found the back of the net for fun and weighed in with his fair share of assists at the same time.
Rooney's move up the scoring charts has been rightly lauded from all quarters and now has come the time for Valencia to receive his fair share of praise as well.
An unspectacular start to the season didn't help his cause, but confidence is now oozing from his every pore. Even the debacle at Goodison Park featured yet another goal-creating cross from him.
Valencia is showing the signs of being a hybrid of his new club's great names of the past. He possesses parts of the accuracy of David Beckham, some of Ronaldo's strength and a dash of the dribbling genius bestowed upon George Best.
It is still far too early to put him in the class of these hallowed figures and he must add more strings to his bow. If he continues to develop at the current rate, United could boast another superstar to share the Theatre of Dreams with Rooney.