As the European giants prepare to meet in a friendly match in Bari on Wednesday night, Goal.com takes a look at the contrasting fortunes of the last two World Cup winning sides
COMMENT
By Kris Voakes & Ben Hayward
"They were not the best team in the world," went the claim; "they just played the best for a month." Though the explanation expressed by many for Italy's 2006 World Cup success was laughable when you consider the fact that the Azzurri were unbeaten for approaching two years when they achieved glory, that's not to say there wasn't a little truth behind it.
A squad containing unlikely world-beaters such as Simone Perrotta, Cristian Zaccardo, Simone Barone, Vincenzo Iaquinta and Massimo Oddo fulfilled the dreams that few can ever realise in bringing the little gold trophy back to the peninsula, but all played their part.
Led by world class performances from the likes of Fabio Cannavaro, Andrea Pirlo, Gennaro Gattuso and Gianluigi Buffon, the Azzurri were easily the most convincing side in the tournament, and were able to record wins in many a different style, as polarised by the backs-to-the-wall display with 10 men against Australia and the magnificent spectacle that was the 2-0 semi-final success over hosts Germany.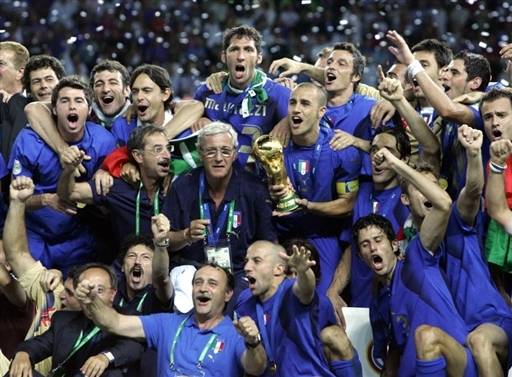 Reaching for the sky | But how long until the Azzurri are back on top of the world?
But since that glorious night in Berlin there have been all too few Italians who have been able to raise their level in a national team shirt as their predecessors demonstrated that summer. Players who were talked up as the next great Azzurri generation have generally flattered to deceive when called up. The likes of Claudio Marchisio and Riccardo Montolivo have never really convinced for their country – in fact neither have yet scored in the famous blue shirt, while World Cup winners such as Luca Toni, Alberto Gilardino and Fabio Grosso have suffered from various dips in form at club level and never again produced at the highest level.
It is symptomatic of the state of Italian football right now. There are a number of options available to Cesare Prandelli in attack right now – and other young strikers are showing promise – but there is little depth elsewhere. The World Cup win was in no way an accident, but nor was it meticulously planned as part of a long-term vision. The inability to build on that success and maintain the nation's place at the very top is proof of that.
Italy's World Cup winners were not as loved as Spain's are, but then the Italian style of football has never much been to everyone's liking, even taking into account the vast array of creative footballers the peninsula has given to the world. But their displays over the last five years have done little to retain the fans they won over in Germany. The 2006 success was not the start of a golden generation, more the result of perfectly prepared opportunism. It was a magnificent summer, but one which was never likely to last.
HOW A COMBINED SPAIN & ITALY XI COULD LOOK TODAY
GOALKEEPER

Casillas (Spain)
| | | | |
| --- | --- | --- | --- |
| RIGHT-BACK | CENTRE BACK | CENTRE BACK | LEFT-BACK |
| Ramos (Spain) | Pique (Spain) | Chiellini (Italy) | Capdevila (Spain) |
| | | |
| --- | --- | --- |
| CENTRE MIDFIELD | CENTRE MIDFIELD | CENTRE MIDFIELD |
| Xavi (Spain) | Busquets (Spain) | Iniesta (Spain) |
| | | |
| --- | --- | --- |
| RIGHT FORWARD | CENTRE FORWARD | LEFT FORWARD |
| Pedro (Spain) | Villa (Spain) | Rossi (Italy) |
For Spain, the story is one of gradual growth. La Roja had enjoyed success at youth level and always approached major championships as one of the teams to watch, often as dark horses or even favourites. But the result was invariably the same - disappointment.
In 2006, Luis Aragones' side had impressed in the group stages, while France had stumbled through their sector. But when the two sides met in the last 16 in Hannover, the French had the edge mentally and triumphed 3-1. Spain had failed to show up and could only watch on as Italy secured a fourth World Cup while they were left on zero. It was the same old story.
The turning point came in 2008. Coach Luis Aragones had been under pressure following surprise defeats against Sweden and Northern Ireland in late 2006, but qualifying was achieved with relative ease and Spain, as usual, headed to Euro 2008 as one of the big favourites. This time, though, they delivered.
LA ROJA | A story of success




| | |
| --- | --- |
| Team | Recent record in major tournaments |
| Senior side | Euro Champions (2008), World Cup winners (2010) |
| Under-21 | European Champions (2011) |
| Under-20 | Currently playing World Cup in Colombia |
| Under-19 | European Champions (2011) |
| Under-17 | European Champions (2006, 2008, runners-up in 2010), World Cup finalists (2007) |
La Roja thrashed Russia, beat Sweden with a last-gasp winner and edged out Greece with a team of reserves to negotiate a comfortable passage to the quarter-finals. And in what would be their biggest test so far in the competition, they would face Italy. The Italians had looked less than convincing, but this was the kind of match Spain usually lost. Not this time, however.
Spain played most of the football in the tense last-eight meeting, but were unable to break down a stubborn Italian defence for 120 minutes of football and the game would be decided by penalties. Spain missed one; Italy erred two - and La Roja had ended their quarter-final hoodoo, passing a significant mental test in the process. It was a result that changed the course of Spanish football following so many disappointments in years gone by.
A comprehensive beating of Russia came next in the semi-finals, before a hard-fought - but fully deserved - win over Germany in the final, decided by a single Fernando Torres strike.
And since then, while Italy have wilted, Spain have continued to blossom. La Roja looked worthy successors to Cannavaro and co. as they claimed the World Cup in South Africa last year. But unlike the Azzurri, the Spanish success seems more of a starting point than a culmination of a golden generation.

"Our mechanisms must change. In our football several things need to change - otherwise we will not win the World Cup again for 25 years.
"

- Fabio Cannavaro, Italy captain in 2006
After Italy's 2006 triumph, football on the peninsula was immediately rocked by the Calciopoli scandal and Cannavaro complained at the state of the game in his country, lamenting everything from the poor condition of the stadiums to the lack of grass-roots development of young players. "Our mechanisms must change," he said last year. "In our football several things need to change - otherwise we will not win the World Cup again for 25 years."
In Spain, there is no such pessimism. La Liga is thriving, arguably boasting the two greatest club sides in the world, one of which - Barcelona - is considered to be perhaps the finest football team in history. The Catalans' extraordinary youth system has played its part in La Roja's success, with Barca players forming the backbone of the 2010 team.
But there is plenty more to come. Spain's Under-21 and Under-19 sides have claimed European Championship glory this summer, while La Roja's Under-20 team are currently impressing in their age group's World Cup in Colombia and have been tipped to go all the way to the trophy. It's a lasting legacy from which the Azzurri can learn a thing or two. Right now, Italy can boast four World Cups, while Spain have just one. But you can't live in the past.
Follow Kris Voakes on

Follow Ben Hayward on