---
EXCLUSIVE
---
Thomas Muller has revealed that Louis van Gaal was the man that has most dramatically influenced his career.
Although the Dutchman is most recently remembered for his disappointing spell at Manchester United, the German was effusive in praise for his former mentor at Bayern Munich.
"When we talk my biggest influence I have to say Van Gaal," Muller told Goal. "He threw me in the deep end.
"I made my debut before he arrived, but he was the one who relied on me more continually.
"For players during our active career, it is always difficult to talk about coaches – whether it is former or a current. It is difficult to say for a player who was the better coach. But I would say that my biggest influence was Louis van Gaal, because I was at the best age to be influenced."
Muller, nevertheless, rates current boss Carlo Ancelotti highly and believes the Italian can turn things around after a disappointing run of results.
"We have not won for three games in a row now," he said. "That's a situation at Bayern that does not happen too often and that should not happen too often. That's why we are currently looking for the what, why and the how. We talk a lot. But you have to understand we cannot discuss these details in public – otherwise we would kill each other in front of the cameras.
"Ancelotti can be very uncompromising and loud, which is the right thing to do if you have the impression that determination and drive is lacking. Basically he's not the one to yell at you for no reason, when the result is bad.
"He's focusing on things to build up your confidence again instead of yelling at you. I can confirm that. It's the right thing to do, I think."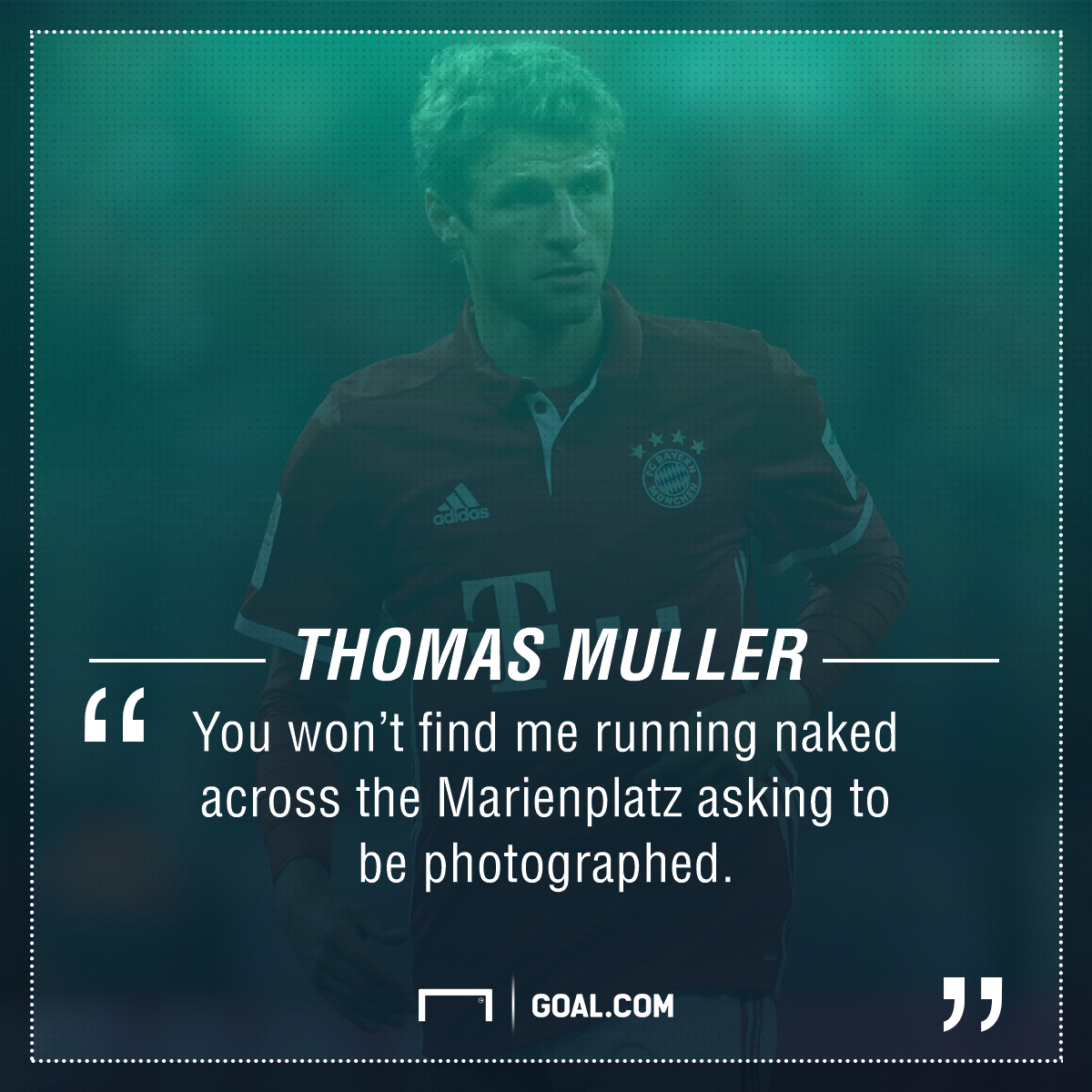 The striker typically shuns the spotlight and is happy to keep a low public profile.
"I do my thing. I will not change my everyday life and feel restricted," he said. "You won't find me running naked across the Marienplatz asking to be photographed.
"I try to be available for the fans, but sometimes when I'm with my family, wife and friends, I try to project my private life. You cannot please everybody."
Meanwhile, Muller, is still searching for his first Bundesliga goal of the season but has carved out a reputation as a prolific marksman, despite not having one obviously outstanding skill, save perhaps his knack of being in the right place at the right time.
"'Space finder' is a phase I used in an interview one time, and it's followed me ever since," he said. "But you should not see things too mystically. There are some spaces in football that can turn into more dangerous spaces on the pitch than others.
"Being in the right place has been one of my focusses for a long time. That's what my team expects from me. And it's what I try to do.
"I would not describe myself as an unusual player. The only thing what is unusual is the complete Thomas Muller package, meaning each individual skill is nothing out of the ordinary.
"For instance, when dribbling, I'm not a world leader, and there are strikers who are faster and they shoot more powerfully.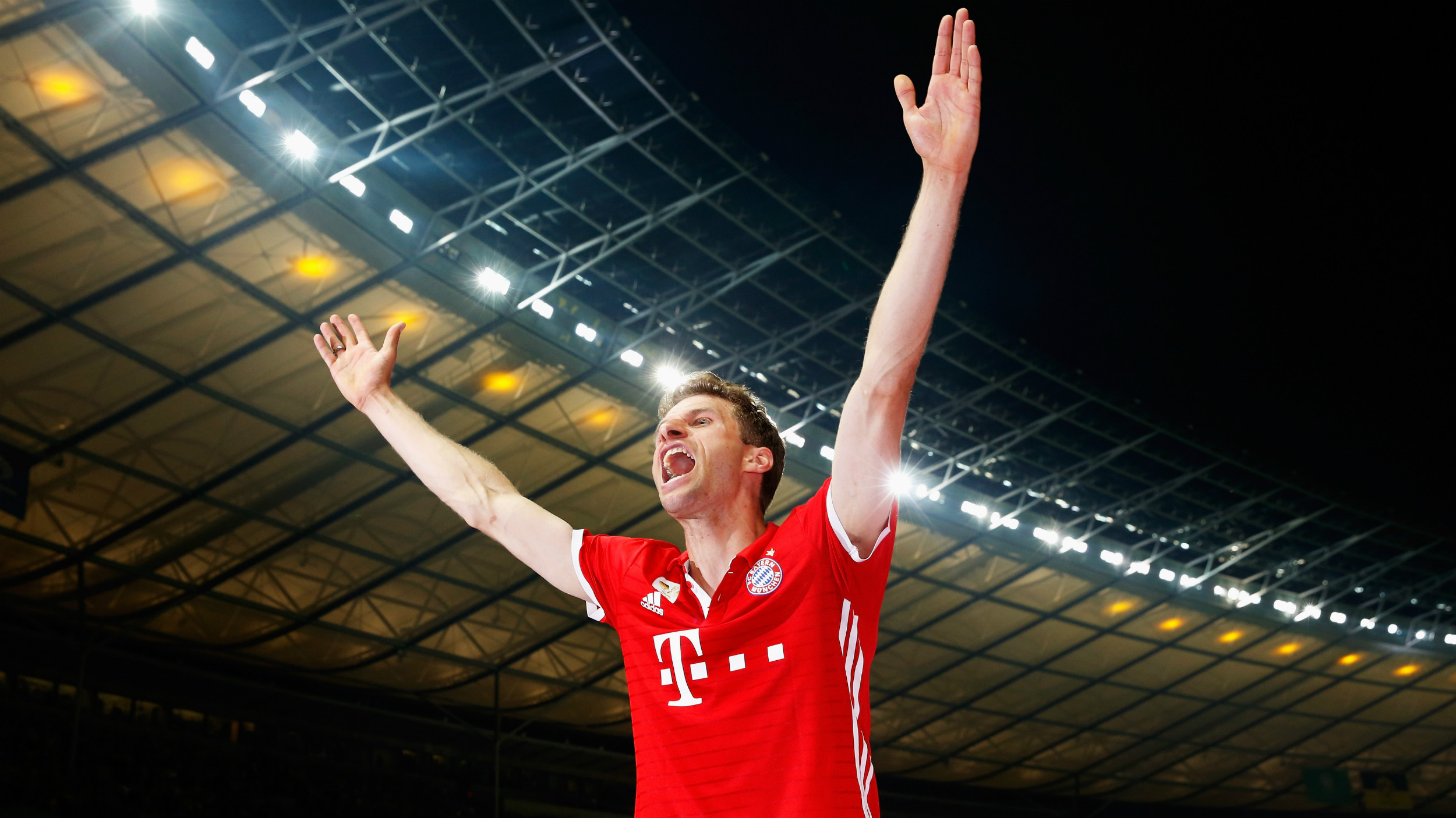 "That alone is not unusual but it might be unusual that I'm still at the top level in Germany and the world as a package called Thomas Mueller. People might not be surprised that I play football in the Bundesliga, but they might be surprised that I play to such a high standard, winning top scorer in the World Cup.
"There's no secret about me and my game. It's just about being in the right spot, mental endurance and strength, trust in my abilities and the understanding of what the team needs.
"It also includes the idea that a long ball into the stands might be the right thing to do rather than trying some spectacular solution right in front of your own goal. I try to do everything that is needed to win and that means I'm just part of a team and try to help the team to be successful."
Muller's next test with Bayern is a DFB Pokal tie against Augsburg on Wednesday.