The hosts progress as Fernando Torres is substituted at half time having failed to make an impact with Carlo Ancelotti's side destined to end the season trophyless
Manchester United
progressed to the semi-finals of the Champions League after beating a disappointing
Chelsea
side 2-1 at Old Trafford.
Goals from Chicharito and Ji-Sung Park were enough to secure a 3-1 aggregate victory for United over Carlo Ancelotti's side who are almost certain to end the season without silverware.
In an opening 45 minutes high in both intensity and action, Javier Hernandez saw a goal disallowed for offside on the 27th minute mark before giving the hosts the lead, having latched on to a sublime Ryan Giggs ball on the stroke of half time.
Sir Alex Ferguson's side then sealed their qualification for a semi-final match up with either Schalke or Inter with a confident second half performance as Park cancelled out Didier Drogba's equaliser only seconds after the Ivorian had struck on the 77th minute.
Having managed two AC Milan sides to Champions League success, the selection of Fernando Torres ahead of Drogba by Ancelotti certainly reflected a man with a firm trust in former glories. The Spaniard's history against the Ferdinand-Vidic partnership is laced with triumph, though his form alongside the Ivorian has belied the £50 million spent to secure a move to Stamford Bridge in January. An all or nothing move, the selection of the former Liverpool man held a fitting symmetry to Chelsea's last shot of glory this season.
The hosts, in comparison, started with a line-up deep in experience and short in talking points. The dynamism of Park down the left-hand side is a much-used weapon in the significant battles of United's recent history, though it was Nani who graced the right-hand flank as opposed to Antonio Valencia, who had started in West London only 6 days ago. With both Rooney and Hernandez up front, Sir Alex Ferguson had typically set up a team with no intention of sitting on their away goal lead.
United's refusal to rest on their laurels was apparent from the off, as the hosts looked to build upon a rampant atmosphere within the Theatre of Dreams. Rooney, looking ever more dictatorial in the halves of opponents this season was dropping in behind the Chelsea midfield, forcing both Alex and John Terry to commit to positions in which they looked wholly uncomfortable, straying from there lines of duty.
The impressive start of the hosts so nearly paid dividends on the 12th minute as Hernandez, having collected a low, fizzed ball from Rooney, rapidly made his way down the right-hand side of the Blues' box. The Mexican whipped a threatening looking effort across the six-yard box to Giggs, only for the Welshman to see his effort deflected wide.
A response was required from the Premier League champions and it came in the form of Florent Malouda, a man whose form has failed to match its dizzying heights of last season. Jinking his way past John O'Shea, the Frenchman slid a fine ball into the path of Frank Lampard but the former West Ham man lashed his stinging effort into the arms of Edwin van der Sar. With the 20-minute mark approaching, neither manager would have had cause for complaint.
The selection of Torres, or possibly more so, Ancelotti's decision to bench Drogba had indeed raised eyebrows but as the Spaniard linked neatly with Anelka just outside the United box on the 23rd minute, the Italian's decision was growing in justification as the visitors began to take control of a clash in which they certainly felt that they had more than a supporting role.
However, less than five minutes later, Hernandez had looked to give the home side a seemingly unassailable advantage. Meeting a sublime Rooney ball from the right, the man that announced himself in England against Chelsea in August's Community Shield headed past Petr Cech only to be denied by an offside decision from the linesman. A correct but resonant wake-up call for the visiting Blues.
Chelsea's way back into it was then nearly handed to them on a plate in the usually unaccommodating surroundings of Old Trafford as Vidic limply knocked the ball back to Van der Sar and allowed Anelka in, only for the 40-year-old veteran to deliver a sliding tackle that the Serbian himself would have been proud of. Once again, nerves were jangling both on and off the pitch for the hosts.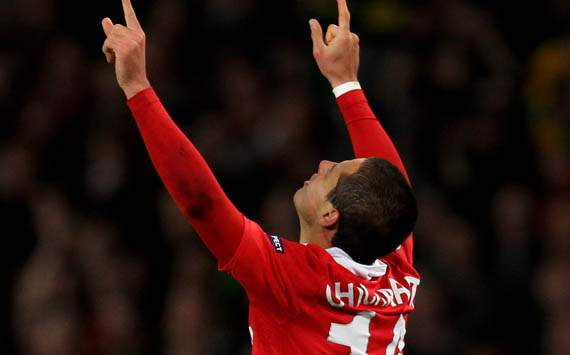 Opener | Hernandez broke the deadlock for United on the the stroke of half time
The endeavour of both sides was hardly befitting a tie of such intensity and as half time approached, the hosts secured the advantage. Collecting a magnificent ball from Rooney, O'Shea slid the ball down the right to an advancing Giggs and the Welshman, without even a thought of breaking stride, fizzed the ball onto the boot of Hernandez, who finished, as is his wont, with consummate ease. Not quite a parallel of Rooney's goal at Stamford Bridge, but the wizardry of United's most decorated player had once again proved decisive as United took a half-time lead.
The drama was to continue before a second-half ball had been kicked in anger as Torres' Chelsea nightmare continued at the Theatre of Dreams. Subbed off for the more physically imposing Drogba, it was a move laced with desperate overtones. The Ivorian had 45 minutes to save his side's season, and quite possibly, his manager's job.
Drogba's introduction certainly had an impact and it was made evident only 10 minutes into the second period as the former Marseille man picked up the ball 25-yards out, flicked and turned to last a superb volley wide of Van der Sar's goal. The Dutchman may well have had it covered but the Ivorian's threat was clear for all to see.
Signs of resurgence from the visitors were met by equally alarming counter attacks from United, who weren't sitting on what was looking like an increasingly comfortable lead. Urgency was waning however and most worryingly for the visitors, it was looking all too easy for the hosts' defence as the hour mark passed.
The remaining 20 minutes were nearly confirmed as a formality when Nani hit a sweet right-footed effort towards Petr Cech's bottom corner but the the Czech keeper, who had been left fighting a solitary battle on a number of occasions, got down well to keep the Portuguese winger out.
However, Cech's save was to prove a small mercy only two minutes later as Ramires, having been booked on the 32nd minute for chopping down Nani, was sent off for a foolhardy challenge into the back of the former Sporting Lisbon man. A perilous task for the Blues was looking more and more likely to slip out of their control.
Or so it would have appeared, until Drogba gave Ancelotti a lifeline, whilst at the same time outlining the question as to why he hadn't started in the first place. Beating the offiside trap having picked up a fine ball from Essien down the middle, a swivelling effort from effort from Chelsea's towering striker had looked to have made it game on.
Yet once again, as has become a trademark of United, the host's unwavering mental strength was to shine with agonising clarity for Ancelotti only seconds later as Park, so often labelled as a player of industry and little else, controlled Giggs' ball from the right beautifully before striking it home with an unerring cool. Ferguson could not have asked for a better response from his charges, who with ten minutes remaining has all but sealed their path into the Champions League last four.
Chelsea looked very much a team defeated and there was little coming in way of a fightback as the game played out. Game and most probably season over for Ancelotti's side. For United, their treble adventure is still very much on.