live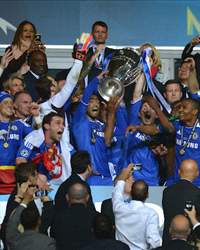 Chime in with Goal.com and other users and share your opinions.
215107
2012-05-19 20:02:00
Wonderful chance. Arjen Robben receives the ball from Mario Gomez and is set to test Petr Cech from just inside the Chelsea box. Ashley Cole gets across from left-back to put in a magnificent block to clear, though. Thirty minutes of normal time remaining. Time for a change?
215106
2012-05-19 19:59:00
215104
2012-05-19 19:57:00
Oh. "Miles offside," a tweeter tells me. I repeat: I want that second replay.
215102
2012-05-19 19:55:00
Hmm. Close call, this. Franck Ribery looks to have put Bayern ahead from close range after an effort is deflected straight into his path by Ashley Cole. Again, why no replay? Grrr. I did get to see it once more, in fairness, and he looked in line. I want that second replay - now.
215099
2012-05-19 19:53:00
Mario Gomez dribbles between Gary Cahill and Ashley Cole and falls to ground... arms spread out wide - the lot. He wants a penalty. The whole world knows it isn't. Play continues.
215096
2012-05-19 19:51:00
Didier Drogba, possibly playing his final game for Chelsea, shows a bit of fight to outmuscle his marker to the ball midway inside the Bayern half and power a speculative effort a few yards wide. Decent attempt from the Drog.
215092
2012-05-19 19:49:00
Arjen Robben takes too long to get a cross/shot into the area, but the ball eventually falls to Toni Kroos 20 yards out. The Bayern midfielder smashes towards goal but David Luiz's floppy hair diverts the ball over the bar for a corner, which results in precisely nowt.
215088
2012-05-19 19:47:00
More from Dan Levene on Twitter: "Roman Abramovich appears on big screen, to applause from the Chelsea end. No reaction from Bayern: prob can't see though the flare smoke."
215084
2012-05-19 19:46:00
We're off for the second half at the Allianz...
215083
2012-05-19 19:44:00
I'm very impressed with the Facebook/Twitter interaction over there >>>. Well done all! Keep it up. Meanwhile, I'll update you on a potential injury. Gary Cahill looked to have tweaked his hamstring when trying to block one of the numerous Mario Gomez misses in the first half. He's back out for the second half - we shall see.
215079
2012-05-19 19:41:00
KWAKU ANKOMAH ASARE on Twitter:
"honestly Mikel has been the best chelsea plaayer by a mile........shows why essien is on the bench #CFC"
Best of an average bunch?
215073
2012-05-19 19:37:00
And so does Chelsea fan Dan Levene: "An almost unbearably tense first half from a Chelsea point of view. If we lost eight of our nine lives in Camp Nou, its a wonder there's any life left in the cat after this. But Blues looking dangerous on the break, and no sign yet of the romp predicted by the German press. But PLEASE no penalties tonight."
215070
2012-05-19 19:35:00
Wayne Veysey reports from the Allianz:
"The half-time whistle blows, the deafening tunes start. With barely a second between the two. Supporters, dignitaries and neutrals alike can now reflect on an opening period completely dominated by Bayern, who are effectively the home side and are playing like it. They have had 13 shots to Chelsea's two, which is an accurate reflection of their control. Only wonky finishing has let them down, with Mario Gomez the worst culprit. Chelsea will be happy with the scoreline but need to make far greater use of Didier Drogba, who has not even threatened intermittently."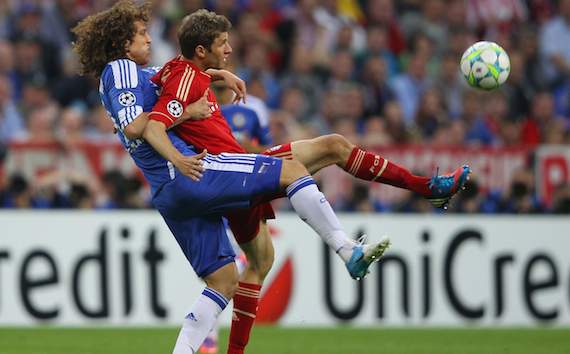 215068
2012-05-19 19:33:00
Anybody else have that feeling? This reminds me (and probably everyone) of the semi-finals against Barcelona. Fernando Torres to come on and nick a winner? Imagine that...
215066
2012-05-19 19:32:00
Panji Sudoyo on Twitter:
"I have a feeling Chelsea will nick this one 1-0 somehow...When you're destined to be Champions, you're just destined. That's it."
215062
2012-05-19 19:31:00
One minute added on at the Allianz...
215061
2012-05-19 19:29:00
215058
2012-05-19 19:27:00
And it just gets worse for Mario Gomez! The German fools Gary Cahill with a magnificent dummy 18 yards out. He then only has Petr Cech to beat but doesn't look up and smashes a wild shot MILES over. "Who is this guy and what has he done with Mario Gomez?" says a colleague - too right.
215053
2012-05-19 19:24:00
Mario Gomez...pfffft. His first touch has been somewhat questionable this evening, let's put it that way. The Bayern striker should really shoot first time after an Arjen Robben cross is deflected into his path, but he takes a heavy touch in a great position in the Chelsea box and the ball is cleared.