live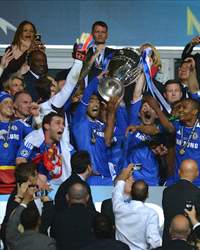 Real time, real news: Goal.com LIVE! brings you the action as it happens.
215360
2012-05-19 22:07:00
215356
2012-05-19 22:05:00
Bayern great Franz Beckenbauer to Sat1: "Why are the English to blame when Bayern is not able to convert their dominance? Luck was on Chelsea's side this time and that is why they are deserved Champions League winner. Nonetheless, Bayern was the better team for most parts of the game."
215350
2012-05-19 22:02:00
Again, inevitable (almost weekly) question: Has Roberto Di Matteo done enough to secure the Chelsea job full-time? If not...my word. Tweet, Facebook - you know the drill. Go for it.
215345
2012-05-19 21:59:00
And how about Roberto Di Matteo? Jose Mourinho, Avram Grant, Guus Hiddink, Carlo Ancelotti and more - so many managers have been in the Chelsea hotseat since Roman Abramovich took over in 2003, and so many have failed to win the trophy he craves the most. Bobby D rocks up - BANG! Trophy won. Sorted.
215339
2012-05-19 21:56:00
Bayern goalscorer Thomas Miller on Sky: "That is football. We have seen it in the past: It is not always the better team that has the cup in the end. When you score in front of your own fans so close to the end and then you watch Chelsea holding the cup, you can see that a lot has happened and feelings have changed. It was hard to find words for that. But football is not everything in life."
215337
2012-05-19 21:54:00
Arsenal supporters, despite knowing they can no longer become the first London club to win the Champions League, are absolutely loving it tonight. They're all over the poor Tottenham fans on Twitter - give them a break, eh, chaps? Spurs boss Harry Redknapp's even at the game tonight. Mixed feelings for him, I'm sure, with his side dropping to the Europa League and nephew Super Frankie Lampard lifting European glory. To quote my boss: WHAT. A. NIGHT.
215331
2012-05-19 21:50:00
smart sam on Twitter:
"what's next for Bale and Modric. Barca and Chelsea calling. hahahahahahahhaha #gunnersrulesnorthlondon"
215327
2012-05-19 21:48:00
John Terry, Frank Lampard, Didier Drogba and Jose Bosingwa (ahem) are right in the centre of the celebrations to lift the trophy together as the Champions League music is played over the PA system. Even Roman Abramovich - he of little words or public appearances - joins in the fun by holding the trophy aloft.
215320
2012-05-19 21:46:00
Roberto Di Matteo to Roman Abramovich: "I told you, I told you - I won it!"
215316
2012-05-19 21:45:00
Nothing wrong with John Terry collecting the trophy, by the way. He's the captain - why shouldn't he? Had that been the likeable Nemanja Vidic or Robin van Persie, there wouldn't be a problem from anyone. Anyway, that's for another day! Music which I can't quite recognise blares out at the Allianz. Roberto Di Matteo picks up his medal, Roman Abramovich congratulates his players and Chelsea are about to party.
215312
2012-05-19 21:42:00
A distraught Arjen Robben is consoled by a Bayern chief and Uefa president Michel Platini as the runners-up go to collect their medals and walk past the Champions League trophy. And here come Chelsea - John Terry 'en all...
215308
2012-05-19 21:40:00
Richard Evbuomwan on Twitter:
"Di Matteo definitely have a permanent now,.. The man who's brought to reality Abramovich's dream…"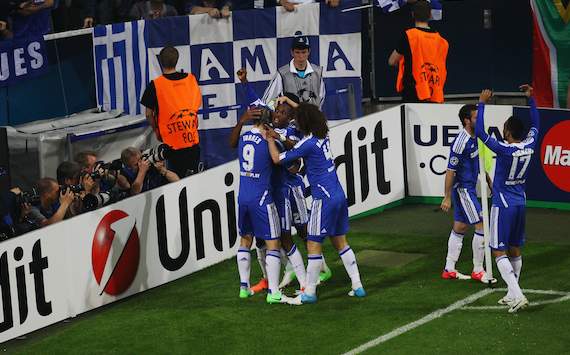 215302
2012-05-19 21:38:00
And, of course, commiserations to Tottenham, who will be playing in the Europa League - not Champions League - next season due to Chelsea's triumph.
215297
2012-05-19 21:37:00
Chelsea fan Dan Levene in Munich: "Never thought it would happen. Least of all here. Tears in my eyes: 28 years supporting this club, and European Champions. The Chelsea end awash with blue flags. Singing, dancing, many more tears I'm sure. As Sir Alex put it in just such circumstances: 'Football - bloody hell!'"
215294
2012-05-19 21:35:00
215293
2012-05-19 21:33:00
Wow. Chelsea's first ever Champions League triumph - and what a way to do it. Having defended for so long, who would have thought they would have gone on to win? Thomas Muller scores - all over? No. Didier Drogba gives away a penalty - all over? No. Bayern go 2-0 up in the shootout - all over? Not a chance. Just amazing.
215286
2012-05-19 21:31:00
Chelsea have won the Champions League!! Didier Drogba, in what could be his last game for the club, scores the winning penalty! That could be his final ever touch in a Chelsea shirt! Incredible! Exclamation marks just don't do this justice!!
215281
2012-05-19 21:30:00
Bayern 3-4 Chelsea: DROGBA WINS THE CHAMPIONS LEAGUE FOR CHELSEA!!!!!
215278
2012-05-19 21:29:00
DROGBA TO TAKE WHAT COULD BE THE DECIDING PENALTY...
215275
2012-05-19 21:29:00
Bayern 3-3 Chelsea: SCHWEINSTEIGER HITS THE POST!!