live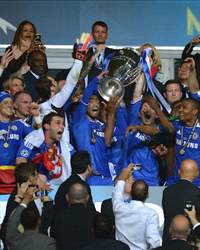 Real time, real news: Goal.com LIVE! brings you the action as it happens.
215419
2012-05-19 23:02:00
Incredible night of footballing greatness, my good people. I'll finish by repeating myself (again): Thomas Muller scores - all over? No. Didier Drogba gives away a penalty in extra time - all over? No.
Bayern
go 2-0 up in the penalty shootout - all over? Not a chance. Not only have
Chelsea
won their first Champions League, they've done it in remarkable circumstances that make this a truly historic European Cup final. Thank you very much for following and getting involved here, there and over there
>>>
. That's us calling it a night. Goodbye!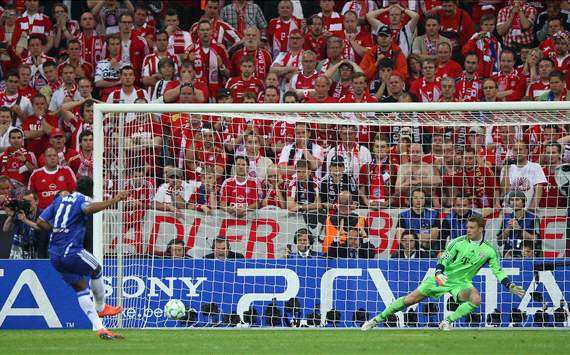 215415
2012-05-19 22:57:00
Chelsea fan Dan Levene in Munich: "Was hoping to avoid a Europa League trip to Kazakhstan & we end up with a World Club Championship trip to Japan. Expensive being champions."
Now, now, steady on.
215413
2012-05-19 22:55:00
Chelsea captain John Terry to Sky Sports: "It was hard watching. It was incredible. The lads were fantastic. When it goes to penalties, it's amazing how the momentum swings. Once they missed that second penalty that was it, it was always going our way. When you look at it, we were 3-1 down against Napoli, then in the quarter-finals against Benfica. Everyone had ruled us out of this competition early on, even today they scored in the 83rd minute and Didier comes up with a goal, they miss a penalty, the Barcelona game as well. Sometimes things are meant to be and I'm so happy it's meant to be Chelsea this year."
215410
2012-05-19 22:52:00
215409
2012-05-19 22:50:00
Chelsea manager Roberto Di Matteo to Sky Sports: "It was very stressful. It was an amazing achievement by the players. The game wasn't ideal with suspensions, the injuries and we went for 120 minutes with players who haven't played for three weeks, four weeks, and it's just been incredible. The passion and the pride that the players have to bring the trophy home. Bayern is a very good team and they played a very good game tonight. We have to play the way that suits us and with the players that we have and the right way to do and win the game."
215407
2012-05-19 22:48:00
BREAKING NEWS! Chelsea will hold a parade in the Fulham area on Sunday.
215406
2012-05-19 22:45:00
Our headline writers have improved dramatically from the midweek massacring of Roy Hodgson! "Written in the stars" - good start to a headline. I like it. "Drogba Chelsea's history-maker on the Blues' greatest ever night" - brilliant. Check out that masterpiece from
Wayne Veysey
right here
.
215396
2012-05-19 22:40:00
215395
2012-05-19 22:38:00
Afolayan oluitan on Twitter:
"Bayern is having their third second best finish of the season, at the bundesliga, german cup and champions league"
Nightmare!
215393
2012-05-19 22:36:00
Chelsea defender Ashley Cole to Sky Sports: "I'm lost for words. We should have probably lost the game with the amount of chances they had but we said it after Napoli, [when] we beat them, we rode our luck. You need luck in this competition and today we got that luck and deserved it. [Did you believe you were out of luck after Bayern got penalty?] Not really. With the players we've got here we thought 'okay, it's a penalty but we still have time' and with Petr making great saves like that we always believed. No-one can say nothing to me [personally]. This is the reason I came here."
215389
2012-05-19 22:33:00
Bayern coach Jupp Heynckes has confirmed in an interview with Sat1 that Manuel Neuer took the third penalty because only a few players said they were able to take one in the shootout: "When you talk three times to a player, what sense does it make to let him shoot?" Ah yes, in all the mayhem, I didn't mention the circumstances behind that. No Bayern players walked forward from the halfway line to take their third penalty, so Neuer took it after a short delay. Love a goalscoring goalkeeper - love it.
215387
2012-05-19 22:30:00
Our man on the ratings, which I've definitely not forgotten for the 27th time in 29 weeks, this evening,
Greg Stobart
, is in agreement with me on the old top/flop of the match. For the full set of ratings and descriptions,
look no further
.
215381
2012-05-19 22:27:00
General consensus tells me this: Flop -
Mario Gomez
, undoubtedly. Man of the match - Most, like Hamza, are saying
Ashley Cole
. Come on now, people -
Petr Cech
was outstanding tonight!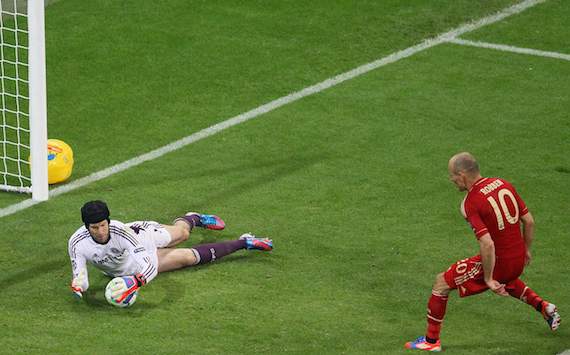 215377
2012-05-19 22:23:00
Hamza. on Twitter:
"ashley cole, what a top performance from him, bayern wouldve destroyed and scored loads more had it not been for ash"
Ashley Cole. Eh? Even after his appalling (lack of) defending on the Thomas Muller goal? Exceptional other than that, granted, but that was a big moment, y'know!
215374
2012-05-19 22:21:00
Oooooo. Thanks Paul. That reminds me - your man of the match this evening, people: Didier Drogba? Petr Cech? Flop of the match: Arjen Robben? Mario Gomez? For me, man of the match just has to be Cech. Incredible story and everything with the Drog, but he did give away a penalty that could so easily have gifted the match to Bayern. Flop? Gomez, simply for his three woeful missed chances in the first half.
215372
2012-05-19 22:18:00
Paul Hage on Twitter:
"horrible performances from gomez and robben! Neither team played good football but the match was a great thriller"
215369
2012-05-19 22:16:00
Chelsea fan Dan Levene in Munich: "Blue Is The Colour playing in stadium. A local remarks it could easily be a song from Oktoberfest. Certainly got a bit of an oompah edge!"
215368
2012-05-19 22:14:00
More from Lampard on Roberto Di Matteo: "It's not a question for this moment. He took us from a struggling team maybe going out of the Champions League and we won it, so look at that."
215366
2012-05-19 22:12:00
Chelsea captain-for-the-night Frank Lampard: "I can't believe it. The determination we've shown... we didn't play fantastic but the main man Didier dug us out of trouble there. He's a hero. Without him we're not here. He scores the goals in the big games. I'd love him to stay. What he did tonight he's been doing all his career."
215364
2012-05-19 22:10:00
As strange as it may sound, I agree with him.
Roberto Di Matteo
should not take on the job full-time - there, I said it. Just like
Didier Drogba
should not stay. Scoring the winning goal in the Champions League final - imagine that being your final act at a club where you're already a legend and one you have served for eight years? Di Matteo, too, call it quits! It won't get any better than this! It just can't, can't it?