live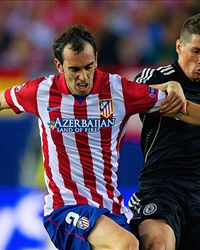 409263
2014-04-22 21:30:10
Well, then. That is just about that for tonight's Champions League LIVE extravaganza. We'll all be stronger for having survived that game.
With it safely behind us, though, make sure to stay with
Goal
for all the reaction that you could possibly want - as well as the first instalment of
Real Madrid v Bayern Munich
tomorrow! Crikey, that'll be tasty. We'll be back then. In the meantime, I've been
George Ankers
and you've been a lovely audience. Goodnight!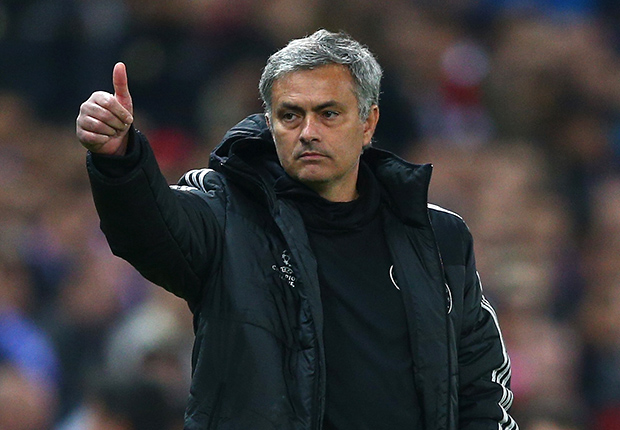 409262
2014-04-22 21:25:16
Peter Staunton
was watching the game tonight so that you didn't have to - here's his take on what he feels was a missed opportunity for
Chelsea
to take a decisive advantage over
Atletico Madrid
. Was focusing on defending the right move for
Jose Mourinho
?
Mourinho gamble leaves Chelsea chances on a knife-edge
409261
2014-04-22 21:20:35
Jose Mourinho also confirmed that Petr Cech's season is over after that shoulder injury.
409260
2014-04-22 21:17:14
"Fernando Torres was on his own," adds Jose Mourinho of his striker's rather isolated return to Atletico Madrid. "It was very tough for him because Willian and Ramires struggled to attack and defend."
409258
2014-04-22 21:15:06
Or did he?
Chelsea
boss
Jose 'Sir Nilsalot' Mourinho
denies going into the game aiming for a stalemate.
He tells
Sky Italia
: "No, I wasn't looking for 0-0 but I didn't want to start the return leg down a goal, either.
"We played a solid game. We frustrated
Atletico Madrid
, whereas normally they're the ones who frustrate others. Atletico needed to win this game and we stopped them from doing it. I told our players not to keep the ball too much because Atletico press well."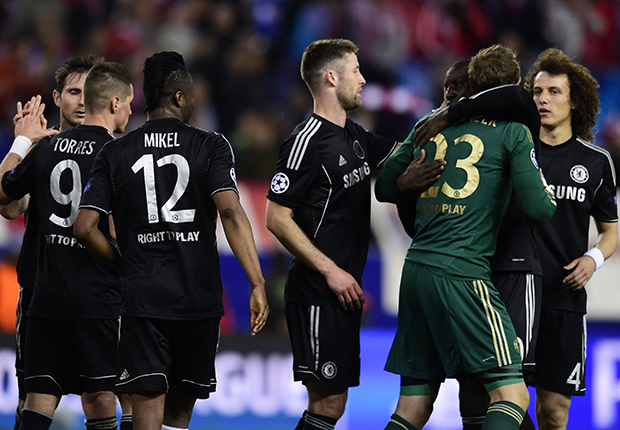 409257
2014-04-22 21:11:35
"I am sure we will win at Stamford Bridge," Atletico Madrid defender Juanfran tells Canal+. "We have played great games in Europe and it will be another one.

"Chelsea is going to play different there. They have a great coach who knows how to plan every match."

He certainly planned this one, alright.


409256
2014-04-22 21:06:00
After a tough-to-watch but defensively respectable game, who was the best player on the pitch? Check out our player ratings as we run the rule over both teams. None shall escape the hammer of our fair and reasonable judgement.
Player Ratings: Atletico Madrid 0-0 Chelsea
409255
2014-04-22 21:02:28
"Still no English team has won at the Estadio Vicente Calderon," says our man
Daniel Caballero
at the stadium. "
Atletico Madrid
have now kept a clean sheet in their last six matches and remain unbeaten in the Champions League."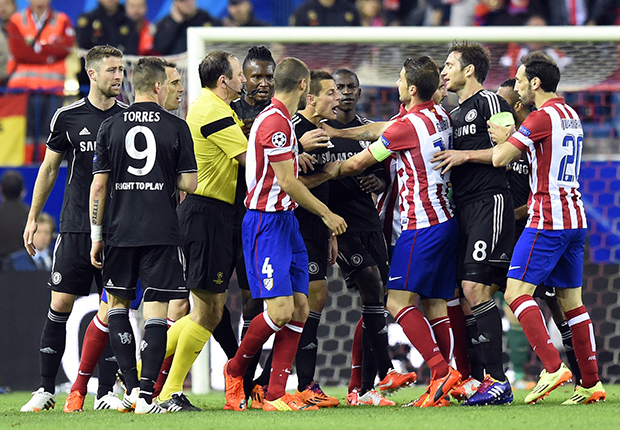 409254
2014-04-22 20:59:15
"We wanted to win this game at all costs [but] the tie is still wide open for us," says
Atletico Madrid
captain
Gabi
via the club's official
Twitter
account. "We will go London to win."
409253
2014-04-22 20:57:18
409250
2014-04-22 20:54:43
In other news, Leicester City have confirmed themselves as the winners of the Championship by beating Bolton 1-0 tonight. So at least someone had fun.
409247
2014-04-22 20:50:16
First, here's the full story on
Chelsea
captain
John Terry
being taken off injured in what was not an ideal night for the Blues in terms of injuries and suspensions...
Terry forced off against Atletico Madrid with ankle injury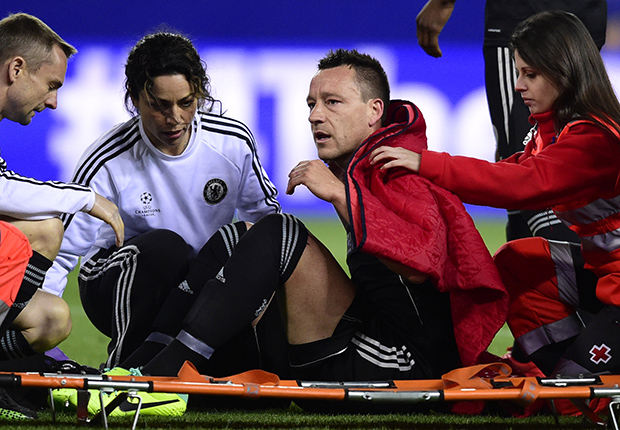 409246
2014-04-22 20:46:02
A late, late corner came to nothing for Chelsea, as did the subsequent attempt to counter from Atletico Madrid. And so ends a fairly uninspiring Champions League encounter which is of no great harm to either side but matched the visitors' game plan more than that of the hosts. Ratings, reaction and more on the way!
409243
2014-04-22 20:43:57
409240
2014-04-22 20:39:24
We have five minutes added on.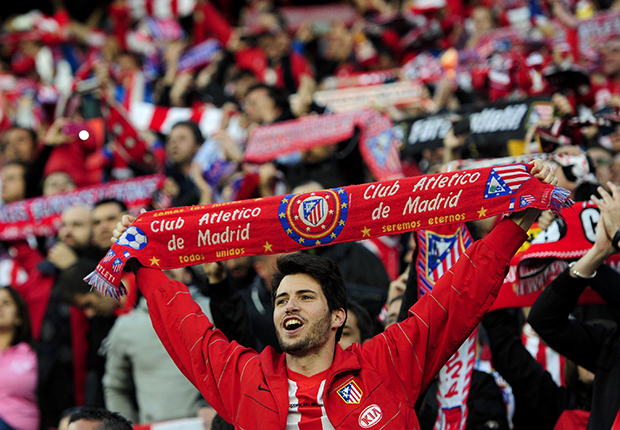 409237
2014-04-22 20:37:27
No. David Luiz whiffs it over.
409236
2014-04-22 20:37:01
Well, hang on. Fernando Torres wins a free kick from Miranda just on the edge of the penalty box, slightly to the left. Can Chelsea snatch an unlikely yet utterly predictable victory here?
409233
2014-04-22 20:34:07
It's Raul Garcia who is withdrawn for David Villa. Chelsea are very much in 'hanging on' territory now after Fernando Torres bungled a chance to counter a moment ago.
409231
2014-04-22 20:32:42
Jose Sosa, who came on for Mario Suarez a few minutes ago, runs right to the right-hand byeline and pulls back a cross for Raul Garcia but he's not in a great position to capitalise and his looping header drops onto the top of the net. David Villa is being readied now...
409229
2014-04-22 20:30:19
Diego Costa attempts an overhead kick and fails quite profoundly to make it threatening.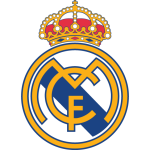 Real Madrid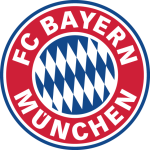 FC Bayern München
Prediction Submitted
Most Popular Predictions
Real Madrid 2-1 FC Bayern München

14.79 %

Real Madrid 2-0 FC Bayern München

14.17 %

Real Madrid 3-0 FC Bayern München

11.92 %