live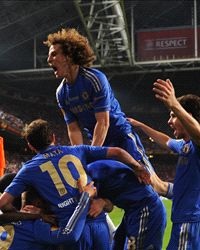 Chime in with Goal.com and other users and share your opinions.
335639
2013-05-15 19:58:32
The second half is only 10 minutes old and both teams already seem to have more urgency about themselves.

Ramires is played through by Fernando Torres, but the Brazilian times his run incorrectly and is around two yards offside.
335637
2013-05-15 19:56:51
Chelsea try to hit back straight away as Cesar Azpilicueta sends a cross towards Oscar from the right flank, but it is overhit and Benfica mop up.
335636
2013-05-15 19:54:58
DISALLOWED GOAL!!

Benfica have the ball in the back of the net as Oscar Cardozo leaps highest to meet Nico Gaitan's cross into the area, but the striker is quickly deemed offside.

Correct decision, but it is very tight.
335634
2013-05-15 19:53:06
First chance of the half goes to Benfica as Nico Gaitain hits a half-volley from the edge of the area that sails wide of Petr Cech's goal. Still no shot on target for the Portuguese side.
335633
2013-05-15 19:48:00
335632
2013-05-15 19:44:50
"
Chelsea
have looked shaky in defence in the opening 25 minutes, while creating very little on the other end," Stefan Coerts reports. "
Frank Lampard
came close once after some questionable goalkeeping from
Artur
, but the Benfica goalkeeper has had a rather quiet evening otherwise.
"
Jorge Jesus
, on the other hand, will be pleased with
Benfica
's performance, aside from their remarkably poor finishing. Both
Nico Gaitan
and
Oscar Cardozo
will feel they could have done better with the chances they got as it remains scoreless for now.
"Both teams will be playing toward their own fans in the second half as they have 45 minutes left to break the deadlock."
Talking of fans, see how some Chelsea supporters kept themselves busy during the first half.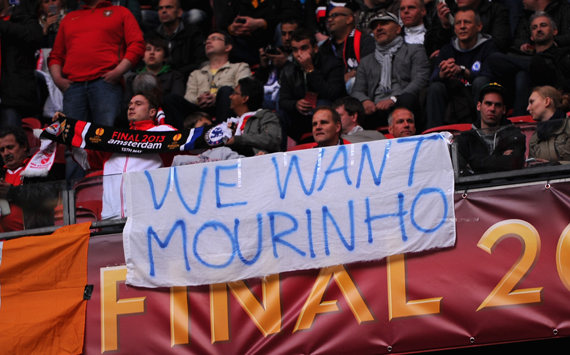 335630
2013-05-15 19:41:03
STAT ATTACK

Our very own Ewan Roberts has had his calculator out and come up with this little gem: "The Chelsea player that's touched the ball most in the first half is Petr Cech (32)."
335629
2013-05-15 19:39:55
BACK IN MANCHESTER

See? I told you this was a good idea.

Sir Alex Ferguson has been chatting to the club's official website about a variety of different things, but this snippet regarding David Moyes caught my eye:

"What I know of David is he's hard working and has an integrity about him. He's also got a work ethic about him and he's a serious football man. I think these are the qualities he's going to need.

"He's got a perseverance about him - look at what he's done at Everton. 11 years without any tremendous financial backing but he's persevered with it and created some decent teams in the last few years. They are the qualities he's going to need at our club.

"The one thing you have to do is definitely sacrifice and persevere - it's not always a golden path of riches. You have hard days and difficult days especially with the losses. We lost in the last seconds - for 10 seconds we were champions last year - but that's part of our history and we're used to that. Our supporters have suffered many things but also enjoyed many things. It's just part of our history."

More on that, and the rest of what Sir Alex had to say, soon.
335628
2013-05-15 19:37:03
Dan Levene reports from Amsterdam: "A forgettable first half. Chelsea with a dreadful start, were thankful Benfica couldn't hit a barn door with a rocket launcher. The Blues grew in stature as the half went on, with a particularly nice effort from Frank Lampard - saved by the palm of Artur - but this game needs a lot more quality if the second half is going to deliver anything worth remembering."
335627
2013-05-15 19:34:37
Not the most entertaining 45 minutes of football I've ever seen, but you would have to say
Benfica
should be in front.
Chelsea
grew into the game after an almost-anonymous opening 20 minutes.
What awaits us in the second half? Get your thoughts in on
Twitter.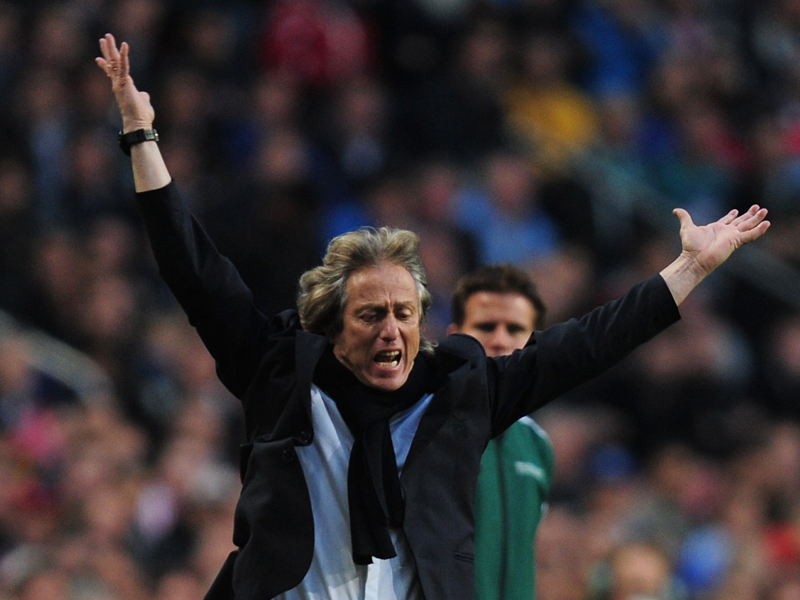 335625
2013-05-15 19:32:00
335624
2013-05-15 19:31:11
We are into stoppage time at the end of the first half, of which there will be one minute.
335623
2013-05-15 19:29:35
"Nemanja Matic has been absolutely superb in midfield for Benfica so far and Rafa Benitez seems to have spotted the danger," observes Stefan Coerts. "The Chelsea boss has send Nathan Ake and John Obi Mikel out of the dugout to warm up as he seems to ponder a change at half-time.

"David Luiz has been struggling in the opening 35 minutes. Could we see an early substitution?"
335622
2013-05-15 19:26:34
CLOSE!

We have the best chance of the game so far and it falls to Chelsea! Frank Lampard - the Blues' newly crowned all-time top goalscorer - finds a pocket of space around 25 yards from goal and hits a swerving effort that forces Arthur to change direction at the last second to tip over the bar.

Great shot, even better save.
335701
2013-05-15 19:25:00
"My goal is a great moment for me and for my team," Branislav Ivanovic told BeIn Sport. "It rewards our whole season. It is also a win for the fans. We are very happy. It was a tough game and Benfica played very well.

"To finish the season with a trophy is very important, especially since we played a lot of matches. The departure of Rafael Benitez? For now, we must firstly celebrate the title and focus on the last matches of the season."
335621
2013-05-15 19:24:18
BACK IN MANCHESTER
We seem to be constantly reporting on stories from Manchester of late so I've decided to start a mini-section dedicated to the city.
What's on the agenda tonight? The
Manchester United
Player of the Season awards! And it seems
Sir Alex Ferguson
is already enjoying his retirement, even if he is officially employed for a few more weeks.
"I slept for 10 hours on Monday night for the first time in my life!" he joked to host Jim Rosenthal.
Ryan Giggs
added later: "I've never seen him relax!"
Fun times.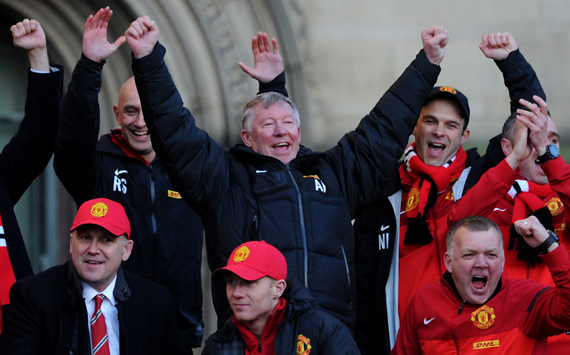 335697
2013-05-15 19:20:00
Petr Cech talking to BeIn Sport: "It was a difficult and tiring season, but when it ends like it did, it is extraordinary. There was big disappointment after our elimination from the Champions League, but it's this disappointment that brought us this far.

"The second goal, I felt it coming because we had a lot of chances in the second half. The penalty was unfortunate, but I knew we would win. This season, we did not have too many opportunities, but tonight it smiled upon us."
335619
2013-05-15 19:19:59
Another minute, another Benfica chance. This time Nico Gaitan's outside-of-the-boot shot sails high and wide of Petr Cech's goal. Could the Portuguese side live to regret this early dominance?*

(Football Cliche Checklist: 1)
335617
2013-05-15 19:14:02
"Benfica have dominated the opening 20 minutes and perhaps should have been one up here in Amsterdam," reports Stefan Coerts."Nico Gaitan missed the target from close range after a superb team move, while Oscar Cardozo looked threatening with a good header after a cross from the right.

"Chelsea on the other hand have mainly focused on defending so far and have yet to test Artur between the sticks."
335616
2013-05-15 19:12:24
Juan Mata
and
Oscar
combine for the first time tonight but
Ramires
gets in the latter's way as the ball rolls through to
Artur
in the
Benfica
goal.
The English side are settling into the game though. Finally.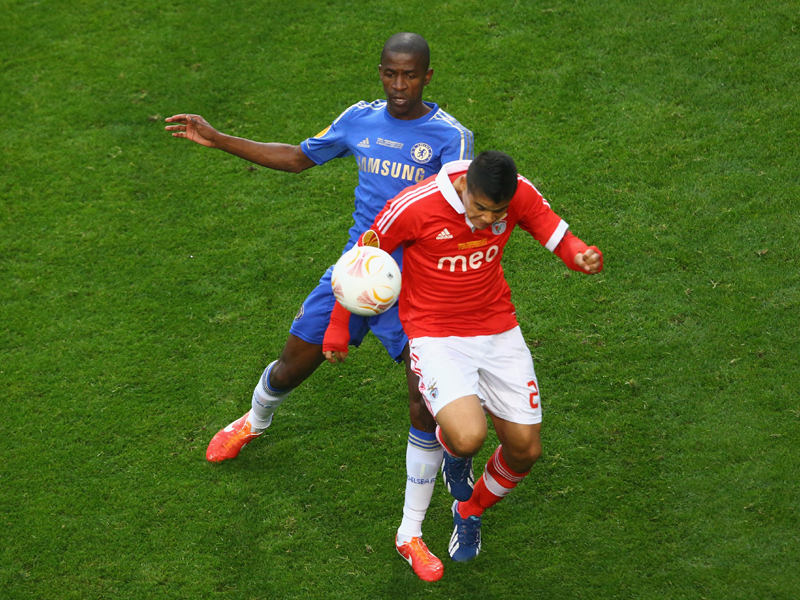 B. Mönchengladbach
FC Bayern München
Prediction Submitted
Most Popular Predictions
B. Mönchengladbach 0-3 FC Bayern München

12.98 %

B. Mönchengladbach 0-2 FC Bayern München

10.06 %

B. Mönchengladbach 1-3 FC Bayern München

9.94 %