live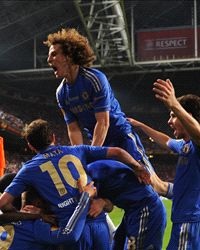 Chime in with Goal.com and other users and share your opinions.
335736
2013-05-15 22:00:00
And that's your lot for tonight!
Chelsea
win a second consecutive European trophy with another late show and it is seven times unlucky for
Benfica
.
The Portuguese side's season has collapsed inside a week. Remarkable. You have to feel for Jorge Jesus & Co.
Erm... that sign-off wasn't supposed to be as depressing as it turned out to be...
Night all!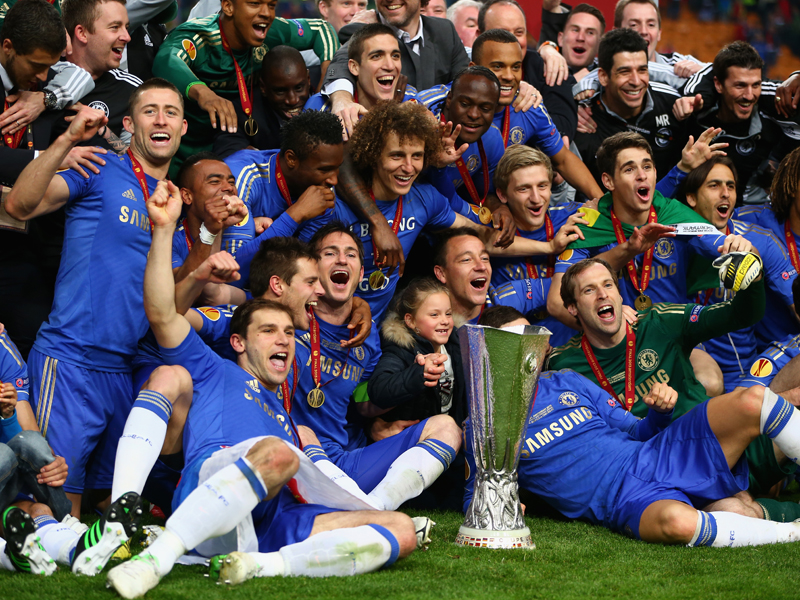 335732
2013-05-15 21:55:00
@MCLeonidou:
10/10; did everything that was possible. Top 4, Europa trophy. What more did they want?
@JckBly:
I am a CFC fan in the minority but I think he's brilliant. Right manager, wrong time. Shame he had to come at the cost of RDM.
335731
2013-05-15 21:50:00
So, what now for Rafael Benitez? How would you rate his Chelsea reign?
335727
2013-05-15 21:47:40
Juan Mata on Twitter: "We did it again! Another european title! Very proud of this team!!"
335720
2013-05-15 21:41:47
Benfica
midfielder
Nemanja Matic
told reporters: "We played a good game. We played very well, we had more possession and played dangerously in
Chelsea
's box, but we lacked luck in the end.
"I can only congratulate Chelsea for the victory, but we didn't lack quality. I still think we played well, we were the best team. We had more control and opportunities to score, but had no luck. The best team doesn't always win."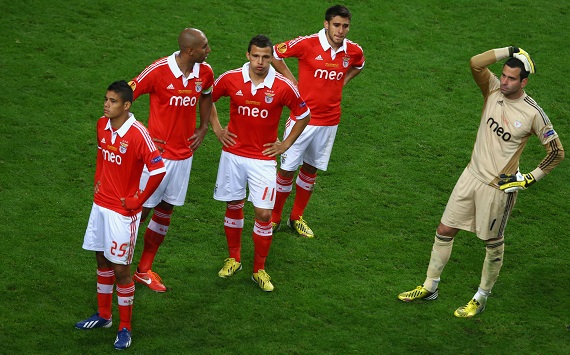 335718
2013-05-15 21:39:41
And here is the picture you've all been waiting for ...
Chelsea
, Europa League 2013 winners.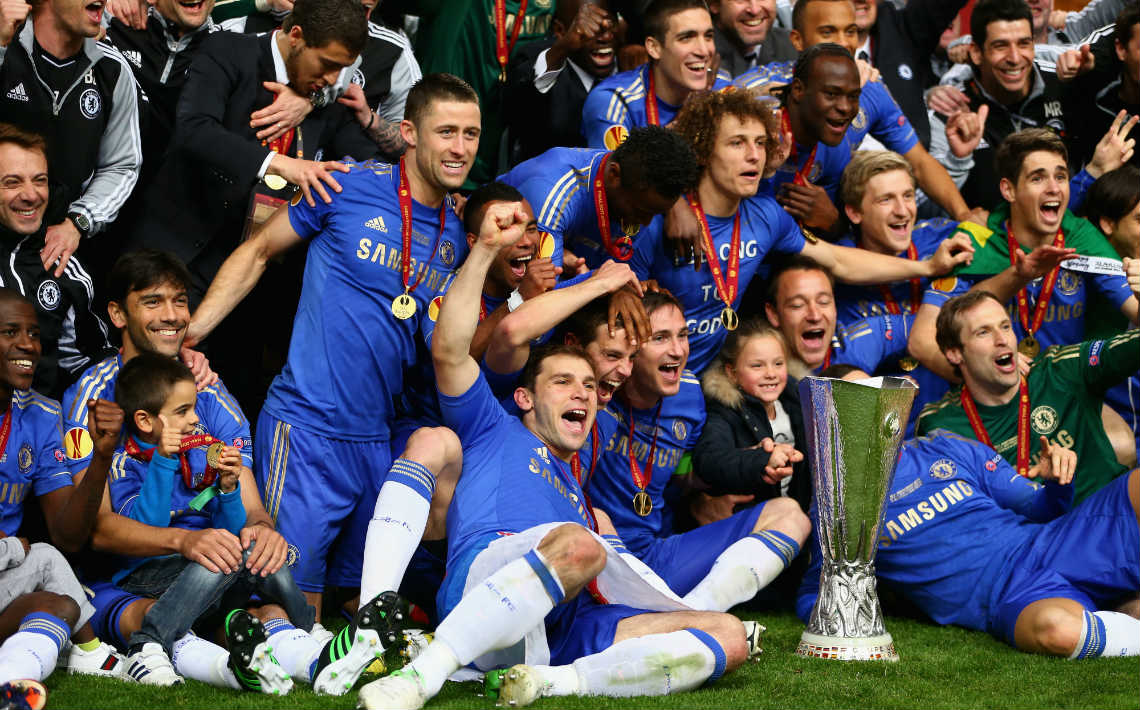 335712
2013-05-15 21:34:56
Nice little line from Rafael Benitez at the end there, keeping the door open for a move to Ligue 1 champions Paris Saint-Germain.

Current boss Carlo Ancelotti was recently approached by Real Madrid to replace the reportedly departing Jose Mourinho.

And that, ladies and gents, is what is called the managerial merry-go-round.
335707
2013-05-15 21:31:35
"We played against a very good team," Rafael Benitez told BeIn Sport. "We are very happy to win this trophy. There was a lot of pride and joy at the final whistle.

"My future? I still have a game and I have a title to celebrate. We will have time to think about it. At Paris [Saint-Germain] next season? You never know."
335703
2013-05-15 21:29:38
STAT ATTACK

Our very own Joe Doyle pipes up with this gem: "For the next 10 days, Fernando Torres is reigning World Cup, European Championship, Champions League and Europa League winner."
335692
2013-05-15 21:16:32
Here is
Benfica
manager
Jorge Jesus
talking to reporters:
"
Chelsea
came back in the same manner as Porto did [at the weekend]. We conceded a goal from a set piece at the very end.
"It was a final with two good teams on show, but Benfica were on top for nearly the entire match. We lacked a slight tinge of luck to gain an advantage. And even after we equalised, we created a chance which we should have taken.
"We played a great game, but football punished us a game in which, on the basis of how we performed, we should have been the winners."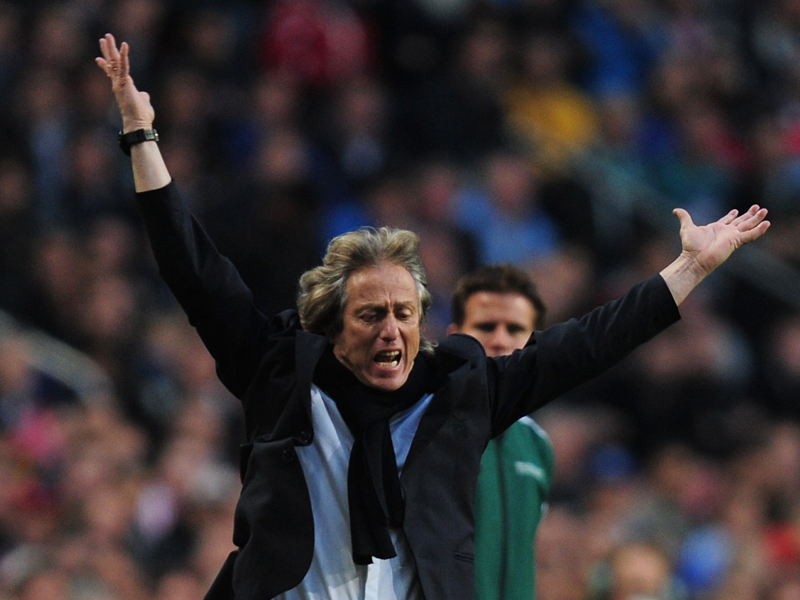 335687
2013-05-15 21:11:49
Goal.com's Ben Hayward on Twitter: "So Mou-Pep reunion is edging closer. If Bayern win the Champions League final, they should meet in the Uefa Super Cup. Epic."
335684
2013-05-15 21:08:33
Frank Lampard, meanwhile, dropped the biggest hint he could be set to agree a new deal with Chelsea.

"I really, really hope so [that I'll be around next year]," he told ITV. "We are getting there. With the game tonight and the game on Sunday we haven't sat down to really complete it yet but the club have been brilliant so it looks good.

"It was tight at times tonight it's been a long season and everything in it and we've shown time and time again what we're about. Nobody deserves it more than Ivanovic he's been amazing.

"We are fortunate but you make your own luck, it's been a long season but we've stuck together along with the fans and the club deserves it."
335679
2013-05-15 21:01:14
And here is Rafael Benitez talking to ITV: "It was a great performance in the second half. We had some problems in the first half against a very good team but I'm really pleased for the players, for everyone involved.

"We didn't have the legs. We had to adjust and push them and in the end they deserve it because they've been working so hard the whole season.

"Obviously I'll be proud because it was not easy. We have been talking about this all the time. So really pleased, really proud."
335677
2013-05-15 20:57:49
"I'm very happy,"
Fernando Torres
told
ITV
. "It was hard getting here [Chelsea's route to the final] and it was a very tough game – maybe Benfica deserved to win – but at the end the individual quality made the difference."
"The first half was not good enough at all, in any way. The intensity, the concentration. We talked about changing [at half-time] our mentality to win a final, it's a final. Maybe this would be the only chance to win a Europa League so you saw a difference in the second half.
Torres' future with Chelsea has been in doubt recently after the club were linked with other strikers, but the Spaniard has no intention of leaving anytime soon.
"I signed a five-and-a-half-year contract so I hope to stay for at least this time," he added.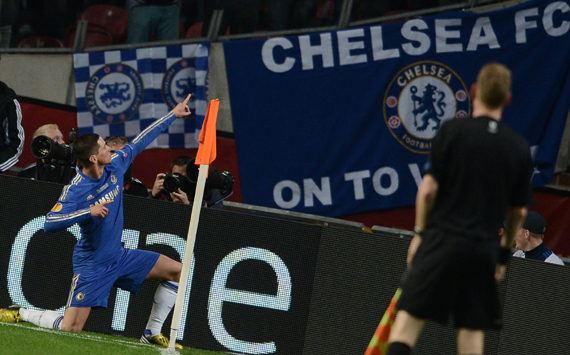 335673
2013-05-15 20:55:06
Frank Lampard and John Terry lift the trophy together!

This is Chelsea's 11th trophy in 10 years under nine different managers.
335672
2013-05-15 20:53:27
Here is scorer of the winning goal, Branislav Ivanovic, talking to ITV: "It was great for me. We deserved this. It's been a very difficult season with a lot of games and in the end today was a very hard game, very difficult. Benfica played well. But in the end we scored from the set-piece and we prepared for this before the game. The supporters and the team deserve to get a trophy this season.

"It was a great feeling to play a final [after missing out last year]. Another European final for us as a team and a great win for us. Now it's time to celebrate."
335671
2013-05-15 20:52:00
...and here come the winners:
Chelsea
!
John Terry
is there, shinpads an' all (I'm assuming).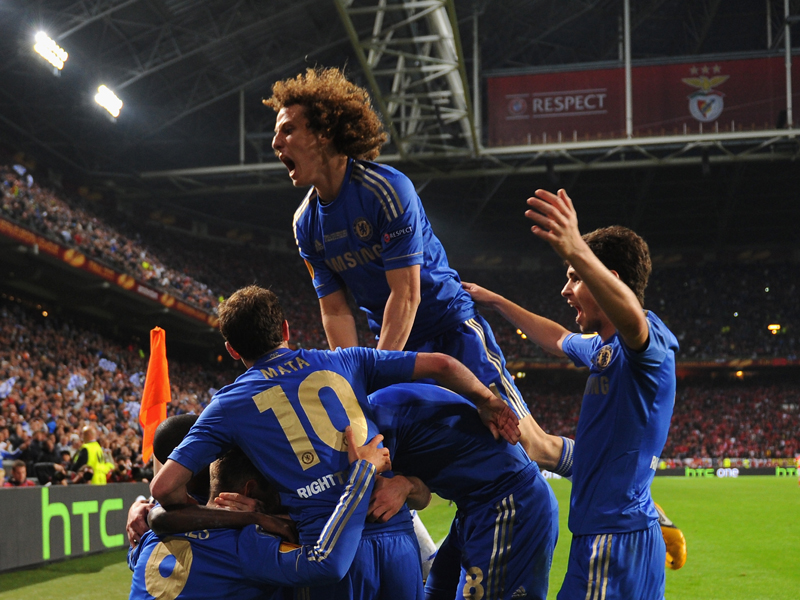 335669
2013-05-15 20:49:57
The Benfica players are making their way up to collect their medals, and it's more tears on show. Uefa president Michel Platini hardly looks thrilled either, to be honest.
335668
2013-05-15 20:48:16
And, not to be outdone, Stefan Coerts checks in again from the Amsterdam Arena: "And the curse continues for Benfica. That makes it seven lost European finals in a row now. If only they had given Bela Guttman that pay rise 51 years back...

"The Benfica players and fans are absolutely devastated, while the Chelsea players are celebrating yet another European trophy. They might have been second-best throughout the game, but the Chelsea fans will care very little about that. Congratulations to Rafa Benitez and his men!"
335667
2013-05-15 20:46:55
As a recently retired Scots hairdryer operator put it: "Football - bloody hell," says Dan Levene. "A year ago it was Didier Drogba with the last-gasp headed goal. Tonight it's Branislav Ivanovic, who evokes just that spirit.

"Ten days before Chelsea will have to stop calling themselves the Champions of Europe - tonight, in the Amsterdam ArenA, Chelsea are Champions of EuropA!"
B. Mönchengladbach
FC Bayern München
Prediction Submitted
Most Popular Predictions
B. Mönchengladbach 0-3 FC Bayern München

12.9 %

B. Mönchengladbach 0-2 FC Bayern München

10.03 %

B. Mönchengladbach 1-3 FC Bayern München

9.86 %