live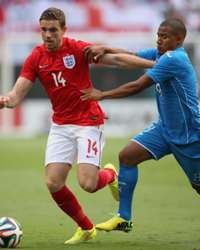 Chime in with Goal.com and other users and share your opinions.
414928
2014-06-07 22:49:00
RED CARD!! Brayan Beckeles (Honduras)
414927
2014-06-07 22:46:00
USA 1-0 NIGERIA
It's 1-0 to USA and a goal, believe it or not, for misfiring Sunderland striker
Jozy Altidore
! He gets on the end of a cut-back from
Fabian Johnson
to finish into an empty net.
LIVE: USA 1-0 Nigeria
414926
2014-06-07 22:42:00
ENGLAND 0-0 HONDURAS

What a challenge! Emilio Izaguirre takes a break from hacking at the shins of Daniel Sturridge to deny Ross Barkley with a quite superb last-ditch tackle right on the edge of his own area.
414925
2014-06-07 22:39:00
ENGLAND 0-0 HONDURAS

There's a chance for Daniel Sturridge after some more good work from Ross Barkley, but the striker's chip is more Konchesky than Cantona and sails wide of the far post. Better from England.
414924
2014-06-07 22:36:00
ENGLAND 0-0 HONDURAS - BOOKINGS GALORE

Yet more yellow cards for Honduras now as Victor Bernandez hacks Ross Barkley to ground and picks up a booking. That's followed up by a late Brayan Antonio Beckeles (WHAT A NAME!) slide tackle on Danny Welbeck which sees him get none of the ball and all of the ankle. That's four bookings now for Honduras.
414923
2014-06-07 22:32:00
ENGLAND 0-0 HONDURAS - BARKLEY!

Great effort! Seconds after coming on as a half-time substitute, Ross Barkley almost proves Roy Hodgson right by giving away possession far too cheaply. He redeems himself a minute later, though, turning brilliantly before curling a right-footed effort wide of the far post from outside the box. Superb piece of play.
414922
2014-06-07 22:29:00
SUBSTITUTION

Ross Barkley does indeed come on. He and Jack Wilshere replace Steven Gerrard and Wayne Rooney for England.
414921
2014-06-07 22:25:00
SUBSTITUTION?

It looks as though Ross Barkley could be making an appearance shortly. The midfielder has placed his shirt on the bench and is warming up during half-time.
414920
2014-06-07 22:22:00
ENGLAND 0-0 HONDURAS

In terms of chances, Daniel Sturridge missed a fantastic opportunity before the stoppage when it looked easier to score, Adam Lallana and Danny Welbeck have forced the goalkeeper into action on a couple of occasions, while Wilson Palacios had a goal-bound strike deflected wide just before half-time. England have been the better team so far.
414919
2014-06-07 22:18:00
FIRST-HALF RECAP
And that brings an end to the longest first half in the history of association football.
England
were the better team until the referee stopped play on 23 minutes due to a thunderstorm. After significant doubt over whether the match would even continue, it was another 40 minutes until the players finally re-emerged and got the game back under way. Since the restart, it's all been a bit feisty.
Honduras
have received two bookings and have really rattled England in the last few minutes.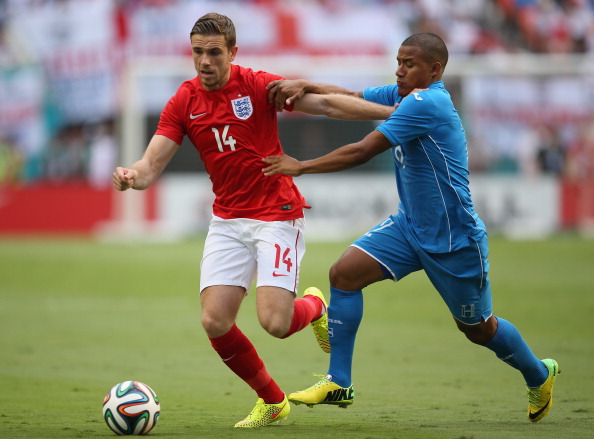 414918
2014-06-07 22:15:00
HALF-TIME: England 0-0 Honduras
414917
2014-06-07 22:12:00
USA 0-0 NIGERIA
It's currently goalless in
USA
and
Nigeria
's final match ahead of the World Cup - and you can follow it all LIVE by clicking the link below.
LIVE: USA 0-0 Nigeria
414914
2014-06-07 22:08:00
ENGLAND 0-0 HONDURAS - CLOSE!

Adam Lallana receives the ball from Danny Welbeck on the edge of the D, takes a touch to turn and wins a corner from his drilled effort towards the far post. Phil Jagielka gets on the end of the delivery but Honduras eventually clear. The atmopshere is terrific at the Sun Life Stadium.
414912
2014-06-07 22:05:00
GET INVOLVED
@GoalUK Huuuhh great to be back almost dosed of. Hope the sting of the game hasnt been taken out #preparation

— Prince O. Amponsah (@amponsah_prince) June 7, 2014
@GoalUK .Match resumed. The Miami Met Agency should have advised of the impending storm.Lots of questions for the organiser

— OSAMO DARE (@OSAMO1) June 7, 2014
414911
2014-06-07 22:01:00
ENGLAND 0-0 HONDURAS

Appalling play by Honduras! Two bookings within the space of five minutes. First of all, Luis Garrido enters the book for a horribly mistimed challenge on Steven Gerrard, and then Emilio Izaguirre, in an apparent attempt to kick the ball, launches his left foot into Daniel Sturridge and picks up a booking. Sturridge, on the ground at the time, had no chance of getting out the way and Izaguirre is fortunate to still be on the field.
414909
2014-06-07 21:57:00
EL SALVADOR 0-2 SPAIN

It's all over at the FedEx Field in Landover, Maryland, where David Villa added a second late on as Spain finished their World Cup preparations with a 2-0 win over El Salvador.
414908
2014-06-07 21:53:00
ENGLAND 0-0 HONDURAS
Off we go! About time too. The referee gets play started again. It's 0-0 after 24 minutes. You can also follow a dedicated play-by-play of the game below.
LIVE: England 0-0 Honduras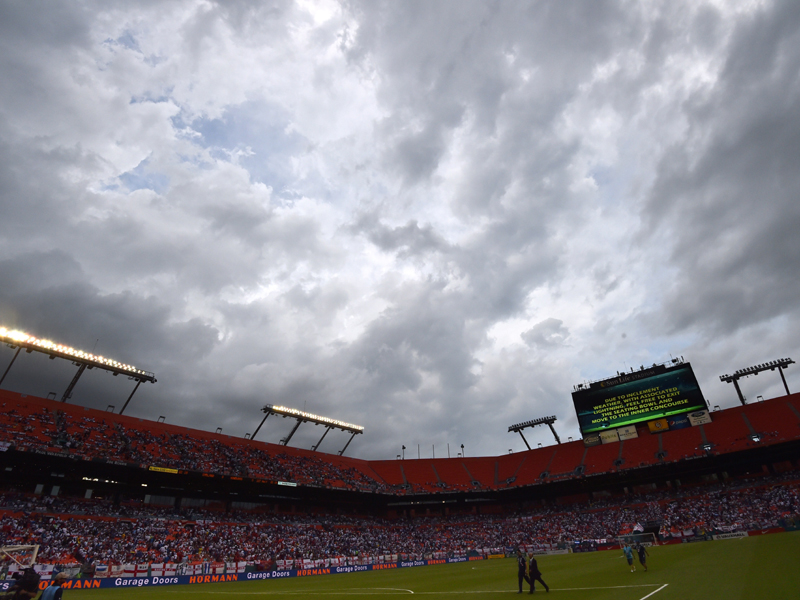 414907
2014-06-07 21:45:00
PLAY TO RESUME!

Right, we're finally set to get back under way! The referee says play will continue in around 10 minutes.
414906
2014-06-07 21:40:00
ENGLAND 0-0 HONDURAS - CLANGER!

ITV are doing their best to keep viewers updated during the delay by attempting to interview the manager of the Sun Life Stadium. "Here we have the stadium manager. What can you tell us?" asks presenter Adrian Chiles. Response: "I'm not the stadium manager." Whooooops!
414904
2014-06-07 21:35:00
ENGLAND 0-0 HONDURAS - STORM STOPS PLAY

This is just silly. Of all the places to get prepared for a World Cup, England choose Miami right at the start of storm season. Why, Roy, why?! Training has already had to be abandoned once in the last week due to the weather, and now this...