live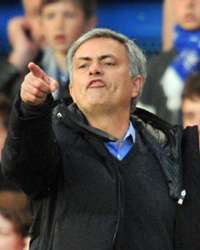 408750
2014-04-19 19:00:00
That's your lot for today, folks. So there we have it, the Jose Mourinho run is finally over. Wowzers.
Read his reaction to the defeat here
. Be sure to join us again at 11:30 on Easter Punday for more Premier League action. I promise there will be no yolks. I'm egg-cited already. Cheerio!
408749
2014-04-19 18:56:00
Righteo, before we head off, here's a reminder of all of today's Premier League results:

12:45
Tottenham 3-1 Fulham

15:00
Aston Villa 0-0 Southampton
Cardiff 1-1 Stoke
Newcastle 1-2 Swansea
West Ham 0-1 Crystal Palace

17:30
Chelsea 1-2 Sunderland
408748
2014-04-19 18:52:00
MOURINHO RECORD

Won: 61
Drawn: 16
Lost: 1

Who would have thought that, after all these years, Sunderland (the Premier League's bottom club!) would end Chelsea's incredible home record under Jose Mourinho? Speaking of The Special One, he's also refused to answer questions in his post-match press conference, repeating (almost word for word) what he said in his earlier interview before walking out.
408747
2014-04-19 18:48:00
TWITTER TALK

@james_eminence: "borini really kills the show and liverpool can decide their fate now"

@TunkuHarun: "A sad day. Penalty scored by a former Chelsea player & undefeated streak ended by a #Chelsea legend."

@mm_2clip: "Am doing the sturridge dance for borini #SAFC #CHESUN"
408746
2014-04-19 18:45:00
Full quotes from Jose Mourinho: "I have only four things to say. Congratulations to my players, because they gave what they have and what they don't have. Congratulations to Sunderland, because they won. Congratulations to Mike Dean, because he made a fantastic performance. And congratulations to Mike Riley, because what they did during the season was fantastic for the way the championship is going. So congratulations to all of them and I have nothing more to say."
408745
2014-04-19 18:42:00
It's safe to say Jose Mourinho isn't happy with the referee. Speaking to Sky Sports after the game, the Chelsea boss refused to answer questions but congratulated his team and Sunderland on their performances, and then congratulated referee Mike Dean for a "fantastic performance" and referee chief Mike Riley because "what he did for the season was fantastic for the championship".
408744
2014-04-19 18:38:00
Liam Twomey reports from Stamford Bridge: "Many came to Stamford Bridge on Saturday expecting Chelsea to set up the mother of all title showdowns with Liverpool at Anfield. Instead Jose Mourinho's 77-game home Premier League unbeaten run is gone and so, you would think, is the title. Chelsea were undermined by recurring problems - a chronic lack of creativity and poor finishing, to name just two - but Sunderland deserve huge credit.

"Gus Poyet's men executed their gameplan with unshakeable belief and while it wasn't always pretty, they are alive again in the relegation battle. Fabio Borini, the former Chelsea youngster and Liverpool loanee, did the damage with a nerveless penalty late on. If Brendan Rodgers' men do go on to clinch a first league title in 24 years, they may be tempted to order one extra medal."
408743
2014-04-19 18:34:00
TWITTER TALK

I hope Jose Mourinho doesn't read this!

@Rustrice: "I love this, sometimes mourinho has to realise there is a little bit of luck in football cause he talks too much"

@13ORKB: "Well done Mike Dean, that was amazing unfair performance"

@EdwinOlives: "#chelseafc is going down,mourinho your going cupless this season, u aint special anymore. Hahaha"
408742
2014-04-19 18:31:00
Oh, and let's not forget the man who ended the run: Fabio Borini! The man on loan from
Liverpool
! I think Brendan Rodgers owes him one after this.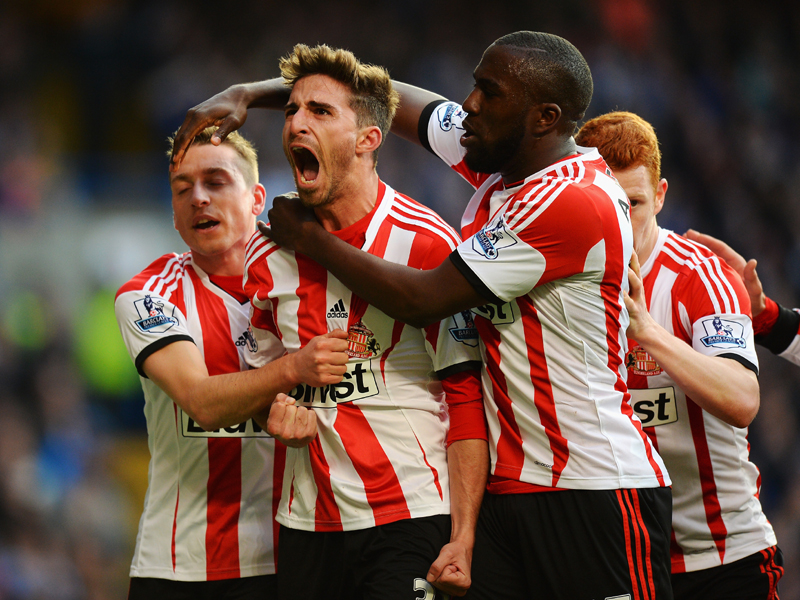 408741
2014-04-19 18:28:00
The end of an era? Not only has Jose Mourinho lost his unbeaten Premier League home record, but Chelsea have lost their advantage in the title race. The league is no longer in their hands. Liverpool could still lose to Chelsea at Anfield next week and win the league. What a pivotal moment in the title race this is!
408740
2014-04-19 18:25:00
STAT ATTACK
Jose Mourinho has lost his first Premier League match at Stamford Bridge - a run lasting an incredible 77 games.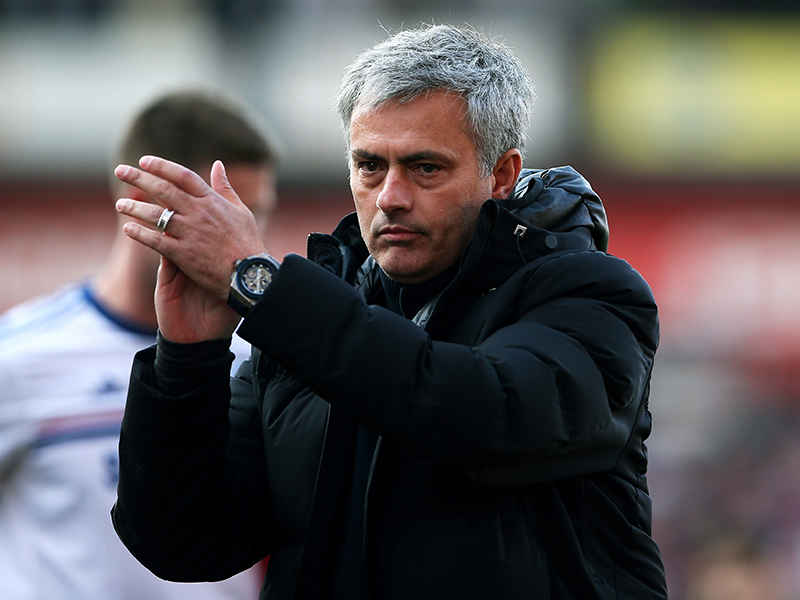 408739
2014-04-19 18:23:00
FULL-TIME: Chelsea 1-2 Sunderland
408738
2014-04-19 18:22:00
CHELSEA 1-2 SUNDERLAND

We're in the final minute. Chelsea have EVERYONE apart from Mark Schwarzer forward. Can they equalise?
408737
2014-04-19 18:20:00
CHELSEA 1-2 SUNDERLAND

Fabio Borini looks to be the final man to make way for Sunderland. Ondrej Celustka is even waiting on the sidelines as the Italian takes an age to leave the field. But suddenly Sebastian Larsson is injured and takes even longer to leave the pitch! Whether or not Larsson is injured ... who knows. Anyway, Larsson is off, Celustka is on.
408736
2014-04-19 18:18:00
CHELSEA 1-2 SUNDERLAND

As John Terry powers a header into the arms of Vito Mannone, we're told there will be FIVE minutes added on.
408735
2014-04-19 18:16:00
CHELSEA 1-2 SUNDERLAND

Chelsea are throwing players forward in numbers and lumping the ball forward as often as possible. It's just not working for them, though. Sunderland look like they might be able to see this one out.
408734
2014-04-19 18:14:00
CHELSEA 1-2 SUNDERLAND

Crazy scenes at Stamford Bridge! Rui Faria, one of Jose Mourinho's assistants, is absolutely livid at the referee and fourth official. He looks furious and seems to be shouting abuse at the officials. Even Mourinho is holding him back! Faria - would you believe it - is sent to the stands.
408733
2014-04-19 18:11:00
CHELSEA 1-2 SUNDERLAND

GOAL: Wow. Cesar Azpilicueta seems to slip as he attempts to challenge Jozy Altidore inside his own area and (inadvertently, in my view) brings down the striker in the process. It's a huge call by referee Mike Dean and his assistant. Fabio Borini coolly slots home the resulting penalty. Is Jose Mourinho about to lose his 77-game unbeaten home record in the Premier League?
408732
2014-04-19 18:08:00
GOAL!! Chelsea 1 Sunderland 2 (Borini pen)
408731
2014-04-19 18:07:00
PENALTY TO SUNDERLAND!!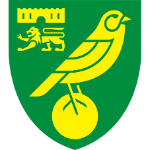 Norwich City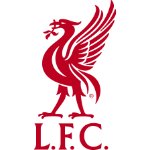 Liverpool
Prediction Submitted
Most Popular Predictions
Norwich City 0-4 Liverpool

27.12 %

Norwich City 0-3 Liverpool

14.68 %

Norwich City 1-3 Liverpool

12.74 %