live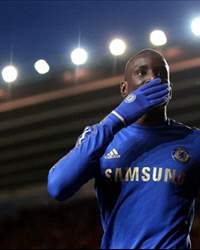 316564
2013-02-02 10:00:00
Good morning ladies and gents! My name is Liam Twomey and I'll be guiding you through the rest of the morning as we look forward to another enthralling weekend of Premier League action. Now, where shall we start...
316543
2013-02-01 23:00:25
Well, this is it. Goal.com's extensive coverage of the January transfer window has officially drawn to a close, although you can be sure that there'll be more bits and pieces in the coming days as the loose ends are tied up.

It's been an absolute pleasure to be with you this evening, and I hope you've enjoyed it as much as I have. Tomorrow is the never-ending drama of the Premier League, so do stick with us for all the build-up to that, with the LIVE! blog kicking off at 10am.

For now though, I've been Chris Teale. Thanks for joining me. Farewell.
316542
2013-02-01 22:50:54
Dear friends, our time together is nearly over. However, how's about a look at tomorrow's Premier League fixtures? I hope that eases the pain somewhat.

All times 3pm unless stated

QPR v Norwich (12:45)
Arsenal v Stoke
Everton v Aston Villa
Newcastle v Chelsea
Reading v Sunderland
West Ham v Swansea
Wigan v Southampton
Fulham v Manchester United (17:30)
316540
2013-02-01 22:41:36
Over in France, PSG manager Carlo Ancelotti has been speaking about his club's new signing, one David Beckham. Here's a taster of what he said:

"Beckham, he has a lot of experience. It will help the team in terms of quality and experience. Everyone at PSG is happy with his arrival. Because he has many qualities.

"He has already started to train. But he still needs two weeks to be in good physical condition. After, we will see what happens. If he deserves to play, he will play.

"He can play as a defensive midfielder, or right flank. But he will need to have the merit to play.

"I am very happy with his arrival. Because I know him very well. He will bring professionalism, seriously. The team will improve with him. For a coach to have a player like him is easier."
316539
2013-02-01 22:34:29
FAILED TRANSFER BIDS DOUBLE WHAMMY


Because you can never have enough updates from clubs about what they
weren't
able to do during the January transfer window, and we've got two for you.
First up, there's
Martin Jol
at
Fulham
, who wanted to sign
Fernando Gago
and
Tom Huddlestone
but was left
disappointed by both
. However, given that the Cottagers managed to sign
Urby Emanuelson
, perhaps they don't feel too bad about life.
Then, there's
Everton
manager
David Moyes
, who has confirmed the club
made a £9 million bid
for
Sevilla
striker
Alvaro Negredo
but were unsuccessful.
316536
2013-02-01 22:12:34
BREAKING TRANSFER NEWS

Yes, really, the fun never stops.

Big-spending Anzhi Makhachkala have confirmed on their official website that they have signed an agreement for the transfer of Willian from Shakthar Donetsk.

The club also confirm that Willian will arrive at Anzhi's training camp in Marbella tomorrow.
316534
2013-02-01 21:59:45
FOOTBALL LEAGUE UPDATE

Just the one game in England tonight, and it was in League One between Sheffield United and Coventry.

The away side prevailed 2-1 in the end thanks to a double from Leon Clarke, with Dave Kitson scoring for Sheffield United.

That result puts Coventry one point off the play-offs in League One.
316531
2013-02-01 21:38:08
He's never too far away, even now he's arrived in Italy and been officially unveiled by
AC Milan
.
Who could I be talking about?
It's none other than
Mario Balotelli
!
He's said it's a "dream" to be playing for AC Milan, and that he "will not miss" playing in the Premier League. We'll miss you though, Mario.
Missing you already, Super Mario.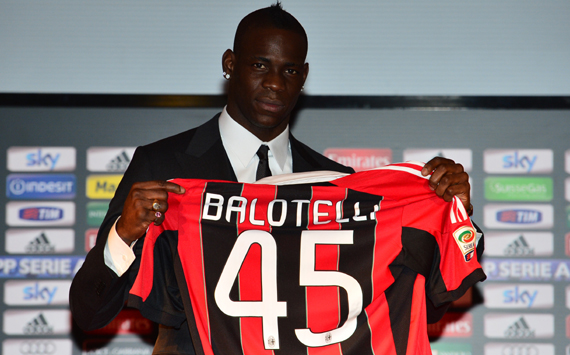 316530
2013-02-01 21:31:06
EUROPEAN UPDATE

It's all over in France, and as expected PSG have secured a comfortable win over Toulouse in France's Ligue 1.

Goals came in the second half from Mamadou Sakho and Gregory van der Wiel to give PSG a 4-0 win and keep them top of the table.

Meanwhile, Roma are getting thumped over in Italy by Cagliari, who now lead 4-1 with just a minute to go. Goals have come in the second half from Marco Sau and Francesco Pisano as the away side take an enormous step away from the relegation zone.
316528
2013-02-01 21:10:49
MANCHESTER UNITED PENALTY NEWS


Never fear, Manchester United fans, your team are never far away from the news. This time, there's a heart-warming story from
Wayne Rooney
, who says he asked
Sir Alex Ferguson
to be taken off penalty duties after missing two this season.
Have a read of that story in full here.
316525
2013-02-01 20:54:27
EUROPEAN UPDATE


It's still 2-0 to
PSG
in their game against
Toulouse
, with just over an hour gone in that one.
Meanwhile, a surprise could be brewing in
Serie A
, with
Roma
2-1 down at home to
Cagliari
. The away side opened the scoring through
Radja Nainggolan
inside three minutes, but
Franceso Totti
equalised on 35 minutes.
However, Roma have fallen behind again at the start of the second half thanks to an own goal from
Mauro Goicoechea
, which won't help their cause. There's still time though.
You can follow our coverage of Roma v Cagliari live here.
316523
2013-02-01 20:29:59
FOOTBALL LEAGUE DOUBLE WHAMMY


Yes, you read that right. I'm going to throw two stories at you, both about managers in the Football League. Try and contain yourselves.
First, we've got
Alex McLeish
at
Nottingham Forest
. The club are adamant he is
not about to leave
after failing to sign George Boyd on deadline day over a failed eyesight test suggested by the Kuwaiti owners.
Then, there's
Paulo Di Canio
at
Swindon
. He really is considering his future and has
issued a statement
saying as such after midfielder Matt Ritchie was sold behind his back.
316521
2013-02-01 20:19:32
HALF-TIME IN EUROPE


I wasn't lying. It's not half-time in the game in France between
Toulouse
and
PSG
, with the away side leading 2-0.
Hope for Toulouse? On current form, probably not.
Have a follow of the second half here.
316520
2013-02-01 20:14:33
EUROPEAN UPDATE

Meanwhile, it's going from bad to worse for Toulouse in their Ligue 1 game at home to PSG. They've gone 2-0 down thanks to a goal from Zlatan Ibrahimovic, and have now had Cheikh M'Bengue sent off for two yellow cards.

Toulouse must be really looking forward to half-time right now. It's a couple of minutes away.
316518
2013-02-01 20:10:01
Now,
Doni
never quite made an impact in his time at
Liverpool
, and has joined Brazilian club Botofago on a free transfer.
He has revealed that during medical tests at Anfield, his heart stopped beating for around 25 seconds and almost went "to the other side".
Have a read of that story here.
316516
2013-02-01 19:48:14
EL CLASICO NEWS


During the week,
Real Madrid
and
Barcelona
played each other yet again in the Copa Del Rey, and Catalan defender
Jordi Alba
has said he is still carrying a war wound from that game.
Alba was tacled by
Michael Essien
, who appeared to go in showing his studs, and the Spaniard says the scars remain on his leg even now. Poor thing.
Have a look at that one here, and decide where your sympathy lies.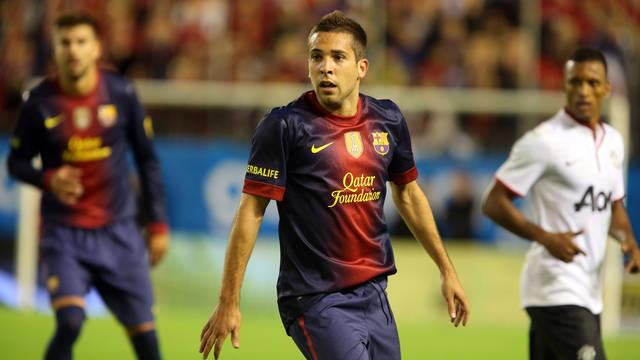 316514
2013-02-01 19:39:35
EUROPEAN UPDATE


There's just the one game out there tonight in the major European leagues, but it promises to be an interesting one between
Toulouse
and
PSG
in France's Ligue 1.
We're about eight minutes into that one, and the away side already lead 1-0 thanks to a strike from
Javier Pastore
.
Head over to our Live Match Centre to follow that one live.
316513
2013-02-01 19:32:45
Tomorrow promises to be another exciting day of
Premier League
action. Excited much? I hope so.
Chelsea
make the long trip away to
Newcastle
tomorrow and have key players
Juan Mata
and
Petr Cech
available for the game after recovering from injuries.
Unfortunately, both
David Luiz
and
Oriel Romeu
are still out with knocks, but things could be much worse for the Blues as they try and turn around their stuttering season.
See what Rafa has to say about things here.
316511
2013-02-01 19:15:07
To get us underway this evening, let's head to
Roma
, and hear from their goalkeeper
Maarten Stekelenburg
.
He was all set to make a deadline day switch to
Fulham
, only to have it fall through at the last second, and he is very disappointed at this development. Poor guy.
Have a read of that story here
.
316509
2013-02-01 19:05:48
No pressure, then. My thanks of course go to Andrew Kennedy first of all for his stirring work over the last few hours.

Now, my name is Chris Teale, and it falls to me to officially draw our transfer window coverage to a final close. Shall we? We shall!