The former U.S. international took part in an exhibition with former teammates, rivals and contest winners.
Playing alongside the likes of Alexi Lalas, Jorge Campos and Cobi Jones is something that every North American soccer fan dreams of doing.
On a sweltering day in Guadalajara in mid-July, that dream became a reality for 10 lucky contestants in
El Jimador's Cinco de Jimi Cup.
"I'd never been to this area to do anything like this before," said Lalas after the sponsored exhibition between former USA and Mexican internationals and the contest winners. "All of us had been here to play soccer before over the years. We've visited Guadalajara many times. I can honestly say that the experience we've had over the last few years - the love, the passion that goes into this company is wonderful and this has been a wonderful day."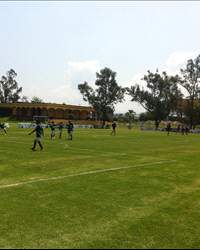 Taking part in the match with Lalas was Jones and fellow USMNT centurion Tony Meola. On the Mexican side were legends Campos, Zague and Luis Hernandez. All of the pros had fun playing the match with the 10 lucky winners but will take away the experience of being at Casa Herradurra, the home of El Jimador tequila, which is located just over an hour outside of Guadalajara.
"The fact that we got to kick the ball around was fun, but I'm going to remember all the people we've met and the history that exists in a place like this," said Lalas of the picturesque rural distillery.
Meola, who has played many matches against Mexico over his 100 caps with the USA, agreed with Lalas' assessment.
"I'm completely floored by the entire experience," said Meola of the two-day trip that flew winners in from all areas of the United States. "From meeting up the other night to the press conference tonight. We've done hundreds of appearances and El Jimador has done this whole thing first class. It really shows that they care about their consumers a great deal."
With the goal of bringing its brand to the USA by connecting with the soccer population, El Jimador wanted to engage fans with a once in a lifetime experience, one that they'd never forget.
"Being a Mexican brand, soccer has always been entrenched into our spirit," said Jesus Ostos, El Jimador's Brand Manager. "We are proud to have started a sponsorship within the U.S. with the men's and women's national teams. The opportunity for us to connect with a special set of fans and consumers to put on bigger events to further connect with that group in the future has been fabulous for everyone involved."
Follow GOAL.COM USA on