Jurgen Klopp's side failed to beat Arsenal on Wednesday in a match it was expected to win and the club must toughen up mentally before it costs.
Ever since Jurgen Klopp took over in 2008, Dortmund has been producing surprises. Fans could scarcely believe the run of one defeat in seven months which proved the catalyst for a title win of 2010-11 and when it looked like order had been restored and Bayern Munich held a healthy Bundesliga lead the following year, they were able to turn the table on the Bavarians and retain their crown.
It has been a brilliant, romantic story, but there has always been one obstacle standing in the way of the club's seemingly unstoppable progress: the team itself.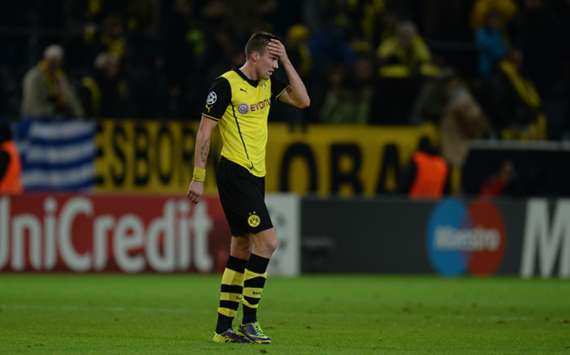 Bottling it | Kevin Grosskreutz trudges off after BVB suffer defeat
When the club was expected to announce itself on the European stage two years ago, it buckled under the pressure of being one the most eagerly-anticipated teams in the Champions League.
The following term, when drawn into a deadly group, the team went the distance, losing heroically in the final, only struggling against Malaga, the only team it played which it was expected to beat comfortably. Winning a third straight Bundesliga title, as many predicted the team would, proved too much.
It's an issue that shows no signs of going away. It was no more in evidence than against Arsenal on Wednesday. Having claimed a plucky victory over the Gunners a fortnight ago in London, Dortmund was expected to take a stranglehold over the Champions League Group of Death, but it was oddly rash in the attacking third, snatching at shots and the final balls.
MATCH FACTS | Dortmund 0-1 Arsenal


Shots
On Target
Possession
Corners
Bookings
Red cards

BVB
15
3
49%
6
1
0
ARSENAL
4
2
51%
2
1
0
Henrikh Mkhitaryan and Marco Reus were particularly culpable of missing easy chances and Arsenal, which has kept just three clean sheets in the league this term, was able to enjoy a relatively easy evening against Dortmund, which managed to place just three of its 15 shots on target.
In the end, a horrible passage of defending, with center backs Neven Subotic and Sokratis Papastathopoulos particularly culpable, cost the team as Arsenal scored with its first meaningful effort of the game.
It could well prove costly. In three weeks' time, the team has a winner-takes-all game with Napoli and if it fails to win and Arsenal beats the group's whipping boy Marseille on home turf, Dortmund will face a humiliating early Champions League exit.
After the game, Klopp acknowledged that his side was at the usual level.
"We simply did not convert our chances. We did not turn our good chances into guaranteed goals. In the end, we were not focused enough and not clinical enough," he said. Simply put, Dortmund bottled it in a key match.
For a club which stands on the threshold of the European elite, it would be disastrous. The club has made painstaking efforts to increase its profile across the continent over the last year or so - the team has played the underdog, but wants to be seen among the big boys.
For now, its Champions League fate remains in its hands, but the team has to start doing the business in the big games it is expected to win. Arsenal deserves credit for a brave performance but Dortmund has to question why it was unable to convert its dominance into a victory.
By the time Napoli travels to Germany on Nov. 26, it must have rectified its problems.
Follow
Enis Koylu on