Nick De Santis was letting the Montreal Impact down by trying to do too much; his demotion positively suggests the club is ready for a greater, more efficient, division of labour.
MONTREAL — On Wednesday morning at Stade Saputo, the Montreal Impact made a major announcement; and for the first time, in a long time, Nick De Santis was not present in the room when it was made, because the announcement concerned
him
— and it wasn't good news.
At 11:05 a.m., the Impact's club president, Joey Saputo, took his seat in front of the desk inside the press conference room, and solemnly declared that De Santis' time as sporting director was over, and that De Santis would no longer, henceforth, be involved in any technical decisions at the club.
As much as it was a huge defeat for De Santis to lose his place of prominence at the club — to now be reduced to an administrative job after all these years of playing, coaching and overseeing the technical direction of the club — it was just as much a defeat for Saputo; because Saputo and De Santis have been great friends for 20-years.
And they've given every inch of themselves to build a soccer team in Montreal, to build a great soccer team together.
Together
.
And Wednesday's announcement was a painful admission that they couldn't build it together anymore in the way that they would have hoped, according to their image, because a restructuring of the club is clearly needed now.
The current plight the Impact currently find themselves in — sitting in last place with a mentally battered roster and a disheartened fan base — has forced Saputo into making changes, into looking into the prospect of bringing in people from the outside. It feels like defeat, because it feels like the club will be a lot less his (which isn't at all true, but that's what it feels like).
The reality is that the Impact couldn't continue without making changes to their organization, because their previous setup was simply destined to fail.
What was wrong?
There are two episodes prior to the Impact's entry into MLS in 2012, which serve to illustrate the main problems with De Santis' tenure as sporting director.
The first episode was on Jan. 31, 2011, the day that De Santis was first announced as the Impact's sporting director. When asked what made De Santis qualified to take up this position, Saputo explained that he knew "no one more passionate about the Impact."
That was the only reason he gave. Nothing more.
The second episode occurred on July 28 of the same year. De Santis, Saputo and director of soccer operations Matt Jordan met with the media to speak about how their preparations for MLS were coming along. After De Santis spoke extensively about player recruitment and building "contacts" in different continents, one journalist, feeling overwhelmed, asked De Santis whether the whole player recruitment process was "too much work for two people," referring to De Santis and Jordan.
It was a question that De Santis never gave an answer to.
The essential issues with De Santis' tenure boil down to these two factors: he wasn't really qualified for the role to begin with — he didn't have any prior experience in MLS — and, most importantly, he wasn't surrounded by enough quality people in upper management (mostly because he really enjoyed the responsibility of being in charge of essentially everything).
Since De Santis didn't have any MLS experience he signed a coach that did — Jesse Marsch — for the first season. The drawback with Marsch was that he had never been a head coach before and, therefore, from a technical point of view, had many flaws. But what Marsch did have was a clear idea of what kind of team the Impact needed to be and what kind of players they needed to get, in order to be successful in MLS; and had Marsch stuck around for the entirety of his three-year contract, the Impact would probably, in all likelihood, be a much better team today.
By the halfway point of the first season, however, De Santis was already fed up with Marsch's approach and took control of the team's transfers and started to sign his own players. De Santis had full control of player departures and acquisitions after that point, and the team is what it is today mostly because of that.
Looking at the best teams in MLS, like Sporting Kansas City or Real Salt Lake, one of the things that makes these teams successful is the simple fact that when they sign a player they are always thinking about three or four years ahead. By contrast, many of the players De Santis has signed were brought in as short-term solutions and not with three or four years in mind; the list includes, Bernardo Corradi, Alessandro Nesta, Andrea Pisanu, Heath Pearce, Nelson Rivas (the second time), Marco Di Vaio (the second time) and Gorka Larrea—the same can probably be said of recent signings Issey Nakajima-Farran (30), Mamadou Danso (31) and even Krzysztof Król, who despite only being 27, only feels like a temporary solution at left fullback.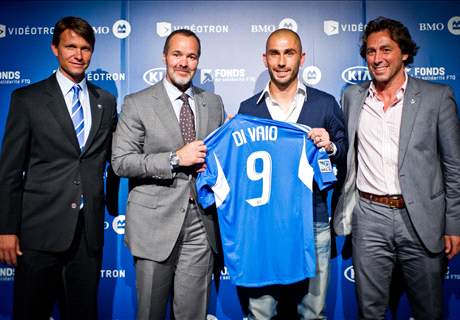 Low-risk | Well-known Italian veteran Marco Di Vaio was one of De Santis' best signings
So what De Santis did was create a team with a very short lifespan. The spine of the team has been made up of players well into their 30s and it largely explains why the Impact's quality of play has sharply declined.
Another problem with De Santis' recruitment (and this goes back to his not being surrounded enough) is that, save for Jordan, who closely follows U.S. college soccer, the Impact don't have a single scout on their payroll. So when De Santis was looking for a specific kind of player, what would he do? He would call an agent. And the problem with dealing with agents is that they don't have your interests at heart: their sole interest is to have you sign a player that
they
have or have access to. And they'll rarely ever give you an honest assessment.
Maximiliano Rodriguez, Andres Romero and Santiago Gonzalez are prime examples of players that De Santis was persuaded into signing by the same agent, and they have all disappointed.
It's important to have relationship with agents, but they shouldn't be treated as scouts, unless you've already employed them fulltime.
The only players who De Santis signed that had success or some degree of success were players who were already established stars - Di Vaio, Nesta, Matteo Ferrari - or a player like Patrice Bernier who was playing for the Canadian national team. These were players that didn't require any scouting, because they were already well known.
The challenge is more finding good players in obscure leagues at a good price. And finding these players is just too much work for one sporting director, on his own, who already has so much responsibility on his shoulders.
What needs to be done?
The question isn't so much who should replace Nick De Santis as sporting director, but what structure needs to be put in place for the Impact to be successful?
Saputo pondered this issue during question period on Wednesday.
"Right now where in the midst of relooking at the whole technical structure," Saputo said. "You have to understand that a sporting director is also the one that looks at the total global technical team. In our case we have what we call soccer schools, which is something of great importance to us, we also have the academy with the U8s going all the way to the U23s and also the first team, so the role of the sporting director is to oversee the whole organization, not only from a technical standpoint but also from an administrative standpoint, so we're in the midst of relooking at the whole structure to see what we really need.
"Do we need a general manager just for the first team? Do we need someone to overlook the administrative part of the technical staff? So that's the process that we're going through right now; it's a process that we've been working at for the last three months or so. We want to be more efficient moving forward. Do we even need a sporting director? Or can a coach take on the responsibility of GM with a different structure in place?"
These are all questions that still need answers and it's going to take some time to find them, but what's clear is that the Impact needs more division of labour.
The first step in solving any problem is recognizing there is one; and as far as the Impact's concerned, having done so is a giant step in the right direction.
Follow NICK SABETTI on

or send him an EMAIL