There was plenty to digest from this week's Canadian Championship semifinals, plus plenty to ponder with finalists Montreal Impact and Toronto FC.
VANCOUVER - If you are a supporter of Canadian soccer, this week offered an eventful feast of action and drama.
Those that have followed the Amway Canadian Championship since its inception in 2008 have seen their fair share of memorable moments in the pursuit of Canada's top club title. Yet, what occurred Wednesday night will surely live high among memories of previous Voyageurs Cup battles.
The evening's drama started in Quebec and a sparse-looking Stade Saputo, as the Montreal Impact looked to avoid the humiliation to being dethroned as defending Canadian champions by NASL strugglers FC Edmonton.
Frank Klopas' side was in a no-win situation after a very poor start to its 2014 MLS campaign and having lost last week's first leg in Alberta 2-1. Add that to the fact that most Montreal sports fans were concerned with the fortunes of a certain NHL hockey team from their city that same night.
Any potential disaster initially looked to be avoided by the Impact when they took a 3-0 lead on the Eddies in their semifinal, second leg. Then suddenly, Colin Miller's side turned the tie on its head with two away goals that gave Edmonton the upper hand on a 4-4 aggregate scoreline.
Amazingly, a minimum six minutes of stoppage time was then announced, and deep into those six minutes, the Impact saved themselves with what was a gift of a penalty decision from match referee Drew Fischer. End result: 5-4 on aggregate to Montreal and the Impact's place in the two-leg final.
Dramatic? Definitely. Controversial? You bet. Add the emotional final-whistle fireworks of Miller's tirade to anyone that would listen, including a verbal spat with an equally emotional Impact owner Joey Saputo, and one could have said they were fully entertained for one evening.
The Eddies thought they had done enough to advance to the final for the first time.
And then there was the late show in Van City…
It might not have had the amount of controversy as events in Montreal, but those that took in Vancouver Whitecaps FC hosting Toronto FC were on the edge of their seats - either in BC Place, in front of a television screen across Canada, or a live stream on a computer abroad.

Even an early TFC goal did little to extinguish the fire that was this pulsating contest.
With youth given another chance, the Whitecaps made even more fans with a performance that deserved more than a late come-from-behind 2-1 victory. At 3-3 on aggregate, this semifinal, second leg entered 'late show' mode with 30 minutes of extra time, then the historical moment of a first-ever penalty shootout in a Canadian Championship series.
Having weathered quite a storm of Vancouver pressure in open play, TFC was superior from the penalty spot to book a showdown with Eastern Canadian foe Montreal. And yet, it could easily have been an all Western Canadian final between the 'Caps and The Eddies - such were the thin lines of margin in these two semifinals.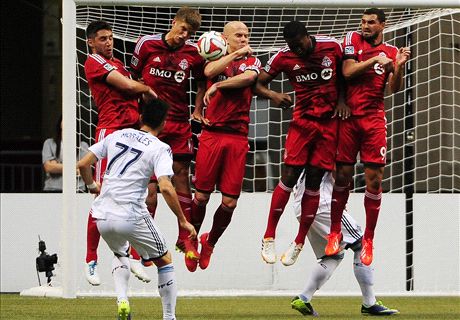 TFC weathered the storm and eventually bested the Whitecaps on penalties.
Having been able to collect one's breath after Wednesday night, one not only wonders who will lift Voyageurs Cup, but more importantly, if the winning side will fully embrace this year's prize and the subsequent place in the 2014-15 edition of the CONCACAF Champions League that it also brings?
It's a question worth asking when considering what the priorities are for Montreal and Toronto this season.

For TFC, it's about the making the MLS playoffs for the first time. For the Impact, it's about making a quick recovery to an MLS season that looks to be slipping away, at this stage.

Add to the fact that both clubs have tasted the dish that is the CONCACAF Champions League before, and you wonder if Canadian soccer might have been better served to have Vancouver or Edmonton represent this country in the competition this year.
Both Whitecaps FC and FC Edmonton would have relished the experience of CONCACAF Champions League soccer. Aside from never appearing in the competition in their history, both clubs would have made the most of the four Champions League group stage games to give further experience to their young players.
With the two Champions League home games, Edmonton and Vancouver would have also done a lot to make them into special soccer occasions, as well as make the contests a tough experience on artificial turf for their foreign visitors.
Such scenarios will have to wait for another year at least, as it will be the Impact or TFC that will earn this year's crown of Canada's top club side. Both are proud clubs and will want the privilege of winning the Voyageurs Cup. After all, what soccer club would snub the opportunity to claim silverware?
The issue, however, lies in how Montreal or Toronto will list the importance of the CONCACAF Champions League when that competition begins at the business end of this current season. Knowing the two clubs' priorities for making inroads on the MLS front, it has to be expected that either club will likely use reserve line-ups in those four group stage games.
Considering the desire that MLS has for one of its clubs to win the CONCACAF Champions League sooner rather than later, there will be disappointment if either Montreal or Toronto look at the competition in a lower priority this year.

Canadian soccer fans should be disappointed as well.