A tough, road-heavy schedule greeted injury-riddled TFC to start 2014. The next month should be easier, if only slightly.
Ryan Nelsen wasn't kidding when he said
Toronto FC
's first few matches in the 2014 Major League Soccer season may be the toughest opening stretch for any team in the league.
In TFC's first six games this year, the club has faced the top four teams in the vaunted Western Conference (FC Dallas, Seattle Sounders, Real Salt Lake, and the Colorado Rapids) and two of the top four (Columbus Crew and D.C. United) in the East. The Reds have done so while also going through a bizarre spell of injuries that has handicapped the roster, from star striker Jermain Defoe right down to bench players like Jeremy Hall and Ashtone Morgan.
It's all added up to a roller coaster opening six weeks for Toronto; one that has seen the team look dominant at times while also looking too much like the TFC of old at others.
The good news for Nelsen and co. is that the brutal opening stretch is over. TFC is now in the midst of a two-week break from play, something that couldn't have come at a better time for the battered side.
Only two players have gone the full 90 minutes in all six matches this season: goalkeeper Julio Cesar and defender Justin Morrow. The rest of the starting XI has been hit by injuries or suspensions that has made squad selection a nightmare for the coaching staff.
Aside from Defoe's extended absence, fellow designated player Michael Bradley had to miss Toronto's second home match (a 1-0 loss to Colorado) and he looked a shell of his usual self in Saturday's 2-1 defeat at Dallas. Canadian youngsters Jonathan Osorio and Doneil Henry have also spent considerable time on the injured list, as have Alvaro Rey and Dwayne De Rosario.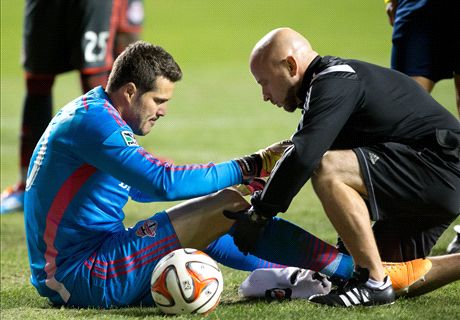 Despite a couple scares, Brazilian goalkeeper Julio Cesar has played every minute this year for TFC.
It's gotten so bad that Nelsen had to dress two goalkeepers, a teenager, and a bunch of defenders to fill out his 18-man squad in the Dallas match.
Yet despite the menacing injury bug, TFC is a respectable 3-3 to start the campaign. Even with its full complement of players, it would have been a tough task to get nine points from six matches against nearly all of the league's early elite, most of them away from home.
When the team reconvenes at BMO Field on May 3, it should see a lot of those injured players back to full health. Defoe's hamstring is nearly healed, Bradley and Osorio will have had two more weeks of well-deserved rest, Rey should be back to fitness, and the rest will be at or near full capacity.
Almost as important is that TFC will get to have a run of home games that could help the road-weary side gain some much-needed points. While the quality of the opposition doesn't drop too much in May, having three of the month's four league matches in Toronto could be a boost.
The fact of the matter is that none of Toronto's opponents next month are pushovers. A hungry New England Revolution side kicks off the month's slate of games that includes visits from the New York Red Bulls and Columbus. Those latter games sandwich a trip to Sporting Park for a meeting with the reigning MLS Cup champs, so while things may not necessarily get easier for Toronto FC, schedule-wise they cannot possibly get worse.