As they look for their first win of the season, the sense that the team's defence remains just as leaky as it was the last two seasons, if not worse, is weighing on the Impact.
When Frank Klopas was handed over the
Montreal Impact
coaching reigns last December, he knew exactly what needed fixing.
Ever since joining MLS in 2012, the Impact's defensive record has been very poor. In the expansion year, the Impact conceded a hefty 51 goals in 34 games; last season, they allowed 49 in the same span.
So it wasn't a surprise that Klopas decided to devote much of this year's preseason training camp to improving the team's defensive organization; he even brought along a longtime central defender in Nikolaos Kounenakis as an assistant coach to help with the cause.
Their efforts in training, however, haven't yet translated into tangible improvements in matches. With nine goals allowed in the opening five games to start this year's campaign, the Impact are well on course to matching the goals against averages of their last two seasons.
Further defensive lapses in last Saturday's 2-2 draw with the New York Red Bulls had alarm bells ringing in the Impact locker room once again.
As veteran defender Matteo Ferrari pointed out following the game, defending is clearly still very much an issue.
"It's my third year and I can tell you that this is a problem we've had from the first year I'm here," Ferrari said. "We have a new coach and are working more in that situation, but things aren't coming."
"I want to be positive," Ferrari added. "It's the mentality of the players. We're very good with the ball. When we don't have the ball, we don't like to run. I'm not asking the forwards to run like crazy. I'm not asking the midfield. I'm not asking nobody. It's the mentality as a team. We have to be better in situations without the ball."
It's the mentality as a team. We have to be better in situations without the ball."



- Montreal Impact defender Matteo Ferrari

In preseason Klopas explained that he wanted the Impact to become a much more aggressive defensive unit, rather than one that simply sat back and counterattacked opponents - which was what the team tended to do more often than not under Marco Schallibaum last year. The Impact have tried to adopt a more proactive approach to their play, but they aren't a very athletic side and that means that pressing opponents high up the field for a long period of time isn't something that's easy for them - if it does happen, it's only in spurts.
Defensive transition is usually laborious as well, especially for players like Andres Romero, Felipe and Justin Mapp who would much rather focus their energies on creating opportunities in opponents' final third and not have to track back and help close up shop in their own. With Klopas wanting his fullbacks to push forward a lot more than they did last year, the Impact are proving to be very vulnerable when having to defend quick counterattacks.
Hassoun Camara admitted in training this week that the willingness to quickly close down opponents after giving up ball possession has been missing.
"We are attacking well, with a good offensive game, but now we have to find that balance defensively, to make sure we are well-positioned to defend when we lose the ball," Camara said. "We can't be spectators in different moments; we always have to be focused, to have that intensity to win the ball back."
Ferrari agrees.
"It's the mentality and attitude of the team [that's the problem]," Ferrari said. "This is a team that likes offence, but doesn't like to defend."
The Impact are also suffering from important absences. Injuries to Adrian Lopez and Nelson Rivas have certainly not helped, but Alessandro Nesta's retirement at the end of last season has also proven to be a big loss, perhaps bigger than expected.
Despite the obvious limitations of a player at the tail-end of his career, Nesta's presence in the Montreal backline was a source of strength. It's not a coincidence that all eight of the Impact's clean sheets last year came with Nesta in the starting eleven - and they've yet to manage one so far this season.
And as goalkeeper Troy Perkins explained last week, even when Nesta was far from his best, he still offered an important mental boost.
"Even in the last couple of months of last season, he wasn't the best player on the field, but what he brought from a psychological standpoint and an energy standpoint, it was really nice to have him on the field," Perkins said.
"Without him, it's a different team. We have different players and we're playing a different style this year. No team's going to replace Alessandro Nesta. You adapt without him."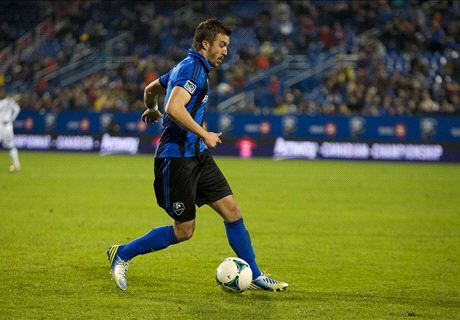 Jeb Brovsky has made way in the starting lineup for rookie Eric Miller.
The Impact are probably better off going back to some of the things that worked well last season. Jeb Brovsky and Hassoun Camara were quite effective at fullback and offer more stability than Heath Pearce and Eric Miller, who have been Klopas' preferred starters on the outside of defence so far.
After starting each of the team's preseason games in central defence and fairing very well, academy product Wandrille Lefevre has been strangely left out of the starting lineup so far this season. Camara has played in Lefevre's place instead, but as much as Camara prefers to play in central defence, he's a lot more comfortable at fullback.
If Lefevre hasn't been completely deprived of confidence, he's probably worth another shot. At this point, something has to change.
At least the recent signing of Jack McInerney from the Philadelphia Union has given the Impact something to cheer about. There's no doubt that Montreal is going to be able to score goals this season, but the team's defensive fragilies are palpable.
Interestingly enough, in McInerney's first interview with the Montreal media, he was asked what the Union staff identified as the Impact's greatest weakness when preparing to play against them and the 21-year-old striker answered that he and his teammates were instructed to use their superior speed to try and get behind the Impact's sluggish defense.
The very next day against the New York Red Bulls, Bradley Wright-Phillips easily got in behind Ferrari and was eventually taken down by the Italian defender in the box. A penalty was awarded to the Red Bulls and, fortunately for the Impact, forward Peguy Luyindula's ensuing spot kick struck the crossbar.
But future foes will surely feel confident that they'll be able to take full advantage.
Follow NICK SABETTI on