The Whitecaps have a new coach in Carl Robinson, and plenty of new faces, including designated players Matias Laba and Pedro Morales, but significantly, no Camilo.
THE BIG STORY:
Without doubt, the focus of this offseason for the
Vancouver Whitecaps
has been on the much publicized and controversial transfer saga involving 2013 MLS Golden Boot winner Camilo, which ended in the player's sale to Mexican side Queretaro FC.
Yet within the span of the last week, the club has added two designated players in Matias Laba and Pedro Morales, which should start to change the conversation ahead of Saturday's season opener against the New York Red Bulls.
Beyond those two big name acquisitions, however, the club has addressed other needs. The move to bring in Iranian international Steven Beitashour to fill the void at right fullback left by the retirement of Lee Young-Pyo looks a savvy pickup already, and in Sebastián Fernández and Nicolás Mezquida, both Uruguayan attacking players, head coach Carl Robinson has added offensive depth.
Still, while Robinson has addressed Vancouver's biggest issue – midfield – through bringing in Laba and Morales, replacing Camilo's 22 goals will be a major talking point.
In Kenny Miller, Darren Mattocks and Kekuta Manneh, there is the talent there to replace those goals – but between Miller's age-related injury issues and Mattocks and Manneh's youthful inconsistency, there could be a few frustrating final-third experiences to come for the Whitecaps and their fans over the coming months.
THE BIG QUESTION:
While Robinson's offseason moves and his talk of possession-focused soccer have been quietly reassuring, this is first season as a head coach.
The Welshman is intelligent and has the respect of his players, but it's one thing to say the right things and inspire confidence in a preseason environment, and a different beast altogether to keep the ship steady during the stormy grind of the long and arduous MLS season.
Will Robinson lead the Whitecaps to the MLS Cup playoffs or struggle in his first season at the helm?
EXPECTED OUTCOME:
Vancouver has the talent to qualify for the postseason after narrowly missing out last year.
In Morales and Laba, the centre of the park has never looked so good for the MLS-era Whitecaps. However, given the changes in both style and personnel, expect a few rocky periods, especially early on, with the squad likely just squeaking in, and most likely needing to advance via a first-round playoff match.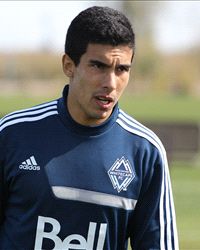 PROBABLE FORMATION (4-2-3-1):GK:
David Ousted
RB:
Steven Beitashour
CB:
Jay DeMerit
CB:
Andy O'Brien
LB:
Jordan Harvey
CDM:
Matias Laba
CDM:
Nigel Reo-Coker
RM:
Sebastián Fernández
CAM:
Pedro Morales
LM:
Russell Teibert
FW:
Kenny Miller
ACQUISITIONS:
Christian Dean (University of California, Berkeley), Andre Lewis (Portmore United FC), Mehdi Ballouchy (New York Red Bulls), Sebastián Fernández (Boston River), Nicolás Mezquida (Boston River), Paolo Tornaghi (Chicago Fire), Matias Laba (Toronto FC), Marco Carducci (Whitecaps residency), Pedro Morales (Malaga).
DEPARTURES:
Lee Young-Pyo (
retired
), Greg Klazura (
free agent
), Joe Cannon (
free agent
), Simon Thomas (
free agent
), Brad Rusin (Orlando City), Jun Marques Davidson (
free agent
), Daigo Kobayashi (rNew England Revolution), Tom Heinemann (Ottawa Fury FC), Corey Hertzog (Orlando City), Brad Knighton (New England Revolution), Camilo (Queretaro FC), Matt Watson (Chicago Fire).