A lot is expected of a completely rebuilt Toronto FC side that made worldwide headlines with its offseason moves.
THE BIG STORY:
Toronto FC
turned heads over the offseason with the biggest spending spree in Major League Soccer history.
The three new designated players -- Jermain Defoe, Michael Bradley and Gilberto -- have made the headlines, but some of TFC's other moves were just as newsworthy. Brazil No. 1 Julio Cesar, himself making DP money and then some, joined the squad on a season-long loan from English side Queens Park Rangers and provided all the glitz and glamour of another DP signing.
Dwayne De Rosario, the club's all-time scoring leader and a guaranteed hall-of-famer, came back to his hometown team to put right a departure that didn't quite sit right with both the player and the fans.
And in the nuts-and-bolts category -- the so-called 'spine' of the squad -- veterans Bradley Orr, Justin Morrow and Jackson all provide upgrades in key area on the pitch.
It all adds up to a massive turnaround for a club sorely in need of such. But what looks great on paper doesn't always translate to success on the pitch. The major task for head coach Ryan Nelsen will be to get the big influx of talent to gel in relatively quick fashion.
THE BIG QUESTION:
While Toronto's attack looks like it'll be much improved over the wet noodle that was the 2013 edition, there are still issues of depth that need to be addressed.
TFC looks especially thin at the back, where Steven Caldwell and Doneil Henry will be relied upon to eat up the lion's share of the minutes in central defence. Their understudies include Gale Agbossoumonde, rookie Nick Hagglund and a converted-from-right-back Ryan Richter -- hardly the stuff that inspires confidence should either Caldwell or Henry go down for an extended period.
Can TFC overcome very thin defensive depth in a long 2014 campaign?
EXPECTED OUTCOME:
It's playoffs or bust for this year's TFC, and it's tough to see the club not finally making the postseason for the first time in history.
The team's depth may not be enough to seriously challenge for the Supporters Shield, but the influx of talent should be adequate to do sufficient damage in the Eastern Conference for a playoff berth.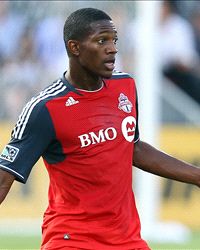 PROBABLE FORMATION (4-4-2):

GK:
Julio Cesar
RB:
Bradley Orr

CB:
Steven Caldwell

CB:
Doneil Henry

LB:
Justin Morrow

RM:
Alvaro Rey

CM:
Michael Bradley

CM:
Jonathan Osorio

LM:
Jackson

FW:
Gilberto

FW:
Jermain Defoe
ACQUISITIONS:
Jackson (FC Dallas), Gilberto (Internacional), Justin Morrow (San Jose Earthquakes), Dwayne De Rosario (D.C. United), Jordan Hamilton (TFC Academy), Michael Bradley (Roma), Bradley Orr (Blackburn Rovers), Julio Cesar (QPR), Nick Hagglund (Xavier University), Jermain Defoe (Tottenham)
DEPARTURES:
Robert Earnshaw (
free agent
), Bobby Convey (New York Red Bulls), Darel Russell (Tampa Bay Rowdies), Michael Thomas (Oklahoma City Energy), Justin Braun (Sacramento Republic), Stefan Frei (Seattle Sounders), Danny Koevermans (FC Utrecht), Richard Eckersley (New York Red Bulls), Jonas Elmer (
free agent
), Emery Welshman (
free agent
), Matias Laba (Vancouver Whitecaps)