The Montreal Impact were notorious for conceding late in games last season and new fitness coach Paolo Pacione will have the difficult task of getting his team up to speed.
MONTREAL – It's all moving rather quickly.
The second week of practice is already coming to a close, and the Montreal Impact preseason training camp is in full throttle.
There's been very little change in personnel – Andrea Pisanu and Blake Smith are the only signings of note – but there's a shared belief in the Impact camp that the current crop of players is more than capable of reaching the playoffs this season. There's also an understanding that doing so will require significant improvement in the team's overall play – that's where sporting director Nick De Santis is hoping head coach Marco Schällibaum's new ideas and presumably more advanced training methodology will come in handy.
There's a confidence but also a sense of urgency from the training so far: the team has one month to fix and improve as much as it can.
One particular area of concern is the sheer number of goals that the Impact conceded late in games last season: the team allowed 28 of its 51 goals in the last 30 minutes of matches – a frustratingly chronic occurrence.
So no surprises then that when the club's upper management met with newly hired fitness coach Paolo Pacione after the completion of the expansion season last fall, the problem of the team's overall fitness was raised, for surely a lack of fitness was playing a large part in the team's late game lapses.
"That was one of the biggest issues: Can we really sustain a certain level of fitness at the end of a game?" Pacione told Goal.com
Pacione's quest to get the players fit for the beginning of the season – and ultimately keep them fit throughout it – didn't begin at the beginning of the preseason camp two weeks ago, but in November, when the Impact were in Italy for their postseason camp.
"I had one-on-one meetings with everybody in Florence and I got a little bit of history - understanding what's a good fit for them injury wise - and with the medical staff we put together not just fitness programs but corrective and pre-habilitation type exercises leading into this preseason," Pacione stated.
"They had two months of work planned for them. It's a long offseason so it's important they had a plan that was clear and easy to follow. Communication [was also important]. There were messages that went back and forth and we touched base with each other in order to make sure that we established a foundation before we came here.
"My expectations for work ethic are pretty high so it was important for us to have a certain level of fitness coming into camp so that we can be healthy."
Assistant coach Mauro Biello explained to Goal.com that a lack of fitness wasn't the only reason why the Impact had a propensity for conceding late in games - there were mental and tactical factors that came into play as well - but that having all the players from the beginning this year will certainly prove beneficial.
"Everyone came in at the same time and that helps," Biello stated. "Last year we had guys coming in [at different times]. Matteo [Ferrari] came in half way through preseason. Marco [Di Vaio] came half way through the season. [Alessandro] Nesta came towards the end. So you had different levels of fitness. Now everybody's going to be at the same level and that's important."
Having a young team in place would certainly help on the fitness side of things. The Impact's squad is actually for the most part a rather young side, but two of the team's senior veterans, Ferrari (34) and Nesta (36), are the team's starting center backs and the extremely injury prone Nelson Rivas is the Montreal's third choice. Hassoun Camara has had his injury issues as well, not to mention the fact that centre back isn't his position, and he's been a bit of a hit or miss playing there. Academy product Karl Ouimette is promising, but largely unproven so far. He could very well have a big part to play this year.
The centre back position remains a point of fragility for the Impact. How long can Ferrari, Nesta and Rivas last without getting injured? Can they maintain a good fitness level throughout the physically demanding MLS season? What's to say those decisive late game lapses on the road at Chicago and Columbus won't come back to haunt the Impact this season?
Pacione and the club's medical staff will certainly have their hands full. With any luck, the fate of the Impact's delicate backline isn't beyond them.
The Eddie Johnson trade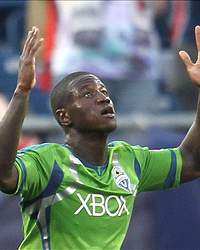 The Impact announced this week that they traded Lamar Neagle back to the Seattle Sounders in exchange for borrowing one of their international spots until the end of 2014.
The Impact acquired Neagle last February along with forward Mike Fucito, in a trade which saw forward Eddie Johnson - whom the Impact had selected through the allocation process - move west to Seattle.
Johnson went on to have an excellent season with the Sounders, scoring a franchise-record 14 goals. The Impact, on the other hand, traded Fucito to Portland only two months after acquiring him. With Neagle's return to Seattle this week, it means that that the initial Johnson trade ultimately amounted to zippo.
Naturally, the knives were out this week and when De Santis was asked by the media about the trade, he answered saying that "that wasn't our trade," thus pinning the blame on erstwhile coach Jesse Marsch.
At least, from now on, everyone will know who to point their finger at when things go south.
But De Santis did tell reporters in October that the Johnson trade had been a joint decision.
"We tried to convince him to come to Montreal, but he came back from Europe for personal and family reasons and wanted to stay in the United States," De Santis said. "Could we have held on to him? Yes, but that's how the Brian Ching situation started.
"This is why we took that decision."
Trades can't all be perfect. Some are good – trading Donovan Ricketts for Troy Perkins was a stroke of brilliance – and some are bad. At the time, the Johnson move seemed like a good one. It didn't work out. And it's not the end of world.