The MLS Players Union recently released salary information -- are the Vancouver Whitecaps getting good bang for their buck? Goal.com's Martin MacMahon has a look.
Is he worth it?
No matter the player, no matter the sport, when the salaries of professional athletes are released to the public, there's a lot of chatter about whether teams are getting good value for money.
Major League Soccer is no exception, and like the majority of North American sports leagues, salary cap considerations only serve to increase that scrutiny – with the MLS Players Union releasing player salaries late last week, it's time to have a look.
With the Vancouver Whitecaps about a third of the way through the season, it's impossible to say absolutely whether a given player is good value or not.
Convoluting this process of evaluating value is the nature of MLS salary rules.
These rules include such things as undisclosed allocation money (a system whereby the league allocates money to teams for a variety of reasons which they may use to pay down salaries and get under the salary cap) and other secretive deals relating to agreements with teams and sponsors in a non-playing capacity.
So, essentially nobody outside of the league office will have a full picture of what's going on, but that doesn't mean the figures aren't worth having a look at.
The team's highest paid player is once again Eric Hassli, at a guaranteed salary of $790,000. So, is he worth it?
In league play, he's only got two goals from 11 appearances, seven of which were starts. By any definition that's disappointing for a striker, but he's showing signs of turning it around, scoring both of those goals and picking up an assist in his last four league matches, three of which were substitute appearances.
Simply put, Hassli can play, even if he has started slowly. Does it look good right now? Not exactly, but most teams in the league would kill to have him. The man is box office gold, from his outlandish goals to his ongoing war with match officials – in essence, he's the perfect face for a new franchise trying to boost soccer in Vancouver and is worth more than simply what he brings to the field, which is plenty in any case.
He gets people talking, he makes Whitecaps highlights, if not their games, a must-watch in Vancouver, and to top it off he's got that unquantifiable cool factor.
Next up is captain Jay DeMerit - at $350,000 - and his backline. The central defender has been worth every penny this season, marshalling the backline alongside Martin Bonjour ($276,988), Lee Young-Pyo ($174,200) and Alain Rochat ($170,000).
As a defensive unit, it's hard to find much fault with the salaries. The group has been consistent in front of goalkeeper Joe Cannon ($175,666), keeping six clean sheets and conceding 14 goals in 12 matches. That's good for about middle of the pack in the league, but it's the clean sheets in particular which have helped the low-scoring squad achieve its current position of fifth in the highly competitive Western Conference.
In midfield, there's nothing too controversial. Regular starters Jun Marques Davidson ($71,136) and Gershon Koffie ($92,500) in particular look reasonable given their contributions.
John Thorrington ($170,000) took a pay cut to return, and has played well in recent matches, but once again he's struggled with injury, starting only four matches this season so far. If he can stay healthy, he'll be worth his salary, but that "if" is becoming increasingly frustrating for player and club.
The attacking group has players on big wages, and to date as a unit they haven't produced enough, scoring a measly 13 goals in 12 league matches. Pundits regularly attribute this low offensive total to a lack of creativity in midfield, and that's not an argument without merit, but perhaps there is something in head coach Martin Rennie's conservative system that is restricting consistent goalscoring.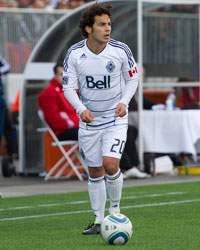 Davide Chiumiento ($300,000) is the third-highest earner on the team, but hasn't quite found a level of consistency, dropping in and out of the lineup, and crucially being restricted to substitute appearances in both legs of the Canadian Championship final against Toronto FC.
For a player on his pay scale, in such a vital tie, his omission from the starting lineup in both legs was telling, and seems to indicate a lack of trust on Rennie's part when it comes to the enigmatic Swiss-Italian.
So in that sense it's difficult to evaluate Chiumiento's value for money – is he simply not worth the money, or is it that he doesn't quite fit in Rennie's system?
This may be a case of wait and see, but at this relatively early stage the former Juventus trainee can't be seen as good value for money – as much for his own performances as his coach's unwillingness to play him at crucial junctures.
At $169,000, Sebastien Le Toux has been one of the most reliable members of the squad – certainly if salaries were awarded based on kilometres run, the Frenchman would be a designated player. Le Toux has worked tirelessly, and played many games as a wide attacking player, which is a new role.
On the other flank, or sometimes through the middle, is Camilo, who earned a big raise to $238,000 from $134,000 in 2011. The Brazilian hasn't shown his MVP form as of yet, but this is largely down to injury, as he's struggled with a nagging quad injury for much of the season.
Youngsters Omar Salgado ($131,868) and Darren Mattocks ($192,000) are both heavy earners but as they are on Generation adidas deals, their salaries don't count against the cap.

The only real black hole of cash so far in 2012 is Atiba Harris ($158,275). The Kittitian attacker has only managed two starts from four appearances and continues to struggle with knee problems – indeed he was back on the operating table late last week for his third knee operation since the beginning of last season.
It's tough to rate the entire group, but at this early stage it seems the defensive unit is pricey but worth it, the midfield group is affordable but perhaps lacking creative quality (this will change when Barry Robson arrives in July), and up front there simply needs to be more production.
The Whitecaps will rightly be happy with their position in the table, but making their attacking group earn their wages will be necessary to make sure the team's impressive start leads to a playoff finish.
Martin MacMahon covers the Vancouver Whitecaps for Goal.com Canada.