Mason Trafford, capped by Canada at the turn of the year, is now without a club following relegation with Chinese side Guizhou Zhicheng but he still has unfinished business.
Canadian Mason Trafford is now without a club after Guizhou Zhicheng suffered relegation to a league where foreign players are not permitted, but the American-born defender still has a point to prove in China.
"Relegation was really hard, it was the first time in my career I've been relegated," the 27-year-old told Goal. "We already knew that our chances were not good going into the game with Tianjin Songjiang, so you are already preparing for it a little. It's never a good feeling as a professional footballer to go down a league."
"I'm still reflecting on the season with Guizhou Zhicheng and feel I can do a good job in the Chinese league," he added. "I know the strengths and weaknesses of a lot of sides as well as the quality required.

"I enjoyed my time in China and feel I have unfinished business there."
On the last day of the Chinese second tier, Zhicheng drew 1-1 away with Songjiang to seal its relegation to China League Two. As if relegation was not harsh enough, the Chinese third tier does not allow foreigners, so he was joined by Honduras international Carlo Costly and Bosnian forward Ivan Bozic in departing the club.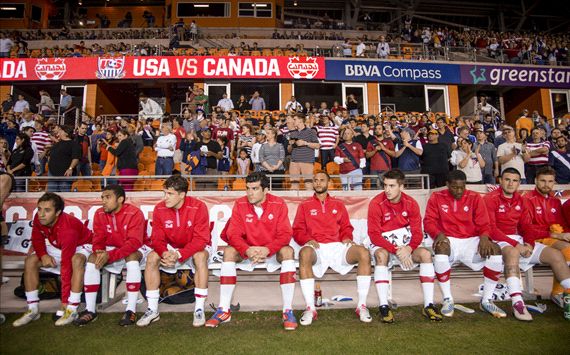 Happier times | Trafford (third from left) earned his first Canada cap just before joining Guizhou Zhicheng
After a successful stint at IFK Mariehamn in Finland, Trafford made the switch to the second tier of Chinese football with Guizhou Zhicheng in Feb. 2013, and he looks back painfully on his lone season of experience in China.
"Every season you have those would have, should have, could have games and it's never nice to dwell on those but this season more than any other there are a number of games to look back on that are still painful now like Guangdong Sunray Cave or Chongqing F.C. at home when we are comfortable and go onto drop points in critical games," he said.
It was form that proved costly in the end for Zhicheng, taking 15 games to collect its first three points, losing eight and drawing seven on the way to relegation.
"We made it difficult ourselves by tying a few games when we should have seen out the win," he explained. "With the quality the team was showing with two months left we had grown a lot and I was definitely thinking we would stay in the league, it came as a shock that we got relegated."
Chongqing F.C. also lost former Middleborough and New Zealand forward Chris Killen and Brazilian striker Nei as it departed China League One, and Trafford's feelings are quite clear on the realities of relegation.
"You feel like you let the team down, the owner and the fans," Trafford said. "We have many Chinese who have been with the club for a number of years, local guys, and there were some tears shed, it's a long season and everybody works hard.
"The Chinese players came a long way this year actually, the start of the year they were struggling to deal with the change from the third division to the second, but I have to give a lot of the guys credit, we came a long way," he said.
Now a free agent, Trafford's attentions turn to pastures new, be it in China or elsewhere and Guizhou Zhicheng has an unenviable rebuilding job to do in the 2014 season.
Beijing-based Peter Davis has followed Chinese football since 2008 and is a regular contributor to Wild East Football. He can be found on Twitter @peteydavis.