Is Marco Bustos' decision to train with Chile U-20s a reflection on him or the current state of Canada's national team program?
VANCOUVER — As we reach the last leg of a World Cup this weekend, Canadian soccer fans continue to ponder if and when their national side will be part of the party again.
Only Mexico 1986 remains the lone reference for Canada and its participation in soccer's showpiece event. Trying to find hope for future qualification has been hard to come by in recent times.
One area that Canadian fans have referred to is the promising progress of young Canadian talent, particularly in the academy set-ups of Canada's three MLS clubs.
One such player that gave a glimpse of promise and hope during this year's Amway Canadian Championship was Whitecaps Residency product Marco Bustos. His first-team debut in Vancouver's semifinal, first leg, defeat at Toronto FC made Canadian soccer fans believe that the future may indeed be bright.
Then last week, concern among those very fans was raised again when news broke that Bustos had accepted an invitation to a Chile U-20 national team training camp in Carson, California, starting this weekend.
For long-suffering Canadian supporters, the news was worrying, if not depressing, to read. As a soccer nation, Canada has suffered considerably from players who have either donned Canadian red and white or are eligible to play for the 'Great White North', but in the end, have opted to suit up for another country. It is a player list that is long and makes for sad reading…
For example, at this year's World Cup, former Canadian U-20 international goalkeeper Asmir Begovic kept goal for his native Bosnia & Herzegovina, while the infamous Jonathan de Guzman is part of Louis van Gaal's Netherlands squad that will face hosts Brazil in the third-place match on Saturday.
Hailing from Winnipeg, Manitoba, Bustos is eligible to appear for Chile through his father. He's also eligible to play for Italy through his mother. Despite those options, the promising playmaker represented Canada at last year's U-17 World Cup in the United Arab Emirates.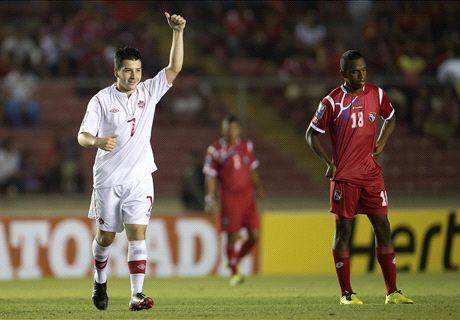 Bustos starred for Canada at the under-17 level last year.
Speaking to Vancouver's The Province newspaper on Monday, the 18-year-old stated he is keeping all of his options open at this stage and that the Chile U-20 call-up was "a good opportunity and learning experience" for his fledging career.
On one hand, it's understandable that a young player like Bustos is trying to make decisions that are career-oriented. One must remember the opportunity to appear in such a training camp puts him in the shop window with other club suitors. Bustos has yet to sign an MLS contract with the Whitecaps, though he remains committed to breaking into Carl Robinson's side in the near future.
Having read Bustos' comments, there is a strong sense that the youngster still sees his future in Whitecaps and Canada colours, but at the same time, one can understand Canadian supporters' concerns that another promising Canadian talent may slip through the cracks yet again.
While this issue of Canadian players choosing to play for another country has usually pointed the finger of blame at the player and his decisions, in many ways, such an issue is a further indictment on the Canadian men's national team program and its seemingly ongoing struggle for credibility.
Here we have a young, talented Canadian youngster that has already experienced the environment of the Canadian national team program, and yet, such an experience is still not enough to dissuade Bustos to train with the Chile U-20 squad. Does that speak volumes about the player or does it say more about current state of the Canadian national team set-up?
The fact that Canada has yet to make a significant upturn in its fortunes in men's international soccer has hampered its ability to make Canadian players like Bustos feel that their best and irrefutable international option is to play for 'The Maple Leaf'.
In other words, it can be argued that the Canadian Soccer Association (CSA) and the Canadian soccer community have still not done enough soul searching and assessment to find ways to change the environment and make our men's national team program a sacred thing to be part of, for players in this country.
Only through improved international performances, promising campaigns at tournaments like the CONCACAF Gold Cup, and regular qualification for U-17 and U-20 World Cups - which take place every two years - will that perception start to change. Playing friendlies versus Moldova and Bulgaria in small Austrian towns does little to achieve that change in perception.
Only time will tell what this training camp appearance with Chile U-20's will do to Bustos' career. Either way, it still does not resolve the bigger issue of building the Canadian men's national team program into one that is respected across Canada, CONCACAF, and beyond…
It's time for the CSA and the Canadian soccer community to take more responsibility for our top players and our men's national team program, rather than constantly complaining that it is a player's fault for deciding not to play for Canada and claiming such decisions by want away players is always out of their control.