Former Canada and Vancouver Whitecaps star Carl Valentine says it's great news that current Whitecaps Camilo and Gershon Koffie might one day suit up for Canada.
Former Vancouver Whitecaps star Carl Valentine is backing current 'Caps Camilo and Gershon Koffie to shine for Canada, should both of those players survive the naturalization process.
The two players have expressed an interest in playing for the national team once they acquire full citizenship (Koffie has secured permanent residency after initially arriving the summer of 2010 while Camilo has applied for that status as well – he arrived in 2011).
"My initial reaction was that it's fantastic news for Canada," Valentine told Goal on Wednesday when asked about his thoughts on the pair signing up. "They're obviously two quality players that have huge potential. They're nowhere near their peak right now. They're still learning the trade but they're fantastic players."
Valentine, who now works as a club ambassador for the Whitecaps, navigated the naturalization paperwork nearly three decades ago and played a key role in the game that qualified Canada for its only World Cup appearance – Mexico '86 – picking up two assists in a 2-1 win over Honduras in 1985.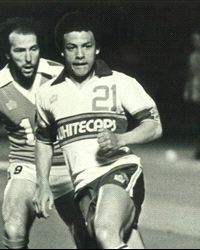 In some ways the England-born attacking player's story parallels those of Camilo and Koffie – Valentine came over from English side Oldham Athletic in 1979 on a two year deal with no intentions of staying in Vancouver or the North American Soccer League longer than that, but developed an affinity for the city and the country as time went on.
Valentine turned down an offer to play for Canada in 1984 at the Summer Olympics while still holding out hopes of an England call up, but a year later pulled a U-turn and played in that final qualifying match to push Canada into Mexico '86.
Now 55, the Manchester native explained that "feeling Canadian" wasn't something that happened instantaneously, but was a gradual process.
"Every situation is different," Valentine said. "You go one step at a time. You like the place, the team that you play for, you like the place that you're living, and you make the decision that you want to become a citizen of that country because you fell in love with it.
"If you fall in love with something, then it doesn't necessarily mean the next step is going to be 'well, okay, I'm going to play for Canada.' But then it creates that opportunity. If the question comes along, I think that whether they would say yes or no, you certainly would consider that, because you're making Canada your home."
Given the recent history of top Canadian-raised players playing for other countries such as former Manchester United star Owen Hargreaves, who played for England, and Swansea City midfielder Jonathan de Guzman, who plays for the Dutch national team – or holding out on international football altogether, as Queens Park Rangers striker Junior Hoilett is currently doing – Valentine suggests if Canada can take advantage of foreign-born players of its own, that's only fair.
"It's a break that Canada needs," Valentine said. "Some high-profile players like Owen Hargreaves that have been Canadian have chosen to play for other countries. It's a rarity, that I know of, that two players of this quality are looking to maybe become Canadian citizens and play for Canada.
"It's a huge, huge plus, and who knows what effect that will have?"
As for those who would question the desire of a player playing for a country which he wasn't raised in, Valentine isn't buying it – it certainly didn't affect his effort levels when wearing the red and white jersey.
"It's hard to walk in other people's shoes," Valentine said. "I certainly feel, for myself, I wanted to become a Canadian citizen. I wanted to live here, and I was really proud when I was asked to represent Canada. Every situation is different…for those who say that, I think it's pretty narrow minded.
"People do go to other countries and become naturalized because they fall in love with it."

Follow MARTIN MACMAHON on