Canada is almost always the away side when it plays its home games, as supporters of the opposition pack the stands. With World Cup qualifying close, it's time for that to change.
Canadian soccer fans, your country needs you!
In just a few short days, the Canadian men's national team embarks on its most important series of matches in four years. On June 8, Canada kicks off the third round of CONCACAF's World Cup qualification tournament in Havana, Cuba, against the host country.
Four days later, Honduras pays a visit to Toronto's BMO Field for what could be the single most crucial match the national side will play in this entire cycle.
It's imperative that Canada gets off on the right foot in those two matches, especially in the home game versus the Hondurans, and the team will need all the help it can get. That's where you come in.
The Canadian side has very rarely experienced a true home-field advantage, as ex-pats and their children (and their children's children) from nations all over the globe have traditionally flocked to stadiums from coast to coast to support the team from the old country rather than the true home side. It's a baffling side effect of the wonderful mixture of cultures that make up our great nation, and it's one that needs to end if Canadian soccer is truly going to take the next step and start qualifying, consistently, for the World Cup.
"We used to joke around all the time, I mean it wasn't funny, but we used to kind of laugh and say that we were the only country in the world that never played a home game," former Canada captain Jason de Vos told Goal.com.
"When we played Mexico or Honduras or El Salvador, it always seemed as though there were more people in the stands supporting our opposition in our own country than there were supporting Canada, so we always went into games knowing that we would have to quite the crowd a little bit, which is not something you normally need to do at home."
Most nations view their home stadiums as fortresses where opposing teams are scared to play, thus giving the home side a distinct mental advantage before a ball is even kicked. In Canada, the opposite has been the norm, as local-based opposition supporters often made it uncomfortable for the hosts.
"I remember when I made my debut and we played Iran in Toronto and I tackled one of their players early on in the game, and for the rest of the game, every time I touched the ball the vast majority of the crowd booed me," de Vos said. "I just couldn't believe it, I was incredulous."
It was a rude awakening for a young player who would go on to serve his national team for many years, including captaining the side that won the Gold Cup in 2000. For most international players, the negativity directed towards him in his debut would have been a low point, but de Vos remembers another time in which the Canadian Soccer Association showed incredible
naïveté
by catering to the opposition and its support.
"I go back to World Cup qualifying in Edmonton [in 2000], our first game against Trinidad, and walking out on the field and there was a steel drum reggae band playing," de Vos recalled. "It was like we were rolling out the red carpet to make Trinidad feel at home, and we can't do that. We're not good enough to do that."
While the CSA has begun to learn its lesson since that infamous night in Edmonton - Canada lost 2-0, by the way - it's been a slow, and at often times painful, learning curve.
Four years ago in Toronto, Canada hosted Jamaica in front of arguably the most pro-Canadian crowd the team had seen in a generation. Even with the support slanted heavily towards the home side, there was still a large Jamaican presence in the stadium, one that was brought to life when the anthem singer - an artist from the Caribbean island - belted out a rousing, lengthened rendition of the Jamaican anthem.
That kind of stuff simply cannot happen if Canada wants to make a serious run at getting back to the World Cup for the first time since 1986.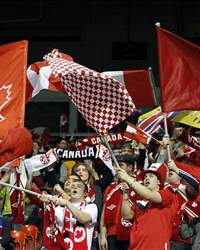 "We need to make our home field a horrible place for the opposition to play, and the way we do that is by having very vocal, boisterous, pro-Canadian crowds, and it's something that I think is crucial if we're going to be successful in World Cup qualifying," de Vos said.
To that end, the CSA has upped its game, says de Vos. Along with its apparel partner, the governing body has rolled out the most extensive awareness campaign ahead of the qualification games, including scheduling a high-profile friendly against the United States on June 3.
"Credit to the CSA and Umbro for doing a great job in marketing the tickets and putting together attractive packages for clubs and academies to go out and purchase them," he said. "Hopefully we'll see that translate to a very pro-Canadian crowd against both the United States and Honduras when they come to Toronto."
Despite all of the work put in by the organizers, people still need to show up. If you're reading this site, you're probably already a soccer fan living in Canada, so if it's within your means to do so, get to BMO Field for the games next month and give your national team the support it needs and deserves.


Follow RUDI SCHULLER on

Instead of passively lamenting the state of Canadian soccer, stand up and be counted. While supporting the national teams of Italy, England, France, Portugal, and Brazil will bring you instant gratification, your home country also needs you.
Think about it: While celebrating an old country victory on the streets of Toronto, Montreal, or Vancouver this summer is nice, Canadian success could bring about a unifying euphoria that would outshine anything seen outside of Olympic hockey.

And it wouldn't take that much to get there, de Vos said.

"The recipe for success in qualifying is not that difficult: win your home games," he explained. "Win all your home games and you scrap a point on the road, and you should have enough to get through. We've got to win our games on home soil, we've got to make BMO Field a fortress, and get it decked out in red to make sure that the players have that twelfth man in the stands cheering them on."

Your move, Canadian soccer fans.


Rudi Schuller is the Chief Editor of Goal.com Canada.