Club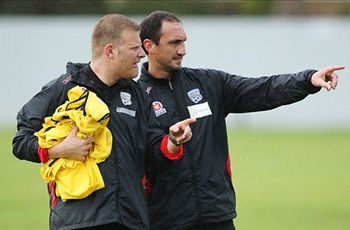 Adelaide United
Last Season
Fourth
Coach
Josep Gombau
Captain
Eugene Galekovic
Players in
Sergio Cirio [L'Hospitalet] Tarek Elrich [Western Sydney Wanderers], Jordan Elsey [youth], Steven Lustica [Hajduk Split], Awer Mabil [youth], Isaias Sanchez [Ponferradina], Michael Zullo [FC Utrecht]
Players out
Fabian Barbiero [Croydon Kings], Iain Fyfe [Mes Kerman], Tomi Juric [Western Sydney Wanderers], Evan Kostopoulos [released], Iain Ramsay [Melbourne Heart], Dario Vidosic [FC Sion]
Expectations
If the wildest dreams of Adelaide United fans and Barcelona fetishists [yes, we mean you, Craig Foster] come true, new coach Josep Gombau will have an undeniably talented group of players zipping the ball around in one and two-touch combinations, passing their way through opposing teams en route to a grand final triumph.
But in football, as in life, wildest dreams rarely come true. Even if the Spanish tactician proves to be the real deal, it remains to be seen how much of an impact he can have had in one pre-season. Let's not forget that Adelaide will not be the only team trying to take on the competition using brain rather than brawn in 2013-14. The teams professing their intention to play slick passing football now firmly outnumber those content to bludgeon their way to goal.
Adelaide are equipped in certain areas to accomplish their mission - the arrival of Steven Lustica and Michael Zullo should complement existing talent in the form of Marcelo Carrusca and Jeronimo Neumann, while they boast the best goalkeeper in the competition in captain Eugene Galekovic.
What has to go right
The new players handpicked by Gombau, Spanish duo Cirio and Isaias, need to succeed if fans and observers are to buy into the new manager's philosophy, while question marks remain over whether or not the defence has the technical skills necessary to play out from the back and provide the foundations of a possession-based game-plan.
Worst case scenario
The Adelaide players are unable to implement Gombau's strategy effectively, leaving the Spaniard without a Plan B, and the patience of fans proves short-lived, prompting the club's occasionally unstable owners to panic and make a change mid-season. Back to square one at Coopers Stadium.
Nightmare headline
"Ex 'Barca' coach Gombau exposed as career conman"
We think
Adelaide United have recognised the direction in which the competition is moving and embraced the new imperative of prioritising technique and possession. They have also made a fashionable choice in appointing a Spanish coach to implement their new philosophy, but gaining the success they crave is not as simple as appointing personnel who appear to fit the bill. A season of stability after frequent coach changes in recent years would be welcome, and Gombau will do well to guide his team into the semi-finals.
Prediction
Sixth [writer's prediction]