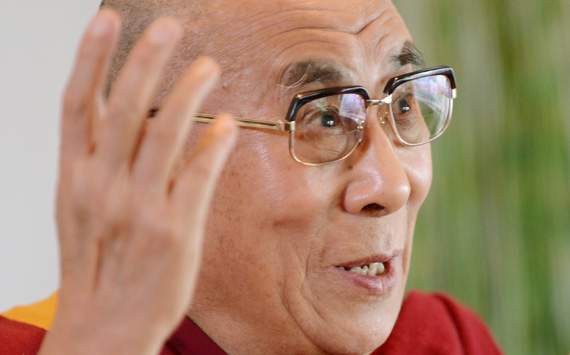 In simply reaching the
Capital One Cup
final it has sometimes seemed like
Bradford City
have been guided by some kind of divine or spiritual presence.
Finally, those suspicions have been confirmed with the revelation that the Dalai Lama has given his blessing to the League Two outfit ahead of their date with Wembley later this month.
After first being made aware of the club at a conference last year, the Tibetan spiritual leader has sent a letter of support to the cup giant-killers.
Reportedly, the 82-year-old was wowed by the similarities between Bradford's official club colours and the traditional velvet and claret robes worn by Tibetan monks.
His holiness was then presented with a personalised number 14 club shirt - he is the 14th Dalai Lama - and also appointed as the club's honorary president by Bradford City fundraising group,
Friends of Bradford City
.
"We thought we'd never hear another thing," said Mark Neal, head of the group searching for high-profile and let's put it bluntly, wealthy supporters to pump some added funds into the club.
However, it appears that SKY Sports even reaches the Office of Tibet, who have sent a letter declaring that the Dalai Lama "remembers his time in Yorkshire with great affection and wishes you every success in the big match."
Will the help of the spiritual leader inspire Bradford to complete their remarkable story by taking glory against Swansea on 24 February? We wouldn't dare say otherwise!