Arsenal
captain
Robin Van Persie
has confirmed that he will not be signing a new contract at the club.
Van Persie's future has long been the subject of speculation, with the likes of Manchester City and Juventus rumoured to have made enquiries for the striker who has one year left to run on his current deal at the Emirates Stadium.
WHERE DID IT ALL GO WRONG?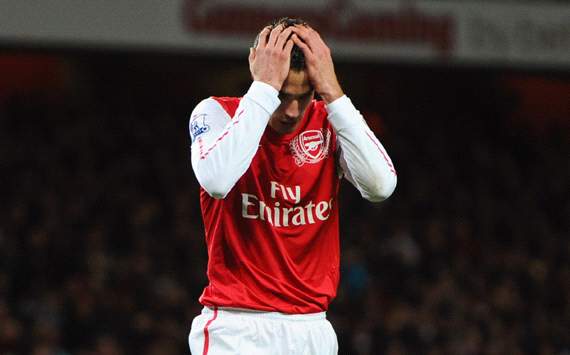 September 2011
Van Persie refuses to enter talks over a new deal: "I still have almost two years left, so for the moment that's fine. I'm happy with my contract. I can't look into the future. I can't see us talking now because we are so busy."
May 04, 2012
Wenger hopeful that Van Persie will sign a new deal: "Who would want to lose his best player? My desire and my wish is to find an agreement with Robin van Persie, extend the contract and stay with us for a longer time. Hopefully we can reach that."
July 4, 2012
Reveals on his personal website that he will not sign a new deal with Arsenal as his hopes for the club are not matched by Wenger.
The 29-year-old has now informed fans through his official website that he will not be extending his stay in north London, stating that his meeting with manager Arsene Wenger earlier this year had left him questioning how the club was moving forward.
"I personally have had a great season but my goal has been to win trophies with the team and to bring the club back to its glory days," his statement read.
"Out of my huge respect for Mr Wenger, the players and the fans I don't want to go into any details, but unfortunately in the meeting it has again become clear to me that we, in many aspects, disagree on the way Arsenal FC should move forward.
"I've thought long and hard about it, but I have decided not to extend my contract."
The news will come as a bitter blow to Wenger, who stated on Tuesday that it was imperative to keep the PFA Player of the Year with Arsenal "at all costs".
A string of clubs across Europe are likely to be interested in signing Van Persie, who netted 37 goals in all competitions last season.