India national team coach Wim Koevermans has revealed he was saddened by the ban imposed on Mohun Bagan, after they were found guilty of violating the I-League charter during the high-profile Kolkata Derby in December.
Crowd violence at the match led to Bagan midfielder Syed Rahim Nabi being injured as a result of a missile thrown from the stands. The Mariners refused to contest the second half of the tie amid fears of decreasing security at the Salt Lake Stadium in Kolkata, but have now been handed a two-and-a-half season ban for their actions.
"It is a tough punishment as many players cannot play for the moment. Of course, I am unhappy with the ban. But I also know one has to play according to the rules laid down. What I am more concerned about is the Indian players in the club. They've not played a game since that derby match and it's not good. They need to be playing games week in and week out. We need to fix that issue at the earliest," said Koevermans at an event at Bangalore, where he was to present under-privileged kids with a signed India national team jersey and ball on behalf of a city based non-government organisation.
India were drawn with Myanmar, Guam and Chinese Taipei in the AFC Challenge Cup qualifiers to be held at Maldives in March 2014. The Dutch coach told that India must aim to win the tournament.
"The first target when I took over the team last July was to win the Nehru Cup, which we did," said Koevermans. "Everybody said, 'Wow'. All the teams were above India as per the Fifa ranking. The players put in a lot of effort and I'm very happy to have started on a winning note," he added.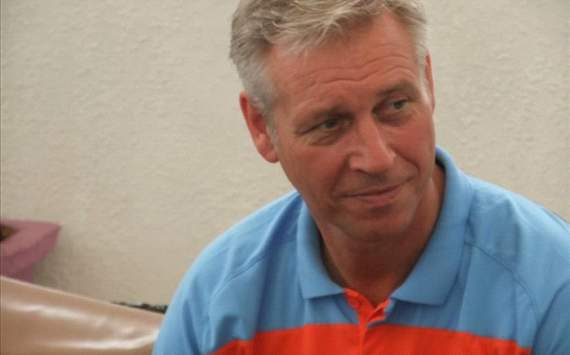 Koevermans is delighted with his winning start in charge of the national team.
"But in the end, we did excel. That says something about the strength and mentality of our players. We want to win the first game against Palestine and next win the AFC Challenge Cup. The next target is to climb up in the Fiffa rankings.
"In order to do that we need to play more international games on Fifa days. So far, under my charge, we've gone up three places. We intend to utilise every Fifa date available. We played Singapore last year and we begin this year with a friendly against Palestine at Guwahati on February 6. The calendar is out there on the website and it's our job to make sure the players are available during that time and get countries to play against us.
"This year we also have the AFC Challenge Cup qualifiers in Myanmar in early March and the SAFF Championship in Nepal [from Sept 20 to October 2], and if we do well in these tournaments, we definitely can achieve our target of improving our rankings."
Despite the fairytale start to Kovermans' reign as coach, the defeat to Singapore in October exposed the flaws his side still carries. But the experienced Dutchman refused to dwell on the negatives and instead focused on the brighter side of things.
"I do''t like to speak about the weaknesses because that is what everybody is talking about. The team played really well and according to the plan in the Nehru Cup. I've been to Kolkata and few other cities and I see that there are a lot of talented players in India," he said.
"The I-League clubs may have strikers and defenders from abroad but there is a lot of quality locally. I'm quite happy with what we have but that doesn't mean we are okay. The standard of I-League is much different to some other leagues in the world. [National team technical director} Robert Baan has a lot of plans and it needs to be implemented step by step. Progress is not made in a day, it's gradual and we have to stay committed. The long term plan is to take the team to a higher level."