Outgunned and nearly overwhelmed by a vicious Thai attack on Saturday night, Singapore held on through 90 minutes to capture their fourth AFF Suzuki Cup with a 3-2 victory on aggregate. The Lions' path to the final was not without difficulties, but their success against heavily-favoured Thailand was emblematic of the high quality of play that is rapidly developing across the whole of Southeast Asia.
Bangkok and Kuala Lumpur were the settings for the tournament's group stage, where eight countries vied to reach the semi-finals.
The War Elephants of Thailand clearly benefited from playing their group games in front of a friendly crowd as they cruised to three easy victories on the way to winning Group A. Meanwhile, plucky Philippines recovered from their opening-day loss to eke out two wins against Vietnam and Myanmar to book their own spot in the semi-finals.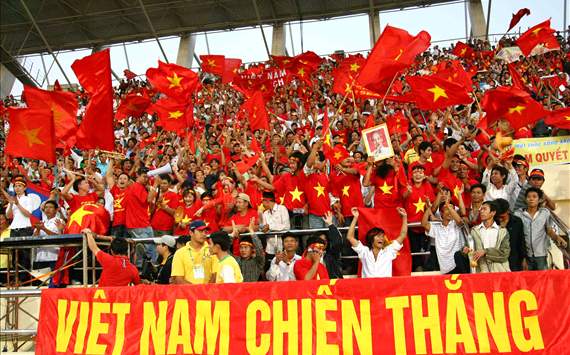 There was nothing much to celebrate for Vietnam's fans...
Vietnam, winners of the 2008 tournament, made their worst showing ever as they exited the group stage without a win. Play-off winners Myanmar, led by brash striker Kyi Lin, played bravely to earn a point in the opening match against Veitnam but fell to Thailand and Philippines.
In Kuala Lumpur, Group B began with a set of explosive results that would set the pace for the tournament: troubled Indonesia narrowly avoided a loss when Vendry Mofu's last-minute strike earned the side a 2-2 draw against Laos. But the real shocker came later that night, when Singapore bulldozed hosts Malaysia with a 3-0 win that included a goal from 42-year-old Aleksandar Duric.
But hosts Harimau Malaya found their pace in the second round, beating Laos 4-1. Indonesia too showed signs of life, needing another late goal to defeat Singapore and set up an exciting final day where all four teams had a chance to break through.
In a tense encounter at Bukit Jalil National Stadium, Malaysia won 2-0 over Indonesia in a rematch of the 2010 AFFSC final. Meanwhile at Shah Alam, Laos' brave effort was eventually repulsed by Singapore, who went on to win 4-3 in a thrilling affair.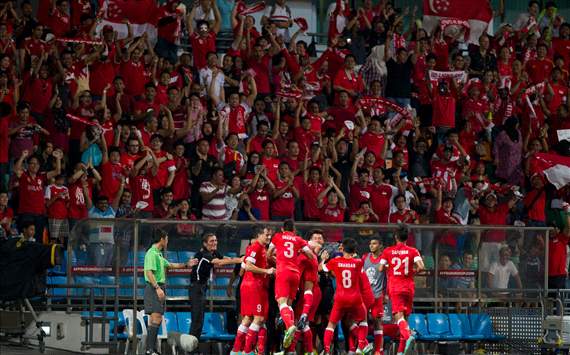 Singapore ended Philippines' run in the tournament...
After a narrow escape from Group B, Philippines rejoiced in the chance to host a semi-final tie at Rizal Memorial Stadium in Manila after the venue did not meet AFF standards in the previous tournament. Azkal fans were rewarded with a gritty, scoreless affair that gave coach Hans Michael Weiss and his side a chance going into the decider in Singapore.
But the Lions held on to a 19th-minute goal by Khairul Amri in the return leg, shutting down Azkal star Phil Younghusband and clinching their first AFFSC finals appearance since their third championship in 2007.
On the other side of the bracket, defending champions Malaysia fought Thailand to a tempestuous 1-1 draw at Bukit Jalil. Their comeback efforts were unsuccessful in the away leg, when Golden Boot winner Teerasil Dangda and Theeraton Bunmathan scored in a six-minute period to see their side through to the finals.
Singapore edged out Thailand to register their fourth title...
The stage was thus set for a dramatic series between Thailand and Singapore, with both countries hoping to win their fourth AFFSC title. And yet in a strange twist of coincidence, it would be their first-ever meeting in the finals.
While Thailand were widely expected to capture the title, Singapore coach Radojko Avramovic had other plans. 'Raddy', as he's popularly known by locals, was well aware that Thailand were not used to the artificial pitch such as the one at Jalan Besar, and the Lions used this fact to disrupt their opponents rhythm in the first leg. An early penalty by Fahrudin Mustafic set the pace, and Singapore piled on two more goals in the second half courtesy of Amri and Baihakki Khaizan.
A goal by Adul Lahso gave the War Elephants something to take home; with an away goal they now faced a daunting - but achievable - goal of at least a 2-0 victory to come from behind in front of a friendly crowd.
Three days later the teams met once again in Bangkok at Supachalasai Stadium. Thailand's attack was the fiercest it had been all throughout the tournament, but Singapore held on through repeated clearances as well as no small number of great saves from 22-year-old goalkeeper Izwan Mahbud. After taking the lead in first-half stoppage time through Kirati Keawsombat's effort, Thailand were unable to score a second despite earning 19 corner kicks on the night. Uzbek referee Ravshan Irmatov's final whistle at last echoed in the Bangkok night, and Singapore celebrated their fourth AFF championship.
The result was devastating for Thailand coach Winfried Schafer, a fan favourite in Thailand who looked all but set to break the country's 10-year title drought. The night was instead Raddy's to celebrate, a fitting end for the Serbian coach that led Singapore to three regional trophies since taking the helm in 2003.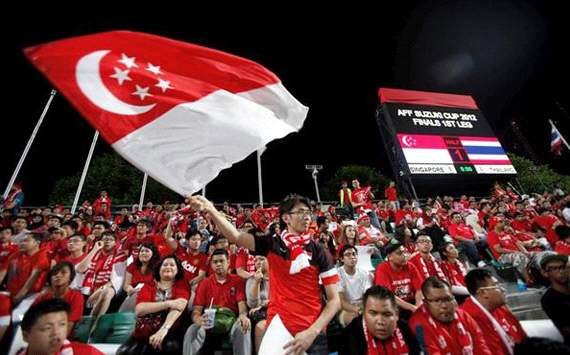 Will we see such crowds in the future too?...
This year's Suzuki Cup was all that organisers hoped it could be; a fitting demonstration of the region's passion for football and a showcase of the rising quality of play on the international level. With even play-off qualifiers Laos and Myanmar putting on inspired performances, it's clear that Southeast Asia has the resources with which to compete with its older and more developed siblings to the east and west. Clubs from those parts of the world should also take note, as several players showed themselves to be more than capable of playing in many of the continent's top flights.
But several participants also left the tournament with lingering questions. Indonesia's governing federation is just three months from a threatened FIFA suspension after they have failed to mend internal rifts. Vietnam were left with questions of their own after a winless group stage, and with the country's V-League struggling it may be a tall order for the Golden Star to recover quickly. Even champions Singapore will have to consider how they progress after the departure of their long-time coach, and the domestic game could see further changes following the success of Lions XII, home to a majority of the national team's starting members, in the Malaysian Super League.
For now, if there is disappointment among ASEAN football fans it is in the fact that there are two long years remaining until the next edition, to be co-hosted by Singapore and Vietnam in 2014. With Southeast Asia absent from the World Cup, it will be a welcome opportunity for the region's fans to watch football that may not be up to the level of Spain and Brazil, but still holds the promise of a bright future.
How do you stay up with football when on the move? With http://m.goal.com –your best source for mobile coverage of the beautiful game.