Dempo SC
coach
Armando Colaco
revealed that the misunderstanding between
Rohan Ricketts
and him took place before the former English Premier League player joined the club.
"See, the problem in the beginning was that Rohan was a striker... his agent told us that Rohan is a striker and that's how we brought him," Colaco explained. "But when he [Ricketts] came here, he said, 'I'm not a striker who has come to replace Ranti', and that he was an attacking midfielder."
"Now we [Dempo] don't play 4-4-1-1, we play 4-4-2, you see. So here, we had to make him understand. It was a misunderstanding that initially took place, but then we have to carry on. He, the club and I have to move on."
"Rohan [Ricketts] is very good with the ball, class, but off the ball he has to work a little bit."


- Armando Colaco

Meanwhile, the defending I-League champions have been facing problems in the striking department as the Dempo tactician went on to elaborate.
"The problem was [Joaquim] Abranches was not fit [to play against Air India]. Abranches was injured, but I forced him. I said 'please come because we are lacking strikers'," he continued.
"Let me be honest, even in Delhi [against ONGC], I'm the one who forced him to play as [Ryuji] Sueoka could not play well because of food poisoning. I went with Joy [Ferrao] and Peter [Carvalho] to play up, although I did try with Anthony [Pereira]."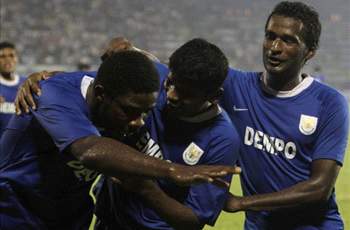 Does Dempo need a fourth foreigner?
"Fourth foreigner? Let's see. Koko [Sakibo] says, 'I want to play. I'm coming the next game,'. I miss Koko although Sueoka is trying his level best," he added.
Concerning Climax Lawrence's suspension, the Dempo coach-cum-general secretary has already taken to
writing
to the I-League CEO Sundando Dhar, before revealing he would take legal measures to resolve the matter.
Climax Lawrence was
banned
for two matches, against Air India [November 24] and Mohun Bagan [November 28], for allegedly charging on the referee in the match against East Bengal on November 3 Dempo have already written twice to the I-League CEO Sunando Dhar, with Colaco questioning the All India Football Federation's [AIFF] timing of the suspension.
"What they [AIFF] have done is really bad. If at all they wanted to suspend Climax, they should have suspended him soon after the East Bengal match. Why was he allowed to play in two matches and suspend him later. That means the timing was planned," he stated
.

Dempo SC face Mohun Bagan in Round 8 of the I-League,

which is scheduled to

kick-off at 19:00 IST at the Fatorda stadium in Goa on Wednesday.