ANALYSIS
By Iain Strachan
Former Liverpool manager Bill Shankly famously said, "Football is not a matter of life and death, it's more important than that,".
Shankly, so often quoted at the crucial moments in a team's season, could not have been more wrong.
Football, even at the highest level, remains a past time. And the health and safety of its participants should always come first.
Millions of fans around the globe watched in horror as Fabrice Muamba collapsed at White Hart Lane on Saturday, in a grim reminder of the potential for on-field tragedy to strike anywhere in the football world.
ON-FIELD TRAGEDY
Recent cases of SCD

June
2003

Marc-Vivien Foe, Cameroon [pictured]

Oct 2004

Serginho, Sao Caetano

Aug 2007

Antonio Puerta, Sevilla

Dec 2007

Phil O'Donnell, Motherwell

Aug 2009

Daniel Jarque, Espanyol

Aug 2011

Naoki Matsuda, Matsumoto Yamaga

The Bolton Wanderers midfielder, enormously popular among his fellow professionals, suffered a heart attack during the first half of his team's FA Cup quarter-final at Tottenham Hotspur.
The use of a defibrillator and the vital work of attending medical staff saved the 23-year-old's life, and he is now recovering in hospital.
Four days later, 28-year-old Bangalore Mars player D Venkatesh was not so fortunate, suffering a heart attack in an Indian district league match.
With no ambulance present, an auto-rickshaw was needed to take Venkatesh to hospital, where he was pronounced dead on arrival.
As the contrasting examples of Muamba and Venkatesh demonstrate, the curse of Sudden Cardiac Death (SCD) does not discriminate on the basis of talent, or professionalism.
Other high-profile victims of SCD include Marc Vivien Foe, who collapsed while playing for Cameroon in a Confederations Cup match in 2003.
Attempts to resuscitate the 28-year-old former Manchester City player tragically failed.
Four years later, Sevilla fullback Antonio Puerta suffered a cardiac arrest in a La Liga match against Getafe, and passed away in the intensive care unit of a local hospital, aged 22.
SCD can strike any young athlete, amateur or elite, anywhere in the world, raising the spectre of a similar tragedy occurring at the highest level in Australia.
Indeed, former Socceroo Tony Vidmar may have narrowly avoided such a fate, when an irregular heart beat caused by a blood clot - later successfully treated - prompting his withdrawal from Australia's 2006 FIFA World Cup squad.
The first step in attempting to reduce SCD from occurring is regular screening, with Football Federation Australia and the Professional Footballers' Association confident in the thoroughness and effectiveness of their prevention process.
In 2004, a working group on the subject of SCD - conducted under the umbrella of the International Olympic Committee - published its "Lausanne Recommendations".
The report was an attempt to develop a medical consensus on the most effective, consistent process for screening and detecting potentially fatal cardiac issues in athletes under 35.
According to PFA chief executive Brendan Schwab, under the terms of the latest collective bargaining agreement signed between the PFA and the FFA, the implementation of the Lausanne Recommendations became mandatory for all A-League clubs from this season onwards.
Speaking to Goal.com, FFA head of medical services Dr Jeff Steinweg confirmed the screening methods detailed in the Lausanne Recommendations formed a key aspect of the A-League's prevention process.
"It is part of what the clubs have to do," Steinweg said.
"It's in the collective bargaining agreement that [the players] need to be medically assessed [in the form of a cardiac screening process] by a doctor.
"You take the history [of the player and his family], you do an examination and you do an ECG [electrocardiogram]... if there are any red flags, follow that up.
"We're well aware of sudden cardiac death. FIFA has a conference on screening, they had one two years ago and there's another one I'm going to in May.
"The FFA stance is that we take it very seriously. All A-League clubs undergo screening, all national training centre and institute players in the program also do it."
While the Lausanne Recommendations offer a unified process for attempting to reduce the risk of SCD, medical experts acknowledge screening is not guaranteed to detect all underlying issues.
In October 2010 - three years after Puerta's death - Spanish footballer Miguel Garcia suffered a cardiac arrest playing for Las Palmas against Real Betis.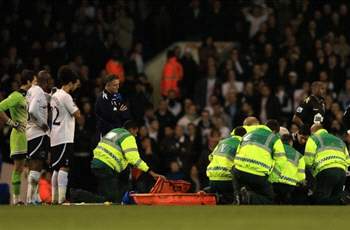 "[Muamba] probably wouldn't be here today if there wasn't a defibrillator there."
- Dr Jeff Steinweg on the measures taken against SCD.
Then 31, the midfielder was revived through a combination of cardiac massage and the use of a defibrillator.
As with the case of Muamba, Garcia's survival demonstrates the crucial need for the presence of properly equipped medical personal.
While ambulances were not a mandatory requirement at English Premier League matches until after 2006, Steinweg believes the FFA and A-League have the necessary facilities in place to try and avert potential tragedy.
"We have ambulances at each of our A-League matches which are equipped with defibrillators," Steinweg said.
"We also have a policy where each team has their own doctor [at matches]. So we have two doctors on the sidelines, as well as paramedic and ambulance back-up.
"Sudden cardiac death does occur - screening does not prevent sudden cardiac death, but it decreases the risk.
"And having a defibrillator at matches also is help, as we know from the Bolton incident ... [Muamba] probably wouldn't be here today if there wasn't a defibrillator there."
PFA chief executive Schwab confirmed both his organisation and FIFPro [the International Federation of Professional Footballers] consider the issue one of paramount importance.
"Football doesn't have the same resources as the AFL and the NRL, but we take the health of the players not just seriously, but as a fundamental requirement," Schwab told Goal.com.
"As we understand, [based on] the Lausanne Recommendations, the best approach is to test the players and find out the health of each player in advance, so that the appropriate treatment and preventative steps can be taken.
"One of the big debates after the death of Vivien Foe was whether such testing was reasonable... as a consequence every player [in Australia] can and must be tested on an annual basis.
"And the best advice we have received is that the nature of illness... [means] that frequency of testing is appropriate.
"Obviously we need to take advice on these things, that's the advice we've received and that's what has been signed off with the FFA."
Each year, participants across a variety of sports and football codes sadly pass away after suffering cardiac arrest in competition or training.
Regrettably, many amateur and some semi-professional competitions lack the resources to guarantee the presence of an ambulance and a defibrillator at every match.
But when a competition's finances are sufficient to do so, ensuring the presence of appropriate medical care is an absolute necessity.
And the bodies which administer and govern professional football in Australia deserve to be commended for leaving nothing to chance in - with apologies to the great Shankly - what is truly a matter of life and death.