OLD SOCCER
By Doug Booth
Socceroo legend and Australian Football Hall of Fame inductee Alan Davidson has rarely spoken about the 18 months he spent with European Champions Nottingham Forest in the mid-1980s.
In particular, little is known about his relationship with Forest manager, the late Brian Clough, whose reputation for instilling discipline and loyalty is legendary.
Now Davidson, who played eight matches for the then-English giants in a chequered career cut short by horrendous injuries, has reflected for the first time on Clough - the man and the myth.
Davidson, or 'Davo' to his legion of fans, signed for Forest in 1984 after six seasons and 142 appearances with South Melbourne in what was then the Australian top flight. He was one of the pioneers of fledgling Australian football, a path finder well before the likes of Kewell, Schwarzer and Emerton.
"I recall the first couple of weeks in Nottingham I was shocking on the training ground," he told Goal.com.
"We were training in mud and slush and I had come straight from Australia where the grounds were hard."
His first meeting with Clough came when outdoors training was postponed one day and the Forest squad boarded a bus to an Astroturf pitch.
Clough was in the front seat.
"He looked up and asked: 'Who the f... are you'?"
"I answered: 'Davidson, Alan Davidson'."
That was it, the formalities were out of the way and Davidson trained. Afterwards, he was told to shower and head to Clough's office.
Clough, who referred to himself as 'Big Head', was a feared man.
"I was scared of him. He asked me once why I never smiled at him. I said it was because I was scared of him. I wasn't the only one," Davidson said.
Clough laughed and said even the Forest chairman was scared of him.
Then he dropped a bombshell.
"I thought you were excellent at training. You are playing at Watford on Saturday," Davidson said.
"I was to mark John Barnes, so long as I managed to gain my international clearance."
Davidson also questioned his lack of match fitness. Clough's response was typically blunt and to the point.
"How do you expect to get match fitness unless you play?" Clough said.
In the dressing-room before the Watford game, Davidson recalled he was pushed over as he was changing.
"Elton John, leave my players alone," Clough yelled at the intruder.
"I just wanted to meet the Australian," the rock star and then-Watford chairman responded as he was bundled out.
After the match, which Forest lost 2-1, Clough was again brutally honest.
"Gary Birtles (striker) you deserve your pay packet, Davidson, excellent, the rest you can walk home," the Forest boss said.
Walking home after a disappointing away result was a frequent event for the star-studded Forest first-team squad.
"He would tell the bus driver to stop after we pulled off the M1 and order the players off the bus to walk about a mile to the ground," Davidson said.
One of the highlights of Davidson's frustrating yet intriguing stay in Robin Hood country was when Clough invited him to spend Christmas Day at his Derby home.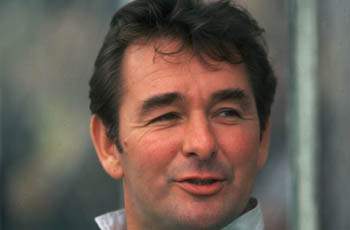 "
I was one of the few who were allowed into his inner sanctum
.
"

- Alan Davidson on legendary manager Brian Clough
"I asked him where his house was in Derby," Davidson said.
"It's easy," Clough said. "It's the one where the first snowflake lands."
The house was on top of the biggest hill in Derby.
Davidson was greeted at the door by Clough, in an apron. He was the cook for the night.
"I was one of the few who were allowed into his inner sanctum," he said.
When the players returned to training, word spread that the Aussie had spent Christmas with the boss.
"... 'How did you manage that?', Ian Bowyer asked me," Davidson recalled. "... 'I have never been invited'."
But Davidson, who was 24 when he headed to England, also saw the darker side of Clough.
"We were losing 2-0 to Manchester United at half-time," he said.
"He stormed into the dressing-room and the next thing I knew he had grabbed me by the throat and called me everything under the sun.
"As we prepared to head out for the second half, he put his arm around me and kissed me. We won 3-2 and I made one of the goals."
Clough's tender, caring side came out again midway through Davidson's three-year contract, when his injury problems had become extreme.
"I will find you the best doctor in England. You are the first honest footballer I have met. I want you to stay," Clough said.
"The club sent me to London and, in the doctor's waiting room, were a large number of police. Then Prime Minister Margaret Thatcher's daughter, Carol, walked out. I knew I was in good hands," Davidson said.
The back injury worsened, however, and Davidson returned to Australia. But he played on, making 133 appearances for Melbourne Croatia before heading to Malaysia for four years.
He hung up his boots for good in 1998, aged 38, after 79 international appearances, three World Cup qualifying campaigns and one Olympic Games.
Son Jason carries on the Davidson name, having debuted for Portuguese club Pacos de Ferreira against Porto in 2010. He signed for Eredivisie outfit Heracles in January.
Goal Australia now has its own

and

account, so for all the latest news and features on Australian football follow us by clicking on the above links