Goal.com's experts discuss whether the Australian, who has carved out a notable career on qualities of hard work and persistence, will be a success at the English team
ANALYSIS

By Paddy Higgs
& Ben Somerford
Brett Holman has clinched the high-profile move he had been seeking, but as the many Australians who have graced the competition could attest, cracking the Premier League will be among the biggest tests of his career.
Not that the soon-to-be Aston Villa player is one to shy away from a challenge. He made his name in Netherlands after struggling to find a place at Feyenoord, as he went about building a reputation as a tireless forward with stints at Excelsior and NEC.
A €3 million move to AZ in 2008, followed by the 2008-09 Eredivisie title, certified the attacker's quality, although he played a fringe role in that season's success.
It took rather longer for him to win over the doubters at international level, but he belatedly did so after impressing in Australia's 2010 World Cup campaign and has been one of the Socceroos' most reliable players for some time.
However, with his transfer to Aston Villa approaching, one cannot help but wonder
,
will he succeed at the English side?
HOLMAN'S AZ CAREER STATISTICS

MORE ON BRETT HOLMAN


| | | | | | |
| --- | --- | --- | --- | --- | --- |
| Season | Total Apps | League Apps | Cup/Euro Apps | Goals | Assists |
| 2008-2009 | 18 | 16 | 2 | 1 | 3 |
| 2009-2010 | 33 | 24 | 7 | 6 | 3 |
| 2010-2011 | 36 | 26 | 10 | 6 | 9 |
| 2011-2012 | 29 | 19 | 10 | 6 | 10 |
| Total | 116 | 86 | 29 | 19 | 25 |
Goal.com
's Dutch Football Editor Stefan Coerts needs little introduction to Holman, and believes the 27-year-old can succeed in his move as his selfless style of play makes him "perfect" for the English Premier League.
"Holman has indeed been playing in a left-sided role in AZ's three-man attack. Whereas [team-mate Roy] Beerens plays like more of a classic winger, Holman gets a lot of freedom to cut inside and/or drop a bit deeper to find space," Coerts said.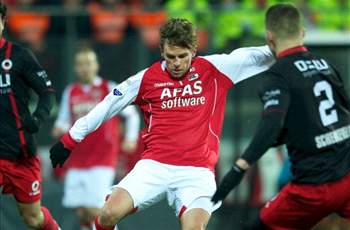 "The current season is probably Holman's best campaign since moving to AZ in 2008"

- Coerts on Holman
"The current season is probably Holman's best campaign since moving to AZ in 2008. His finishing has let him down a few times and he has 'only' scored four times in the league. However, he already has 10 assists to his name and has been a key man in AZ's successful season so far.
"His style of play makes him perfect for the Premier League. His impressive work rate, stamina, energy and intelligent movement are all characteristics that are still quite important in England. He might not be the most technical player, but his ability to move between the lines and always find space will be crucial in his attempts to succeed in the EPL.
"Don't expect him to become one of the Premier League's biggest stars, but he sure has what it takes to become a first-team regular at Aston Villa. One of his biggest advantages is his versatility as he can pretty much play in every attacking position as well as in attacking midfield, and this makes him a very valuable player for any coach."
So much for where Holman has come from, and the regard in which he is held in the Netherlands. What of where he is going? How will he fit into the Aston Villa squad, let alone the first XI?
As
Goal.com
UK Expert George Ankers explains, Villa under manager Alex McLeish have failed to fully harness the talents of the attacking players at the club. Could Holman hold that key?
"Villa have been struggling under current boss McLeish but, barring a complete catastrophe, will avoid relegation this season - even if his services are dispensed with after the campaign," Ankers said.
"Still, it's quite a surprise to see them recruiting a player as promising as Holman while they currently sit in 15th place in the league, and the signing should be seen as a coup by in-the-know fans.
"One of the main criticisms of Villa under McLeish's reign is that they have been nowhere near as attacking as they could or should have been with the players at their disposal. Holman could bring some much-needed creativity to the Villa side, as well as some industry in midfield or attack.
"While he may find it difficult to dislodge Charles N'Zogbia from the left flank, where the Australian has often been deployed for AZ, Holman could move into a central role behind Darren Bent, or McLeish may be tempted to utilise his all-action qualities in a more orthodox central midfield position in a 4-4-2, depending on whether Gabriel Agbonlahor plays wide right or as a second striker."
POSSIBLE ASTON VILLA LINE-UP WITH HOLMAN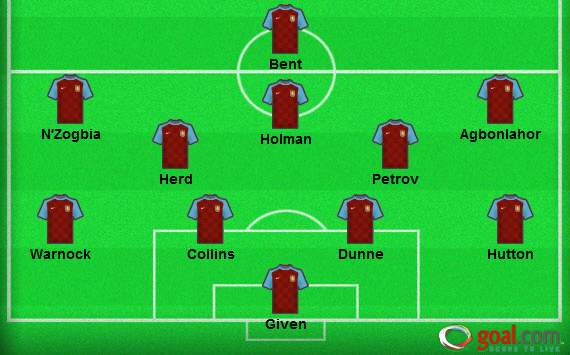 Goal.com
UK writer Chris Davie also believes Holman's signing could prompt a tactical change for McLeish in the next campaign. "Holman's move to Aston Villa ahead of next season could be a timely boost for McLeish, who has seen his side struggle for inspiration this term," he said.
"McLeish has opted to play two wingers in the majority of his matches and while Holman doesn't directly fit this mould, he could offer a varied threat to that of the inconsistent N'Zogbia and Marc Albrighton, who has struggled to cement a regular place at Villa Park.
"The arrival of Holman could also trigger a change in tactics completely for McLeish, as the Australia international - along with Agbonlahor, who can use his pace effectively in wide areas - could provide the perfect complement to Bent in a 4-3-3 setup."