Another week, another chapter in Palmer v FFA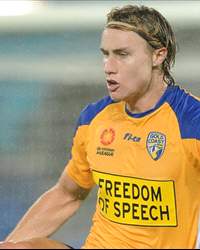 Freedom of Speech. Those three words - or more specifically, those three words printed in black on a canary yellow background and glued to the front of Gold Coast United's jersey - will go down in Australian football history. Clive Palmer made the call (against permission from FFA) to cover up the club's usual shirt sponsor - the Hyatt Regency Coolum - with the slogan, and did the same on signage at the ground and on the backdrops used in the post-match media conference and the mixed zone. Ten minutes into their match against Melbourne Victory and Ben Buckley called the mining magnate's bluff, slapping the club with a breach of their club participation agreement. It was a brazen move from an organization that has previously been criticized for its lack of testicular fortitude - particularly given Palmer has more than just a few football fans on his side following his scattergun barrage of the game in Australia, life, the universe and everything on SBS last Monday. But there is one group who are sick of him - Gold Coast's fan group The Beach. Possibly the hardiest supporters and committed masochists in the A-League, at the same time Palmer was crowing about 'Freedom of Speech' via illegal team strips and unsanctioned signage, they were sporting messages of their own. 'SAVE GCU, FFA' and 'WE HAVE A TEAM, WE NEED A CLUB' read the slogans on their banners. The fans, staff and players of United remain the unwitting pawns in an increasingly ugly game of brinkmanship between two powerful but stubborn parties.
Goal machine Berisha fires again
Henrique's slap claimed the immediate post-match headlines but it is Besart Berisha who deserves them after Brisbane continued their charge to defending their premiership with a win over Perth on Saturday. The term "goal machine" gets thrown around a fair bit - possibly too much - but it actually fits the Roar's Albanian marksman perfectly. Think about it. What are his strengths? First of all, as Pascal Bosschaart can attest, he is fiery and passionate. Most of the time he channels that in a way that is beneficial to the team. Berisha is also blessed with skill. His touches are sublime, his finishing is first-class, his runs are instinctive. He is a born striker. He also never stops working. Whether it is chasing down a ball that appears to be a lost cause or pressing high like coach Ange Postecoglou wants him to, Berisha is always on the go. Contrast his style to Gold Coast's Maceo Rigters, who at times can look laconic and lazy up front for Brisbane's local rivals. It is little wonder he has scored a total of 17 goals this season - including six in the last four matches. It is thus no coincidence that Brisbane have won all of their last four games. The A-League record for most goals scored in a season is 19, held by Shane Smeltz. Berisha is nearly there, and with four more games to go in the regular-season campaign, it would be a massive surprise if he did not etch his name into the history books.
New 'Roos strip all class, but what about the socks?
So Australia has a new away kit, which will be on display when they host Saudi Arabia at AAMI Park in Melbourne on Wednesday. It is classy as always from Nike, and many fans have grown to love the navy blue change shirt. But now the focus switches to the Socceroos' new home outfit, which must surely be just around the corner - and many people will be keen to see what direction Nike choose to go in the socks department. As trivial as it might sound on the surface, there is a campaign for the Socceroos to get back to their roots and return to white. At some point in the mid-1990s, Australia's traditional pearly white socks were ditched in favour of the incumbent gold. What a silly 90s decision that was - colour and attention over subtlety and style. White is cleaner, better looking and steeped in decades of history. So often criticized for ignoring football's chequered but proud past in this country, there is a real opportunity for the FFA to, at the very least, symbolically embrace the days of 'old sokkah'. It is not going to make anyone go out and buy official Socceroos white socks, but it would be a nice gesture.
Quote of the week
Jim Magilton neatly summarized the doom and gloom currently plaguing Australian football after another week of off-field drama. Just after drawing 1-1 with Gold Coast United at a rain-drenched Skilled Park, the interim Victory boss, whose prospects of a contract extension depend largely on how the underachieving club compete in their last few matches, confirmed that captain Adrian Leijer is out for the rest of the season: "We had to call it a day with him. It's a tough one, but that's why we have a squad. That's just the way it is ... Is there any good news flying about, lads? The weather's sh**...". That it may be, but it's still better than Belfast.
Player of the week
Paul Ifill has put in far better individual performances than what he did in Saturday's 1-0 win over Sydney FC. And yet the Wellington Phoenix gun has seldom been more efficient. By La Regista's count, he really only had the one chance in front of goal - a header, no less, which is the type of finish the Barbados international is not known for. But he put it away, and that is the mark of a man with a hunger for goals running through his veins. Aside from his goal, Ifill had an otherwise good game - running, chasing, annoying the Sky Blues' rearguard. But it was his conversion of the one scoring opportunity he had all match that showed his value. Meanwhile, at the other end, Sydney threw everything they had forward but could not find the back of the net for the life of them.
Youngster of the week
Jerrad Tyson gets the win here. If it was not for his insane work in the Gold Coast goalmouth against Melbourne Victory, his side would have almost certainly gone down by some margin. Even better was the fact that he kept his nerve in such treacherous conditions. If injured regular No.1 Glen Moss departs for greener pastures as expected, if United stick around next season and if they can hold onto Tyson's services... Yeah, we know, three big ifs, but if they all come off Gold Coast are sorted in front of goal.