James Willoughby believes it is time the midfielder - so often the hero for the Socceroos - should return to the national team fold.
COMMENT
By James Willoughby
Mark Bresciano's last appearance for the Socceroos came at the 2010 FIFA World Cup, but his terrific form of late has posed an interesting question.
Will he return to the Australian set-up?
Does he want to play for the Socceroos again?
Is Holger Osieck willing to give him a chance?
If you go by recent form, Osieck is sure to want the midfielder involved.
Bresciano never retired from international football but decided he wanted a break in late 2010.
"At the moment I asked if I can have a bit of time off and I won't be going to the Asian Cup (2011)," Bresciano told Australian Football Weekly at the time.
"It's been eight years on the run with the Socceroos, just travelling and never having a break and I am starting to feel it.
"I haven't spoken to the new coach (Osieck) so we'll see what his plans are and see what his thoughts are. Maybe when the World Cup qualifiers start up again, but we will see. I would like to have a break for at least a year.
"If I'm physically fit and still playing and playing week in week out then why wouldn't I continue?"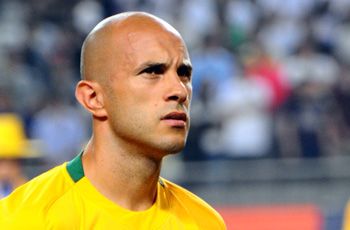 "If you go by recent form, Osieck is sure to want the midfielder involved."
Those comments indicate that Bresciano would be open to the idea of resuming his international career and a player of his quality would be a great addition to the Socceroos, even if it were just for cameo appearances off the bench.
Many Australian football fans were disappointed when he opted to join Al Nasr in the United Arab Emirates, instead of signing with an A-League club like Brett Emerton and Harry Kewell.
Bresciano turned 32 on Saturday and has nearly a year on Emerton, while Kewell will turn 34 in September.
Perhaps he is a step behind in his career and has a move to Australia next on his agenda?
While every move of Emerton and Kewell has been scrutinised since signing for Sydney FC and Melbourne Victory respectively, Bresciano's form has gone under the radar.
In the 17 matches he has played for Al Nasr in all competitions, he has scored an impressive nine goals.
Of those nine goals, eight have come in the league from 11 matches, making him the competition's fourth-highest scorer.
He has not missed a minute of the league matches he has been involved in and has been the side's key man in its charge to second on the table.
Italian Luca Toni has just joined the club and is sure to benefit from Bresciano's service in midfield.
At the age of just 32, the Melbournian is no pensioner and he could still play a significant role with the Socceroos.
This is a man who has scored huge goals for his country before.
Without his strike in normal time against Uruguay in the second leg of the 2006 FIFA World Cup playoff, John Aloisi may never have had the chance to score that dramatic penalty.
Who can forget his unbelievable strike for the Socceroos against Bahrain in 2006?
Or his injury time strike against the same nation to book Australia's spot in the 2007 Asian Cup?
Bresciano is a player who would add creativity, skill and experience to the Socceroos midfield.
Maybe it is time Osieck picked up the phone...