In the dugout
Alistair Edwards began the season in the hot-seat and Kenny Lowe has finished it there, but the interim coach appears unlikely to get the top job on a permanent basis. Edwards took over from Ian Ferguson in February 2013 and got Glory into the finals, where they lost to Melbourne Victory in the first week. He was given licence to recruit largely as he saw fit and opted to put his faith unswervingly in youth, a policy that prompted a revolt from the senior players and ultimately cost him his job.
Lowe, having replaced Edwards in late December, has had a month and half longer to prove himself and all he has managed to achieve is narrowly avoiding the wooden spoon, hardly the way to prove your credentials to potential long-term employers.
Captain
Jacob Burns' final season before calling time on his playing career has not been a memorable one for Glory on the field, and the 35-year-old's last big contribution, for better or worse, was playing a leading role in the backlash that led to Edwards' departure. Expect 30-year-old centre-back Michael Thwaite, the current vice-captain, to contend strongly for the armband. Recent arrival Rostyn Griffiths, as well as Scott Jamieson and Danny Vukovic, the latter likely to soon return from an abortive loan spell at Vegalta Sendai, are also candidates.
International marquee
William Gallas hasn't provided the commercial or playing success Glory might have hoped for when they signed the veteran Frenchman early in the 2013-14 campaign. The 36-year-old has made only 15 appearances and had to wait until Round 25 to taste victory, with Glory conceding 26 goals in the matches he featured in. The 36-year-old was reportedly touted around to plenty of other A-League clubs before landing in WA, a sure-fire warning that a player is possibly past his best.
The former Chelsea, Arsenal and Tottenham man came with impressive credentials, but his underwhelming spell in the A-League is a pertinent reminder that for every Alessandro Del Piero, Shinji Ono and Thomas Broich, there are plenty of has-beens out there with the potential to join Mario Jardel in the marquee rubbish bin.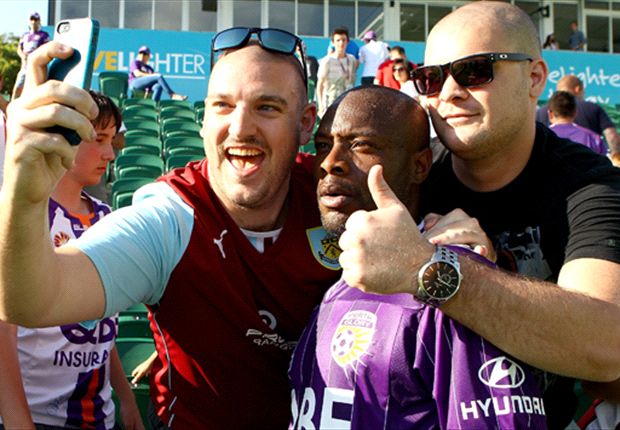 One for the album | Will Gallas be remembered fondly by Glory supporters?

Domestic marquee
It's not been a great season for Shane Smeltz either, injuries restricting the New Zealander to 13 appearances (nine of them starts) and four goals, the worst return of his A-League career. Despite being a proven threat in the competition, he is set to turn 33 before the new season begins, and it remains to be seen where he will be playing next season, with Brisbane Roar and Adelaide United both reportedly interested in his services.
Best performance
Unlike Wellington Phoenix and Melbourne Heart, who enjoyed a run of good form mid-season and registered some thumping wins in that time, it really has been a season of struggle for the Western Australians. Of their seven victories, only two came against teams that finished in the top six, a 1-0 win over Sydney FC in November and a surprise 3-1 triumph against Central Coast in the penultimate round. That result against the reigning champions, coupled with a late 2-1 comeback win over Newcastle Jets, saved Glory from what appeared to be a deserved wooden spoon, but arrived way too late for them to salvage their season. A sorry excuse for 'best performance'.
Lowest ebb
Gallas summed up Glory's season when his spectacularly bad miskick gifted a second goal to Western Sydney in a 2-0 home defeat in February, a result that arrived in the midst of a 10-match winless run. Having sacked Edwards earlier in the season due to dressing room unrest, reports of another bust-up in the changing rooms after that hapless, insipid loss to the Wanderers must have been doubly galling for all connected to the club.
An honourable mention should go to the lengthy row in the rooms that followed Jacob Burns being benched for a loss away to Melbourne Victory in late December, triggering the sequences of events that led to Edwards' dismissal.
Off the field
One piece of good news for Perth has been the proud unveiling of the refurbished and redeveloped nib Stadium, providing first-class facilities for the players, media and fans. Now the club need to focus on getting together a winning team on the field with the right man in charge to make sure the supporters come back.
Where to next?
Glory have understandably been linked with Graham Arnold, who led the Central Coast Mariners to the 2012-13 title and is available after parting company with Vegalta Sendai less than two months into the J-League season. Whoever does accept the challenge needs the authority to bring an at times dysfunctional playing group into line. Recruitment will of course be key, with not enough goals scored and too many conceded for Perth to have ever hoped to meaningfully challenge this season.
Verdict
Another campaign wasted by managerial turmoil and player unrest. Glory fans have every right to be disappointed with mistakes made at their once-proud club in recent years.