Perhaps fortunate not to finish last after an injury-hit second half of the season, Goal Australia casts its judgement on Ernie Merrick's first campaign at the helm of the NZ side
In the dugout
Despite a slow start and disappointing finish to their season, Ernie Merrick has emerged from his first campaign in charge of the Phoenix with plenty of credit. Doubts were cast by some observers (including this media outlet) as to whether the former Melbourne Victory boss could still cut it in the A-League. His once proud 'Big V' looked tired and out of ideas before the curtain fell on his tenure at the powerhouse club in 2011.
Would his tried and tested methods - namely building a team around the creative talents of Carlos Hernandez and the attacking prowess of some dangerous forwards (just substitute Danny Allsopp and Archie Thompson for Stein Huysegems, Jeremy Brockie and co) - still work in a much-changed landscape?
Yes and no. When the Phoenix clicked they caused teams problems, but also found themselves on the end of more than a few hidings. What all came down to was a lack of depth. Wellington looked light on, especially in midfield, from the word go and didn't have the numbers to cover for their numerous absentees. A bit more luck as far is fitness was concerned and it could have been a very different story.
Captain
Andrew Durante has offered the Phoenix something sorely lacking in most areas of the field this season - a consistent presence. The club's long-term skipper missed just one match this season and hasn't made any less than 26 appearances in the last five campaigns. The personnel around him may have changed frequently, largely due to the worst injury list of any team in the competition, but at least the Yellow Fever can rely on Durante to front up and perform just about every week.
International marquee
Wellington don't have a nominated international marquee paid outside the salary cap, but Costa Rican duo Carlos Hernandez and Kenny Cunningham have both been excellent this season, the latter having been converted from a forward to a hard-running midfielder. Belgian marksman Stein Huysegems provided a healthy 10 goals but has now left the club with other A-League sides circling. A special mention should go to Albert Riera, the Spaniard who, until injury ended his season, wowed us as an accomplished holding player after signing from Auckland City.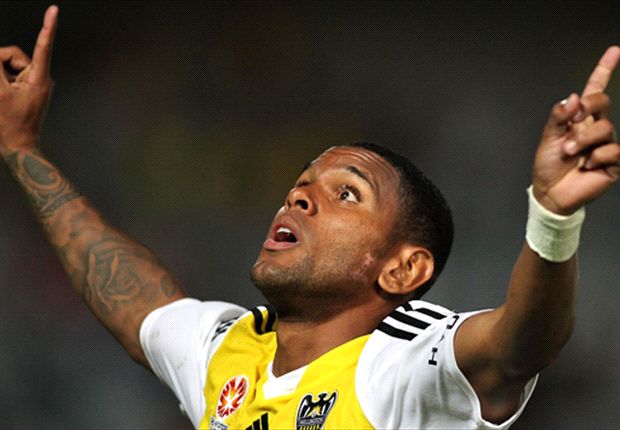 'Praise be' | Phoenix's other Costa Rican celebrates a goal
Domestic marquee
There's a theme developing here. The Phoenix don't have a home-grown player good to enough to justify an exceptional outlay, with the likes of All Whites stars Marco Rojas, Chris Wood, Kosta Barbarouses, Michael McGlinchey and Shane Smeltz all well out of their financial reach. Wellington's owners aren't made of money, but until they or someone else gets the cash together to lure a genuine Kiwi star to the club, they will continue to finish outside the finals and struggle to put bums on seats at the Cake Tin.
Best performance
You might expect us to go for the 5-0 hiding Phoenix inflicted on a visiting Melbourne Victory in Round 15, but mitigating circumstances - namely the absence of several key men including Mark Milligan for the visitors - means we're going to opt for the 3-1 win away to then reigning premiers Western Sydney Wanderers two weeks prior. Having previously managed their first two victories of the season at home to Sydney and away to Melbourne Heart respectively, the shock triumph at Parramatta Stadium, secured thanks to Huysegems' brace and a Tyler Boyd goal, was the result which really made other teams sit up and take notice.
An honourable mention should also be made for the 4-1 win away to reigning champions Central Coast in Round 20.
Lowest ebb
A tough call between the 5-1 loss away to Adelaide United in Round 21 or the 5-0 thumping at the hands of the Newcastle Jets three weeks later. The first of those disastrous results was arguably the more damaging, as it came with the Phoenix still in genuine finals contention.
It goes without saying that the 5-0 home defeat to Melbourne Heart in January and two 4-1 reverses to finish the campaign, away to Sydney FC and at home to Melbourne Victory respectively, were also particularly unpleasant.
Off the field
After last season was punctuated by interference from the owners in on-field issues and the subsequent departure of coach Ricki Herbert, there have been at least two significant good news stories to emerge from the NZ outfit. The club, losing money by playing at the sparsely populated Westpac Stadium, are actively pursuing the option of a purpose-built rectangular venue which would help make the club more sustainable. Wellington are also seeking to arrange a money-spinning friendly with English Premier League opposition in the off-season.
Where to next?
Merrick is the right man to have on the touchline, now he needs the playing resources to guide the Phoenix up the standings. Huysegems and Leo Bertos have been released, and a busy winter of recruitment awaits. It would take a remarkable transformation to turn Wellington into title contenders in 2014-15, but they - like just about every other club - can realistically target a finals berth if everything falls into place.
Verdict
Another season of struggle and disappointment punctuated by just enough hope to make it doubly frustrating. The Phoenix need something tangible to smile about next season, or the Yellow Fever will have to form lots more of their patented consolation conga lines.