The premiers will not be particularly keen on a playoff meeting with last season's beaten grand finalists, while Adelaide and Newcastle have left themselves work to do
1. Adelaide blow a chance to seize second
(Steve Barrett @ Coopers Stadium)
In the space of 10 crazy minutes, Adelaide United frittered away a prime chance to lock in a top-two berth and an AFC Champions League gig en route to an ill-disciplined, hot-tempered 2-2 draw with lowly Melbourne Heart at Coopers Stadium. Two penalties, two goals conceded and four yellow cards including the 35th-minute dismissal of Tarek Elrich saw the Reds click into full-blown implosion mode.
Fabio Ferreira's goal in the dying minutes allowed 10-man Adelaide to sneak a solitary point after a much-improved showing after the break, but the first-half meltdown and Michael Marrone's season-ending leg fracture were major disappointments for the Reds, who close the home-and-away season with a curly assignment at Hunter Stadium against the Newcastle Jets, ranked seventh on the ladder but undefeated across their past three at home.
John van 't Schip's charges meanwhile are out of contention but they are still capable of framing the finals make-up as they showed in thwarting the Reds and will look to do so again when they host the second-placed Western Sydney Wanderers this Saturday at AAMI Park.
2. Jets fail to capitalise on dominance
(Mark Hughes @ Hunter Stadium)
The Newcastle Jets threw away another golden opportunity to help secure a berth in the A-League finals by conceding a late penalty against the Melbourne Victory to draw 2-2. For the second time in two weeks the Jets were the better team for 85 minutes of the contest but were not able to close out the match. Their performance in the first half, particularly their four-pronged attack of Heskey, Taggart, Griffiths and Carney, was outstanding against the Victory and Newcastle deserved the win - but football is not about 'should have' - it is about results.
This season Newcastle has failed to convert promising performances into results and they are now in a position of needing a do-or-die performance against one of the form teams in the competition coupled with the having to rely on other results. On the balance of that they probably don't 'deserve' to play finals football ... but who can predict what will happen next weekend?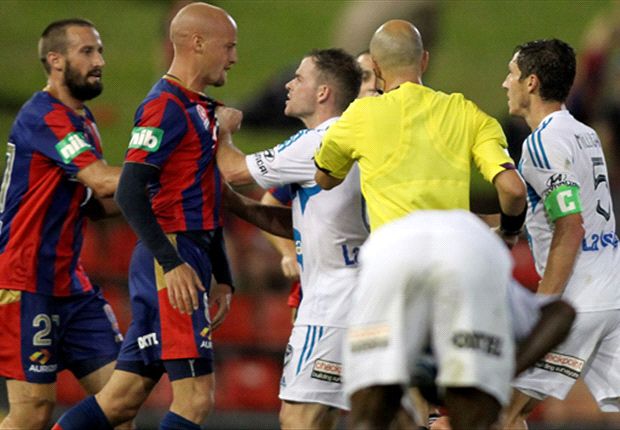 Tempers flare | Leigh Broxham grabs Ruben Zadkovich after a late challenge on Gui Finkler
3. Roar will be wary of gritty Wanderers
(Iain Strachan)
The Brisbane players laughed off Jerome Polenz's pre-match claims that the Queenslanders are scared of Western Sydney, but there's no denying the Wanderers have the measure of Mike Mulvey's team as much as any other team this season - except of course Roar-kryptonite the Newcastle Jets.
Tony Popovic's men made it tough for the visitors throughout in Parramatta on Saturday night, employing a physical approach epitomised by Kwabena Appiah's heavy, late challenge on Thomas Broich, a nasty tackle that could have ruled the German playmaker out of the finals. If these two meet again at Suncorp Stadium, the premiers will be confident, but by no means assured of success.
@IainStrachan
4. Mariners make it tough, Lowe stakes a claim
(Michael Washbourne @ nib Stadium)
Central Coast's shock loss to Perth Glory leaves the defending A-League champions in a logjam for the coveted second spot going into the last round before the finals. The third-placed Mariners are level with Western Sydney on 39 points, but ahead of both Adelaide United and Melbourne Victory by one only point. A win over Glory would have shored up second spot, but now the Mariners must overcome premiers Brisbane Roar at Suncorp Stadium and hope Melbourne Heart upsets Western Sydney to earn a week off and avoid the elimination finals.
Glory controlled Saturday night's match from the opening whistle and their second win in a row helped the club move off the bottom of the table. Players and officials have publicly expressed their desire to avoid claiming the wooden spoon and their surprise 3-1 victory aided that bid. Perth plays finals aspirants Sydney FC in the final round while last-placed Heart hosts the second-ranked Wanderers. A third straight win would also help interim coach Kenny Lowe's last-gasp bid to retain the top job for next season and beyond.
@mj_Wash
5. Sydney on track for finals, Phoenix go back to the drawing board
(Hamish Neal @ ANZ Stadium)
Sydney FC are almost assured of finals football after a thumping 4-1 triumph on Sunday evening. Barring an Adelaide implosion against Newcastle and Perth winning on Sunday, the Sky Blues will finish in the top six and take some decent form into the finals. They also have key players firing at the right time.
Already looking to next season, Wellington coach Ernie Merrick will need to find some solid defenders and assured wide men with his side horribly exposed in that department at times on Sunday evening.
@hamishneal