Analysis
By Michael Huguenin
There is a popular concept in football that the ideal path to success is to identify a preferred style of play, train that way until it becomes second nature and then impose those tactics on the opposition.
Coaches will often talk about forcing opponents to 'play our way' or how they prefer to 'focus on what we do' rather than produce a specific game plan to counter the other team.
Essentially, the concept rubbishes the idea of a Plan B.
As Barcelona fullback Dani Alves once put it: "What suits us is to improve our Plan A, not to have a Plan B."
That has been the mantra of Kevin Muscat since he took over as Melbourne Victory's head coach but against Jeonbuk Motors on Wednesday night, the 40-year-old showed a willingness to adapt his tactics for the first time.
Until this week's AFC Champions League clash, Muscat had remained steadfast in his adherence to the 4-2-2-2 striker-less formation set up by his predecessor Ange Postecoglou.
The formation is a boom-or-bust tactic, which has made Victory the preferred team of A-League neutrals - as they almost guarantee goals at both ends - but incredibly frustrating for their own fans.
By playing just two genuine midfielders behind four attackers, the 'Big V' are susceptible to being dominated in the middle of the park, which can put too much pressure on their rather ordinary defence.
The forward quartet play with two wingers pushed high, while a pair of attacking midfielders (number 10s) attempt to play passes in behind the opposition defence before bursting into the box late.
But by not playing a lead striker (a traditional number nine) at the top of the formation, Victory can lack penetration and direction when they come up against a packed, well-organised defence.
Although Muscat has maintained throughout the season that he has no plans to try a new formation, the signing of Brisbane Roar striker Besart Berisha for the 2014-15 A-League campaign indicates change may be imminent, while Victory's set-up versus Jeonbuk may be a hint of where they are heading.
Melbourne played more of a 4-3-3 against the South Korean club with one holding player in midfield and a withdrawn central attacking player in Tom Rogic.
Captain Mark Milligan screened the back four, just behind a central midfield pairing of Jesse Makarounas and James Jeggo.
Kosta Barbarouses and Andrew Nabbout flanked Rogic up front and the on-loan playmaker from Celtic would regularly drop into midfield when in possession in an attempt to find space.
"It was slightly different. You know, wanting to maintain possession a little bit more was the thinking (behind that)," Muscat said.
"But having said that, they (Makarounas and Jeggo) were both pretty attack-minded players as well.
"So it certainly wasn't shut up shop and get everyone behind the ball because both those guys, Jesse and Jimmy, at times were in the box, you know, simultaneously."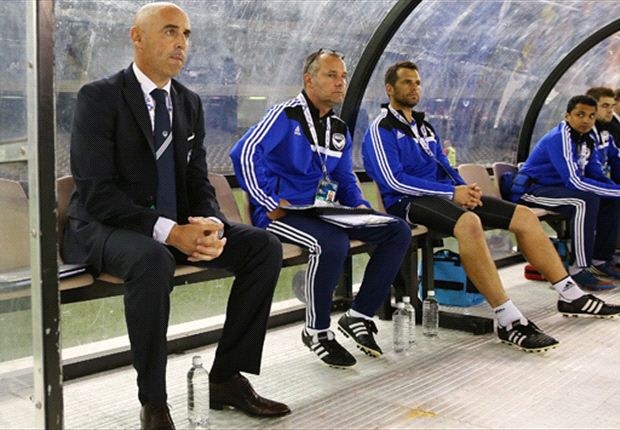 Victory's brain trust |Muscat and his coaching staff watch on from the sidelines


On matchday one of the ACL, Victory leapt out to a two-goal lead at half-time in China against reigning champions Guangzhou Evergrande but were overrun after the break as the home side went on to win 4-2.
Against Jeonbuk, Muscat's men again gave away momentum after leading at the break - this time 1-0 - but Victory's boss claimed it was more to do with his team's eagerness to defend their lead rather than a fault of their structure.
"The second half, I suppose, throws us back to China a little bit, you know, we just seem to want to do so much to not concede and ... everyone's trying to come back and run towards the ball to help a team-mate, when going the other way, as we've seen from our (second) goal causes them a problem," Muscat said.
"You know, they stepped right on us in the second half because we didn't make enough runs the other way."
Jeonbuk scored twice in the space of four second-half minutes through Lee Dong-Gook as Victory dropped back.
But, in a positive for Muscat, the home side responded almost immediately with Barbarouses getting onto Milligan's lofted pass behind the visitors' defence and slotting the equaliser to clinch a 2-2 draw.
A 4-3-3 formation similar to that seen against Jeonbuk would undoubtedly suit Berisha next season as it is almost exactly the way Brisbane play with the 28-year-old Albanian striker.
It could also be tweaked again to utilise Gui Finkler as a sole number 10 in a midfield diamond anchored by Milligan, with Berisha and one of Victory's small forwards up front together
Muscat's contention that the tactical tweak is not simply defensive is correct, as the two midfielders ahead of Milligan can still push forward, but the key is it makes Victory more balanced.
While a tactical philosophy is admirable, the past 18 months has indicated Victory's 4-2-2-2 formation does not work consistently enough to win silverware.
It could be that Muscat's tweak against Jeonbuk will be the evolution Postecoglou's tactical revolution needed to turn Victory into a champion team again.