Football Manager is back. It is the best and purest of all the football games on the market. If you want to test your knowledge and understanding of the beautiful game then Football Manager 2014 is the way to go.
For those that are new to the game, Football Manager 2014 is a football management simulation that has captivated fans for 21 years. The game provides you with 51 playable nations and 117 playable leagues. So you can create history by becoming the first Liverpool manager to win the EPL, or take over from Sir Alex Ferguson at Manchester United. You can even replace the Socceroos-bound Ange Postecoglu at Melbourne Victory. I chose to win the World Cup with England, as you can see below.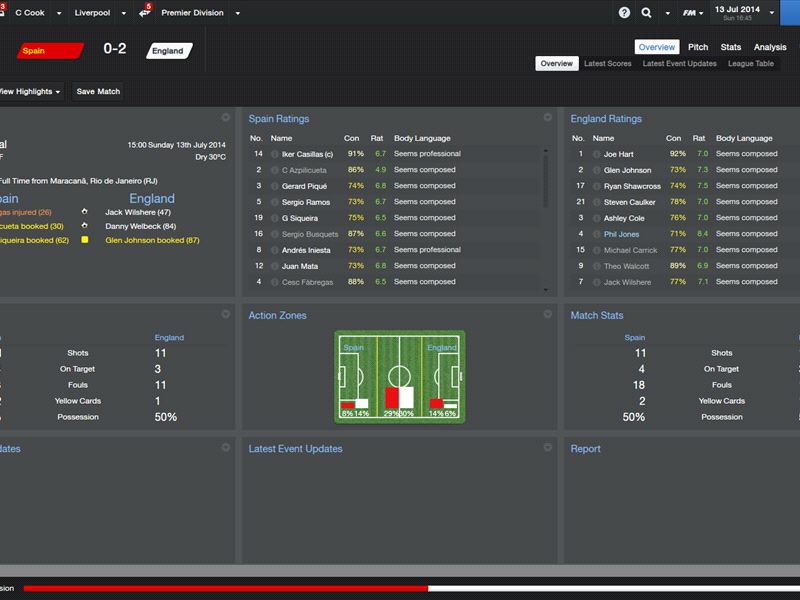 Whether you want to take Leyton Orient to the EPL or manage Real Madrid to victory in Europe, Football Manager 2014 provides you with the platform.
Let me reassure you that I am a seasoned Football Manager fan. I have bought every Football Manager game since I first played it back in 1999 when it was known as Championship Manager or, more affectionately, 'champ man'. My Arsenal side beat Real Madrid 6-0 in the final of the 2013 Champions League Final. Jerome Thomas, currently at Crystal Palace in real life, scored all six. I still remember that day vividly; all my hard work had come to fruition. I had built a team over 14 years (of gameplay) that not only dominated domestically but in Europe as well.
The game has changed markedly since then. You can now control every aspect of modern football management. You are in charge of finances, hiring and firing of staff from the physios to the scouts as well as transfers, tactics, team selection and even training.
Football Manager takes you in and consumes you. I have found myself shouting at my laptop on the train, I have broken many a computer mouse through my career when results don't go my way. I can set up my team with the right tactics, tell them to counter the opposition in the right manner, but if the players don't perform out there on the pitch there is nothing I can do about it. My team talks are positive, I have encouraged my key players to give everything but it's just not working. At times you have to be a psychologist, to channel your inner Ferguson. While a pat on the back and a few words of encouragement will work with a confident Emile Heskey, others need a proper rollicking and I still can't work out how to get the best out of Luis Suarez. This is why the game always has been so brilliantly addictive. There are so many intricate details and nuances that allow you to delve deep into the psyche of the modern boss.
The Football Manager experts will remember the addictiveness ratings that greet you with every log in to the game. I have regularly been greeted by "Your relationship has now expired." At the time I thought this was a joke, but the current incarnation of Football Manager has been cited in 35 divorce cases since its inception in 2004. You can find yourself thinking about transfers during the day, writing out your tactics on a notepad during lessons, lectures or at work. You can even end up devising training methods to get the best out of the young players in your Under-18's squad, after all, it saves you money and you are in charge of the club's finances.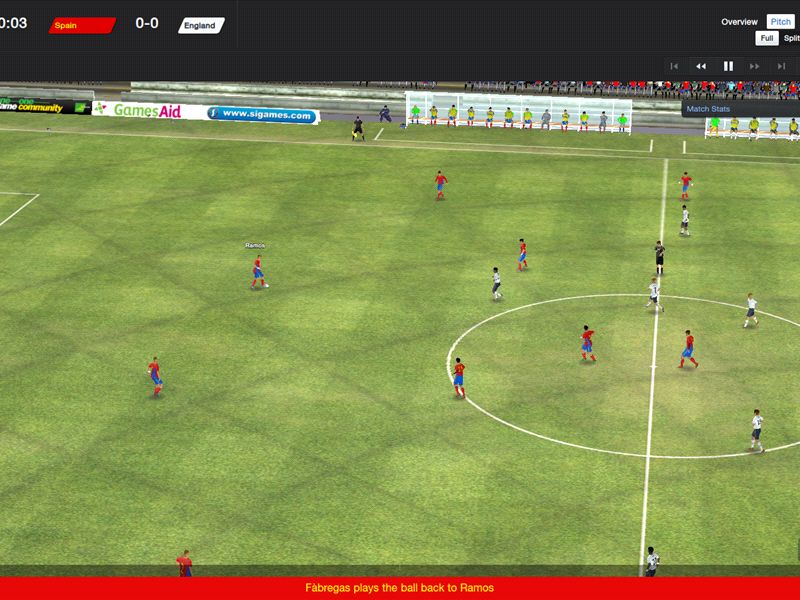 For the veterans of the game there are still some key changes to FM14. While it is still not like watching a proper game of football, the match engine has improved again. It is faster and looks better than last year. One of the major improvements to the game this year is the in game interaction. You can tell influential players in your team to help out by talking to youngsters or unhappy squad members. You can schedule end of season meetings with your squad to talk about the season and set targets for the next. The board interaction is also more sophisticated.
One of the great aspects of Football Manager is the intricate transfer system. Unlike the FIFA series, where if you have the cash you will get the player, Football Manager is very real in that you will struggle to persuade certain players to join a club that isn't in the Champions League.
While managing Liverpool, Robert Lewandowski repeatedly turned me down, despite having enough money to pay for his transfer fee and extortionate wage demands. There are a few additions to the transfer module, including the facility to loan back a player to the club he has just been bought from and the combination of cash plus loan players in a deal. There are also new contract clauses, such as a subs bench appearance fee. All of this makes transfers more intricate and tricky but more and more like the real thing.
Perhaps the most important change to this year's FM is the tactical overhaul. No longer do you have control, in 10 percent increments, of every way in which your team functions. You can't tell a playmaker to be 80 percent 'more expressive'. Instead you must give instructions to each player and the team as a whole. You must tell the playmaker to make 'more direct' passes and to 'pass into space'. I have read that people believe this 'dumbing down' of the game ruins its intricacy, but actually all of the changes that have been made are in an effort to increase the realism of the game. You are not controlling your team and players like robots; you are giving them instructions like people.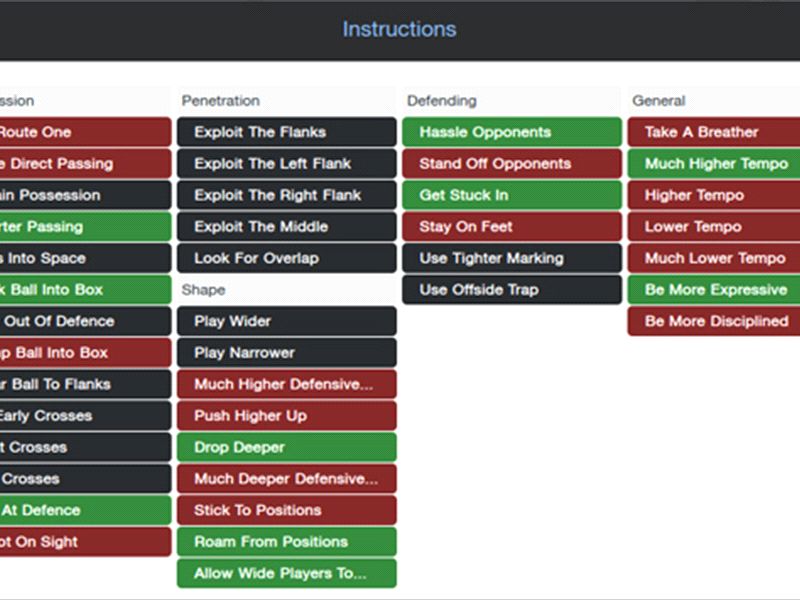 If you think this all sounds like a tremendous waste of time then meet Vugar Huseynzade. At 22 years old he is boss of Azerbaijani side FC Baku, is the youngest manager in the world, and got to where he is today off the back of just nine years' experience playing Football Manager. What's amazing is that Huseynazde says "I still play it although obviously I have much less time these days." He even uses the game to scout players: "We needed a striker. I opened the game and looked around for the players in the Romanian league where I found Marius Pena. It was actually a big success, he scored six goals from his first seven games." Football Manager has even been recognized by EPL clubs as a source for scouting players. In 2008, Everton FC signed a deal with Sports Interactive allowing them to use the game's database to scout players and opposition.
I would recommend this game to all football fans, and if the story above is anything to go by then this could well be your best chance of a shot at the big time. I, like Vugar Huseynzade, am setting off on a nine-year journey that I hope will end up with me managing my local team. That's if Arsene Wenger ever hands over the reigns.
Click here to access an in-depth video blog on the brand new Football Manager!
And be sure to read the Terms and Conditions for the giveaway to make sure you are eligible
Check out Goal Australia's

and

accounts or email iain.strachan@goal.com to submit a question for Football Manager creator Miles Jacobson to enter the draw